Our tips for a 100% Californian seaside atmosphere decoration
With the summer coming, how could we possibly resist the call of the Californian sun ? Let us escape to Californian beaches without leaving our living room ! Are you ready to make your interior look like the US West Coast ? Palm trees, surf, ethnic patterns and warm colours… Be tempted by the West American decoration trend. In this article, we are going to give you some tips on how to create a seaside-style decoration that oozes California.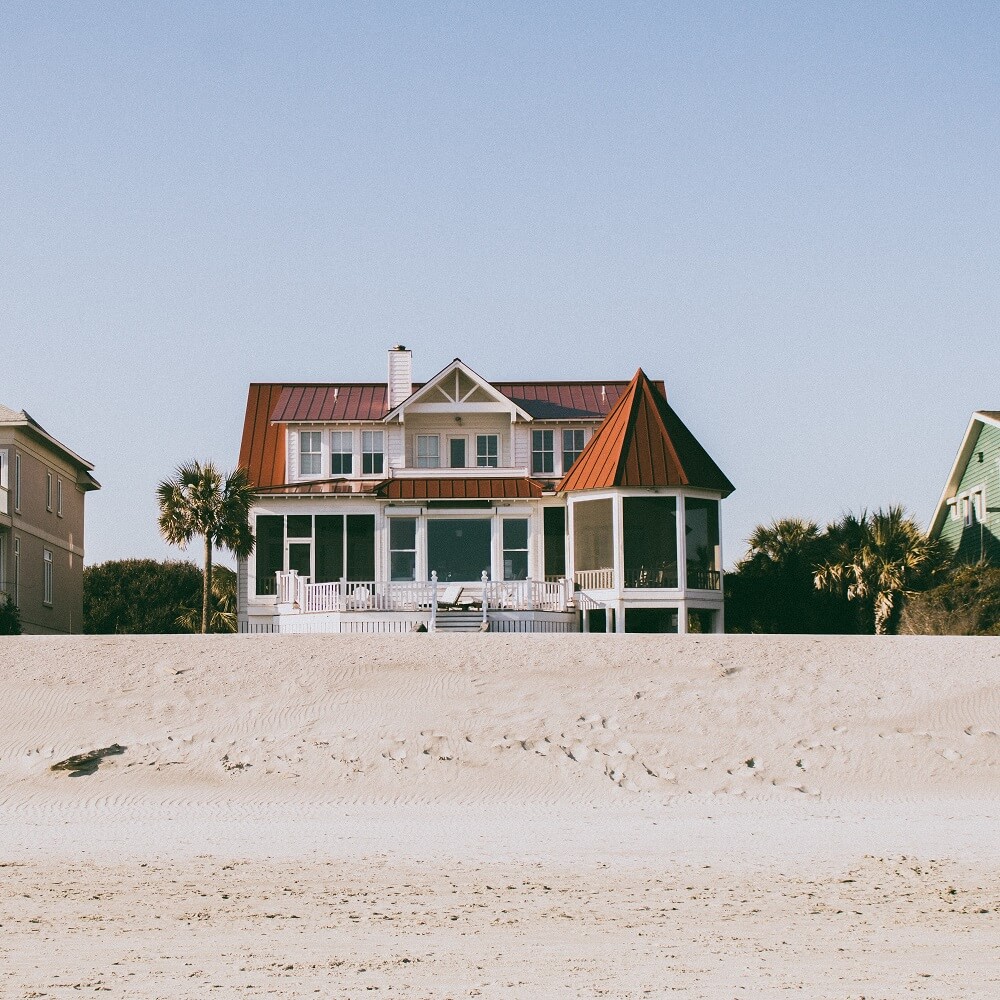 Using Californian style to get some colourful seaside decoration
When one mentions California, we automatically think of sun, beach and desert. Therefore, take inspiration from all these elements to colour your interior !
How to do it ? First, let the Californian sun enter your interior. To do so, opt for the ultimate neutral colour : white. Always very trendy in terms of decoration, white colour will brighten your interior and make the place look bigger. Paint your walls with light tones : shades of white and linen, also opt for white furniture, sofa, chairs, tables etc… to get a brighter house.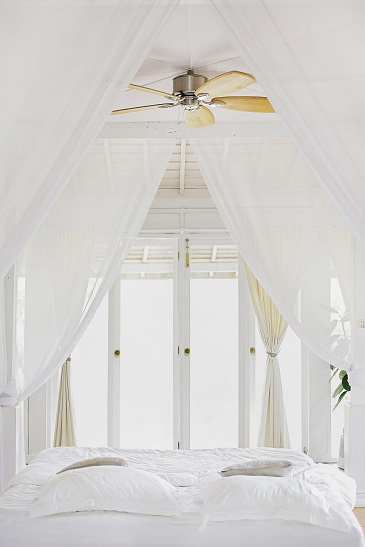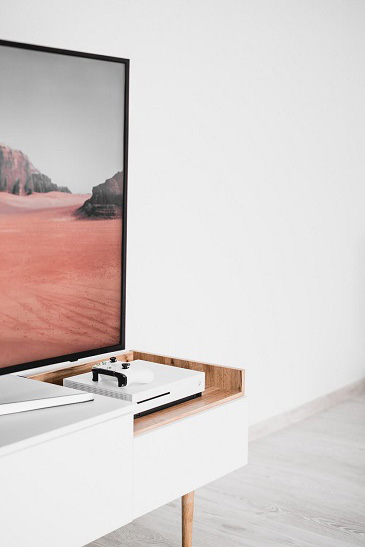 It is essential to create a warm atmosphere by adding touches of colour. Be careful, do not just use any colours !  Choose warm colours. Be tempted by terracotta colour, very trendy in decoration ! To get the warmest result, combine it with tints like brown and ochre ! Why not paint a section of the wall with this tint as it is such a warm colour that it will take you to the middle of the Californian desert ?
A little tip for a welcoming interior : terracotta pots placed throughout all rooms. Colourful crockery is strongly recommended, it will break the bright effect of your white decoration. It is ideal to bring in warmth and pep !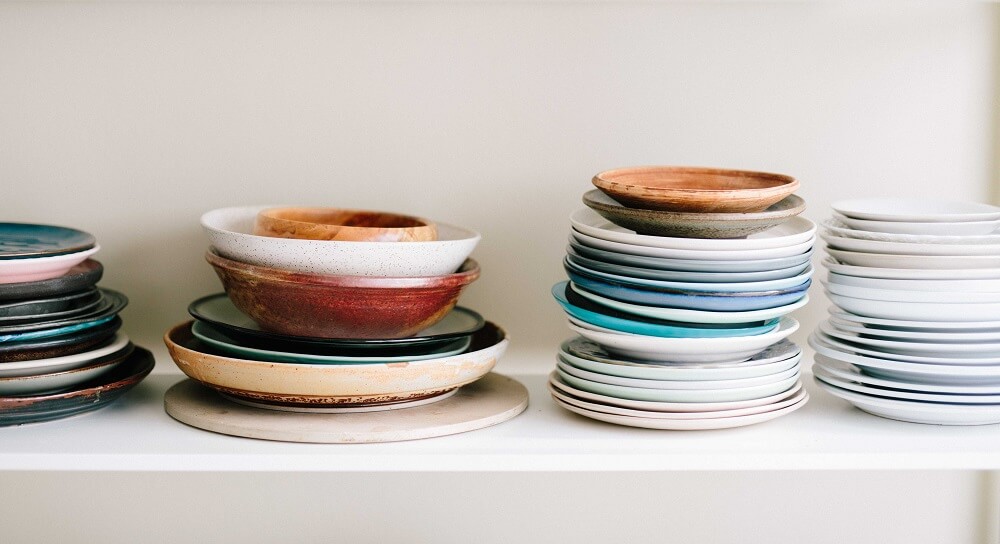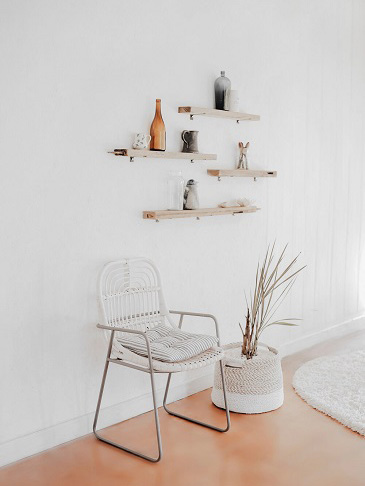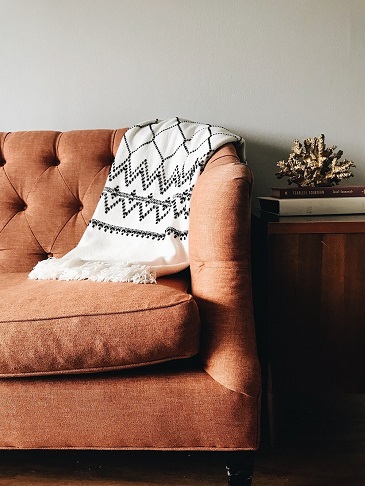 Let yourself be called by the sea by adding a few touches of navy blue for a 100% Californian trendy seaside-style decoration.
I rely on natural materials and ethnic patterns for my Californian decoration
After having coloured your California-style beach house, you now need to bring in more authenticity. Why not add some classy hippy spirit to it and get some laid-back and vintage decoration !
Crack for the charm of California of the 70s ! Dare have a dark brown vintage TV stand and bookcase for a more natural decoration. To get a warm and contemporary effect, add some rattan furniture, it is indeed very trendy in decoration : armchairs, chairs, beds or sofas. You are fond of very cosy interiors ? Why not install a rattan swing or a braided hammock in your living room or on the patio ? You will be all set for some relaxation time, and if you are lucky, with a view of the ocean !
Californian spirit and atmosphere are not limited to the retro style of the 70s. It is also inspired by different cultures and colours one can find on the West Coast. Indeed, it is not seldom to find a bohemian and hippy influence combined with ethnic patterns. Carpets, macramé, cushions, bring this touch of exoticism to get an interior with warm colours that will remind you of summertime.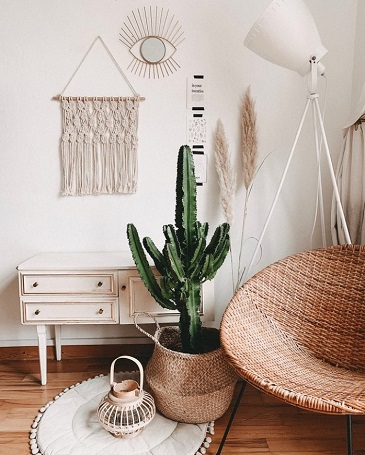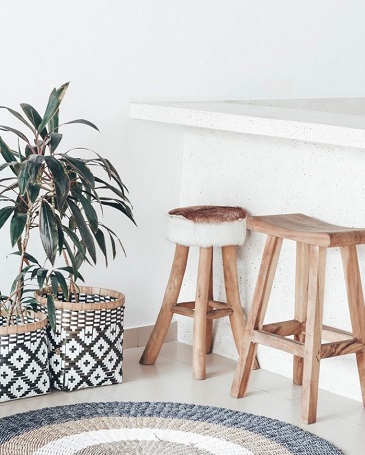 With this new look, you will totally be indulged in a Californian seaside-style decoration !
Some greenery in my Californian beach house
There is no way to bypass the Green trend in this year 2019. Decoration lovers rely completely on plants, cactuses and other succulent plants to vegetate their interior.
Let us not forget that indoor plants play a major role on the well-being as well as being an inevitable decorative support. As you probably got the idea, let nature get inside the interior of your house for a green, soothing and fresh atmosphere.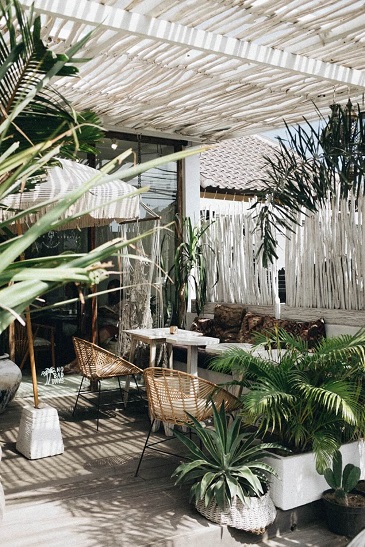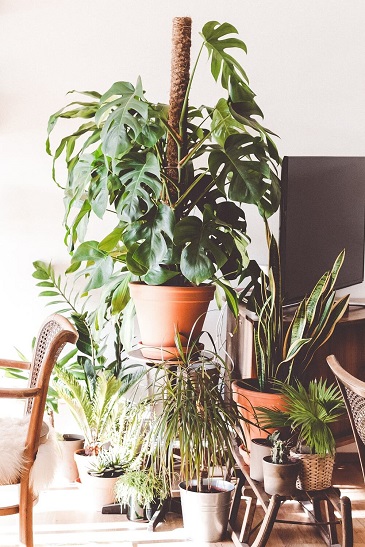 Inspired by surrounding wilderness, Californian decoration cannot do without West Coast-related plants like cactus. However, to keep the link with the Pacific ocean and beaches, you should not forget to include palm trees in your beach-style decoration as they are so emblematic of California. To do so, you can place a small palm tree next to the sofa or you can paper a wall section with exotic patterns.

Thanks to the mix of green and ocean, you will be able to enjoy a relaxing earth & sea panorama.
Ocean-style decoration goods to buy for a Californian seaside-style interior
California is not only about its desert and cactus ! The US West Coast is also the cradle of surf culture. So, get a touch of surf and ocean with decoration items related to the beautiful Californian beaches.

Nowadays, we found more and more surfboards in our interiors. It's the new sea-style decoration trend ! If you are fond of surf or just a lover of surf culture, go for Salty Design's revisited furniture for a cool and trendy interior. You can simply hang your surfboard on the wall or put it next to your sofa or bed. A 100% Californian decoration accessory which will make you want to go surfing ! For a few years now, the "surfboard" has become the ideal object to decorate seaside houses.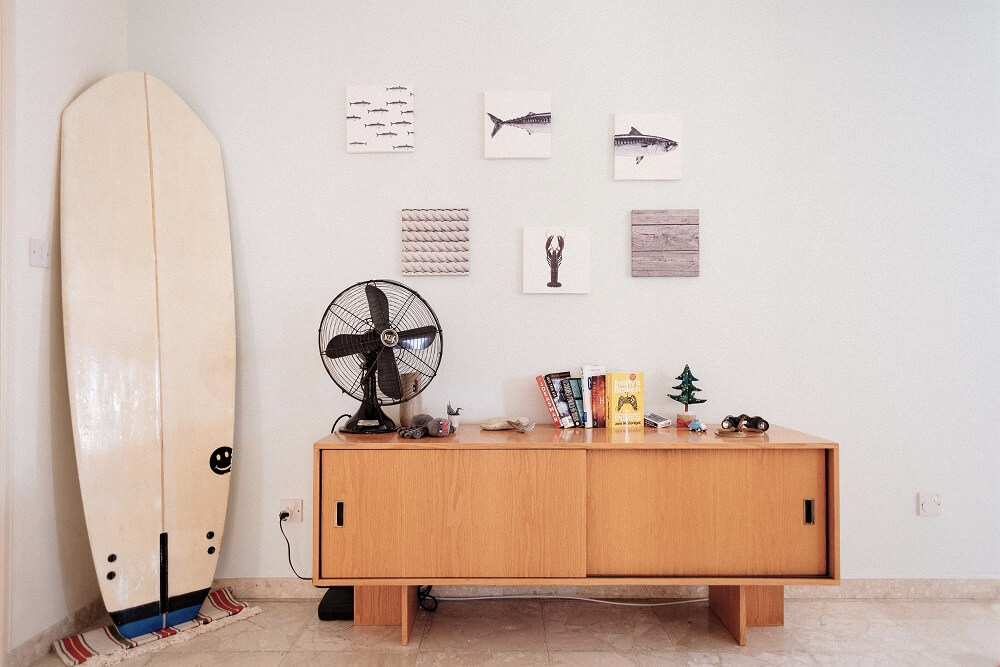 You want to give character to your walls ? Here is our tip : go for colourful posters that ooze California or make a wall-hanging with shells and driftwood. These are decoration ideas that will make your home travel to the Pacific ocean coast.

Ah ! We can hear the Californian sun calling you… So will you get tempted by the laid-back style of Californian seaside-style decoration ?