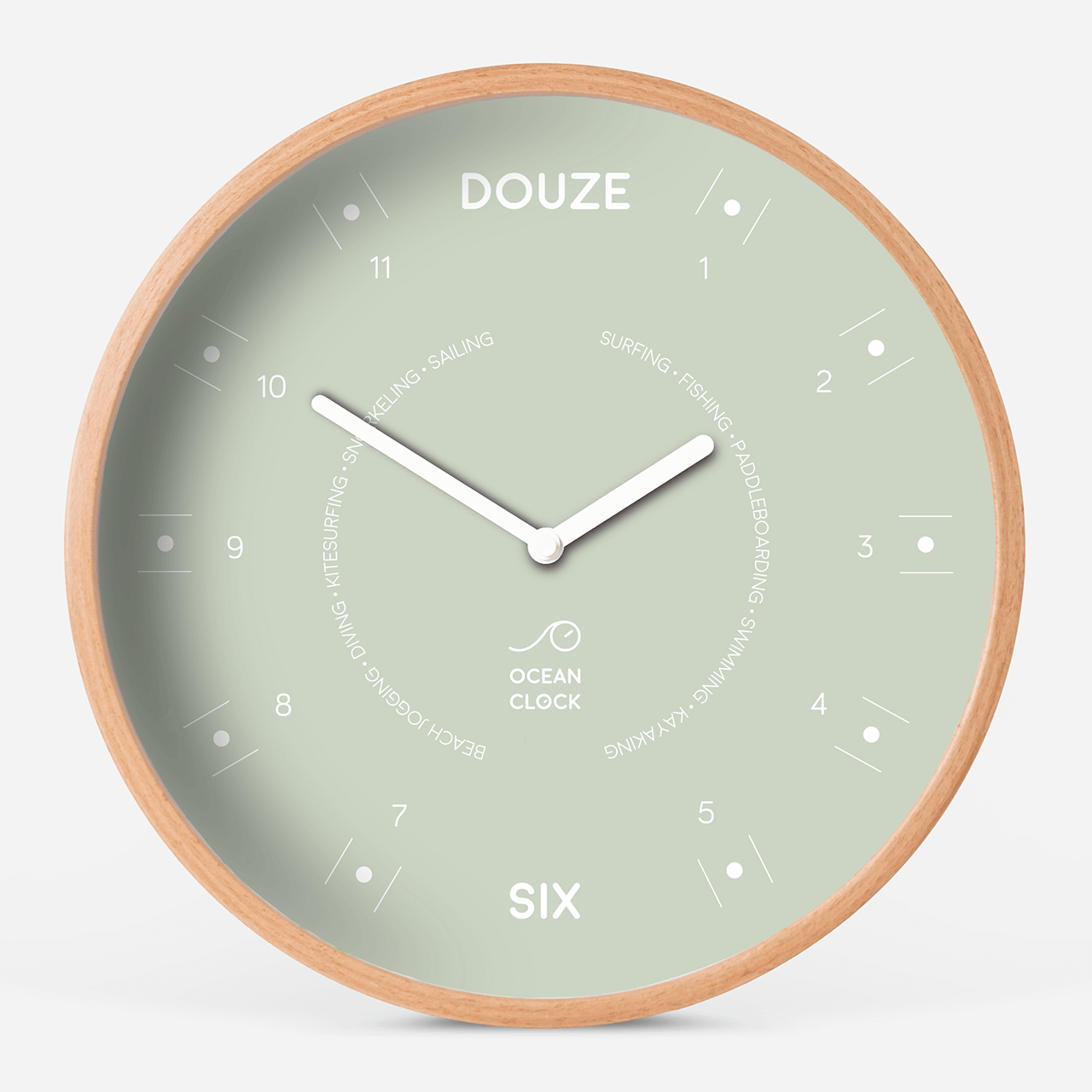 Clocks Algae
When it comes to interior design, we're all for going green! 
The verdigris clock face features words written in white relating to nautical pastimes (swimming, surfing, beach jogging...).   This nod to the sea adds that extra something to a nature inspired theme. 
Handmade in Hossegor, with a natural beech frame and white hands. 
Dimensions de l'horloge

Color

Green

Mécanisme silencieux, verre minéral

Bois de hêtre, verre minéral

Mécanisme

Ménanisme à quartz silencieux - Requiert une pile AA - non incluse
A natural, handcrafted wooden clock. 
Feel like going green? Check out our Algae green clock. We used seaweed as the inspiration for this wall feature that will freshen up any room in your house.  
This designer clock, which was hand made in our workshop in Hossegor (France) is made using high quality materials: brass components that will not rust, a natural wood frame (beech) and mineral glass protection as well as a silent quartz mechanism. 
Combines wood with the colour green for a calm, nature inspired look.  
For a sophisticated verdigris feature, avoid going for an all green vibe as this could feel too much.  We recommend painting just one wall in green and then combining that with light colours such as white or shades of beige to brighten up the room.  
To enhance the nature inspired decor hang a few plants from the ceilings or display them in pots.   You'll be part of the latest trend!
You hesitate on the choice of the color of the dial?
Receive a sample
Order online a sample kit of our different clock faces. Please note that this €5 kit will be deducted from your purchase when you place an order for a clock on our online site, using the reimbursement code included in the kit.