CHILDREN CLOCKSOcean Clock
Find our fun and silent children clocks on sale in our e-shop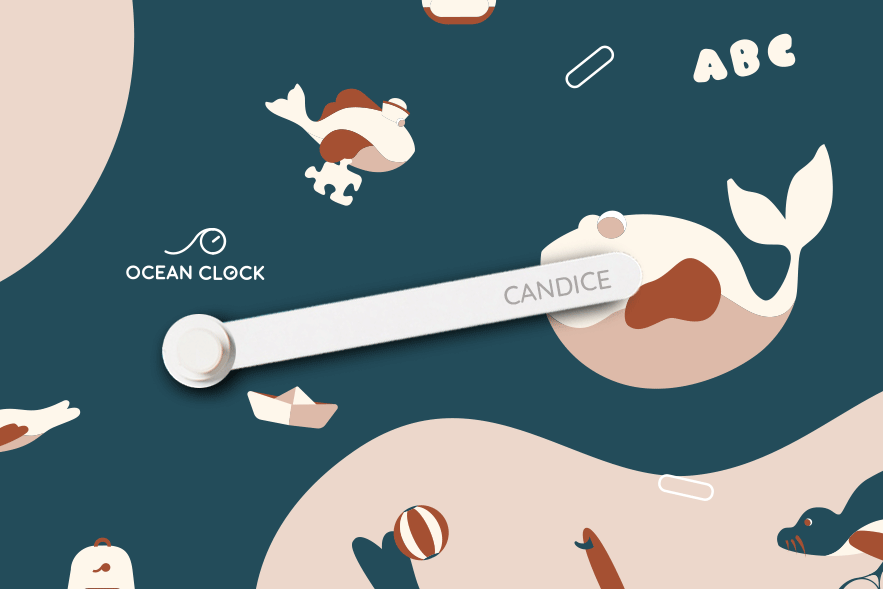 A customisedkids clock
Make this wall clock unique, customise the clock hand ! A name, date, location...
Ideal gift for a birth or birthday, My Little Week will become the original cute deco touch in your baby's bedroom !
FOR FURTHER INFORMATION
My little weeknature
Natural materials and warm colours are to be favoured in 2020 !
The simplicity of this round clock made with natural wood will enchant the whole family !
The feel-good atmosphere trend remains a must; products with an ethical, sustainable and made in France approach are becoming essential to your home interiors !
Find out about our firm favourite brands as well as our deco tips here
Quitea learning experience
Our My Little Week clock comes in corals tones and duck blue shades.
This little wooden clock, both functional and aesthetic, will fit perfectly in either boys rooms or girls rooms ! 
Ocean Clock, french clock makers, recreates the magic of a week under the ocean, by encouraging children to look ahead to the day to come !
Want to know how to teach your children the days of the week ?
See our tips here
Workshop inHossegor
Each child clock is hand-assembled, meticulously,
within our workshop located in Hossegor, on Landes coast, in France.

Our My Little Week children clocks show the days of the week silently
thanks to our silent mechanisms.
A nice idea for a birth present, don't you think? 
Do you likethe ocean ?
Our Ocean Clock brand was launched in 2015. Our flagship product was imagined and created in a sober and elegant spirit, in beech wood : the tide clock. You know it ?
A tide clock does not show the time at all... it shows you the time remaining before high tide or low tide.
Eager to discover our clock that comes in 10 colours ? From navy blue to white via arctic blue ?