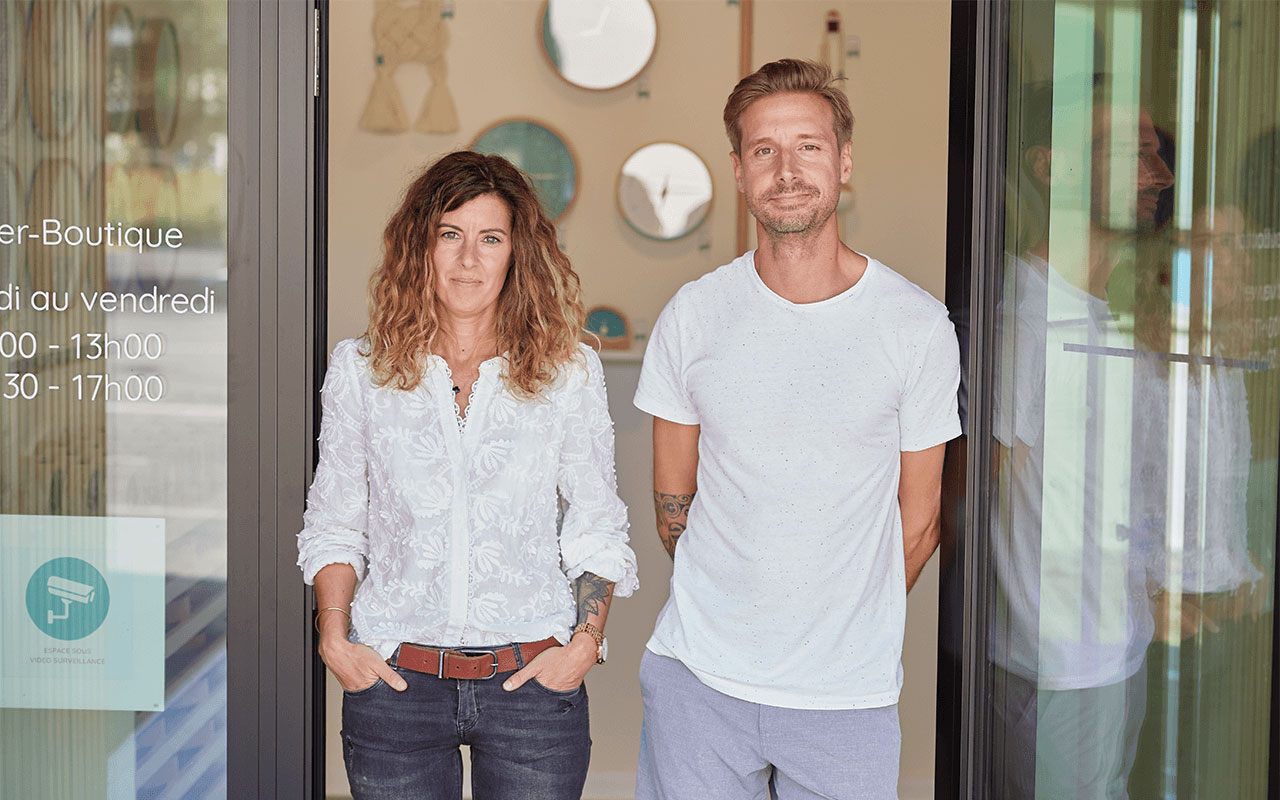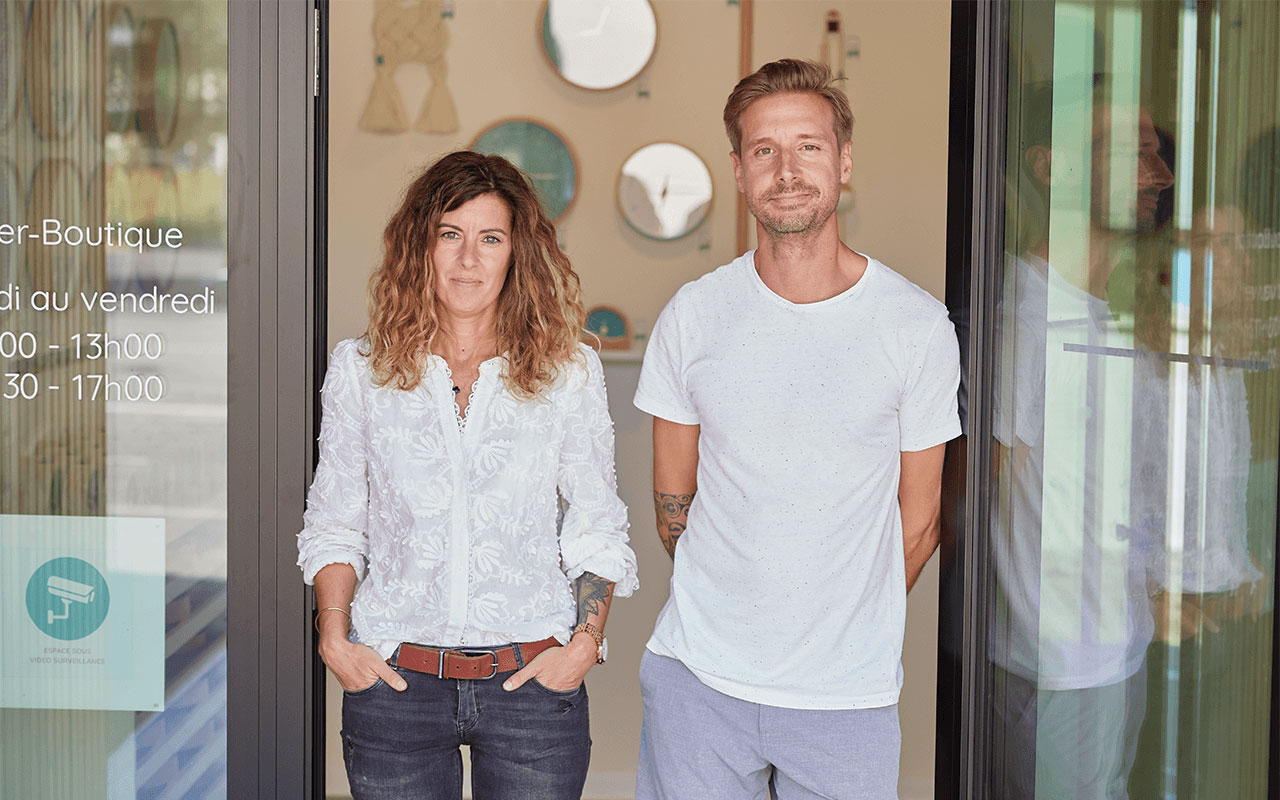 Our story
Inspired by our family's legacy and the bond we have been having with the ocean since our childhood, we have imagined original creations for the house.
Deco objects, now must-haves for some people, that reinvent the seaside spirit.
Plunge into the Ocean Clock adventure and discover our story.
2015, the beginning ofa great adventure
Growing up with our feet in the water, on the Landes coast, James & Stéphanie have continuously had their life punctuated by tides and waves.
Stéphanie's family has been cultivating oysters on Lake Hossegor for five generations. The tides dictate the rhythm of oyster farmer's work each day.
These two ocean lovers had, in 2015, an idea in mind, and quite an original one: bringing up to date a measuring instrument which seaside enthusiasts know very well: the tide clock.

The creation ofthe tide clock
"My parents received a tide clock as a wedding present. This clock has been in our family home for a very long time. And needed some serious modernisation!" - Stéphanie
That is how they challenged themselves to insert this traditional measuring instrument into today's trends.
After several months of development, the Ocean Clock tide clock was born. It was a long process to choose quality materials and to come up with a unique and contemporary design.
Head tonew creations
After the success of the wooden tide clock, James & Stéphanie imagined a whole ocean-related deco world.
It is into her family story that Stéphanie taps her imagination to create new collections. Memories of her granddad repairing fishing nets, her dad mooring the barge, loads of floats of all colours, as well as their ropes, led her to reinterpret her relatives' everyday objects: reef knots, floats and paddles.
A nice way to pay tribute to her family and honour her roots!
Reinterpreting classics has become part of Ocean Clock's DNA. It is therefore natural that the challenge of breaking other measuring instruments' codes came up. Thanks to Ocean Clock, the barometer and thermometer have become, just like the tide clock, deco objects in their own right.
Ouradventure's highlights
Embark on a journey through the key events in our history.
2015,A family & ocean story
Noticing a tide clock that had been forgotten about on the family house's shelf gave us the idea of a more contemporary clock. Ocean Clock was created!
Our modern tide clock's prototypes were displayed at our first reseller's shop, L'air du sud in Hossegor.
A customer entered the shop and bought the three models. That's how the adventure began!
2017,Time has come!
As some of our customers were looking for a clock to match with their tide clock, we ended up creating our collection of traditional clocks (inspired by our flagship product).
2018,new destinations
The reputation of our clocks crossed the borders of the Landes and even France.
It is not less than 50 sales outlets, mainly on the coastline, which fell for our revisited tide clocks. And it is not about to stop!
2020,a week under the ocean
« What day is it, is it school day?" This question, James & Stéphanie had heard it on a daily basis!
At 4 years old, Tom needed a fun support to help him know what day of the week it was.
So, in 2020, My Little Week children's clock was launched.
2021,nautical but different
Ocean Clock keeps breaking the codes of emblematic objects, by revisiting the barometer and seaside essentials.
The objective: dusting off the nautical style and bringing your deco to the foot of the waves.
2022,a new horizon
A huge project took shape: the building of our own store and workshop, in Hossegor. 
A unique place inspired by Ocean Clock's world where our creations, favourite brands and exclusive collabs mix.
2023,nice and hot!
New challenge for our crew: imagining a thermometer in line with our own world.
After more than a year of development, it is a new measuring instrument with a nautical style that has joined the Ocean Clock family.
The journeycontinues…
Since 2015, James & Stéphanie have managed, with the tide clock, to get a place in seaside shops (and not only). Thanks to our original and modern creations, Ocean Clock is now distributed in more than 150 shops throughout France and oceans.
The adventure is far from over! The team still has great ideas and wonderful projects in mind to embark you on our splendid universe.