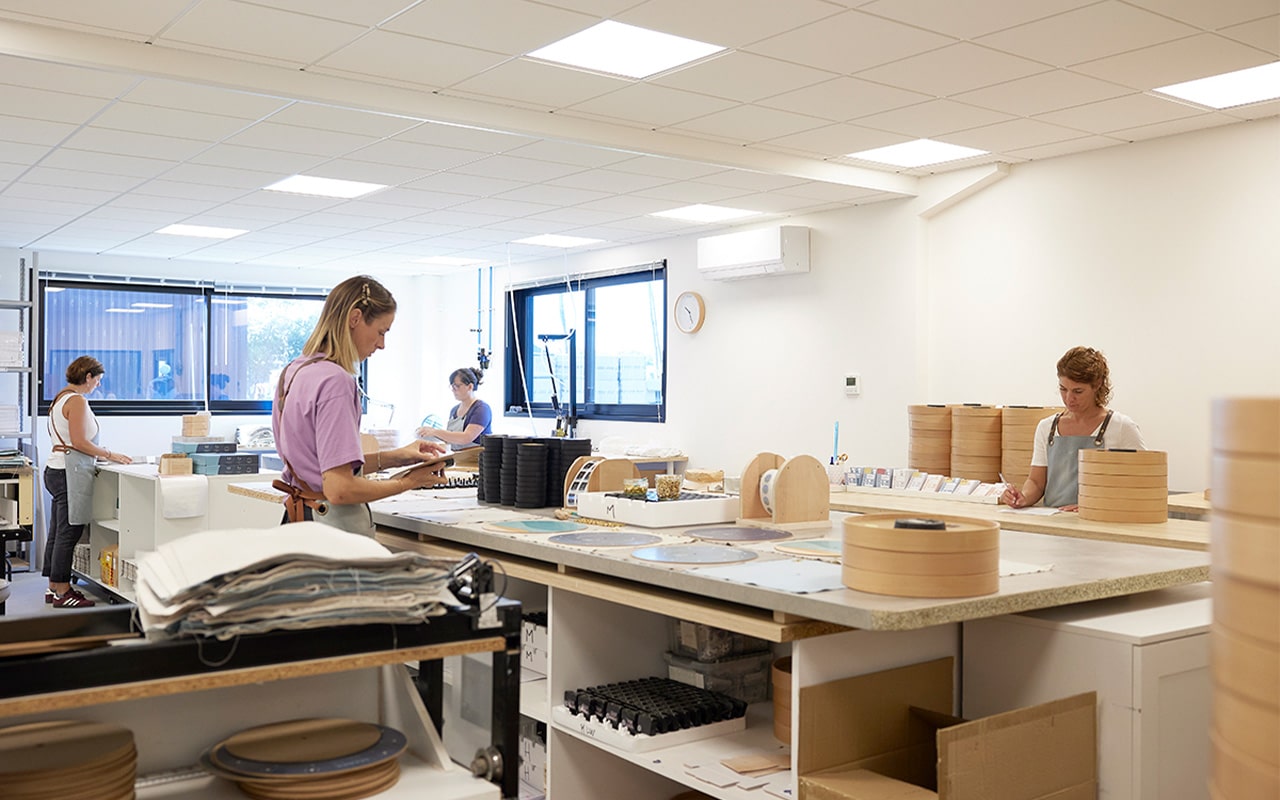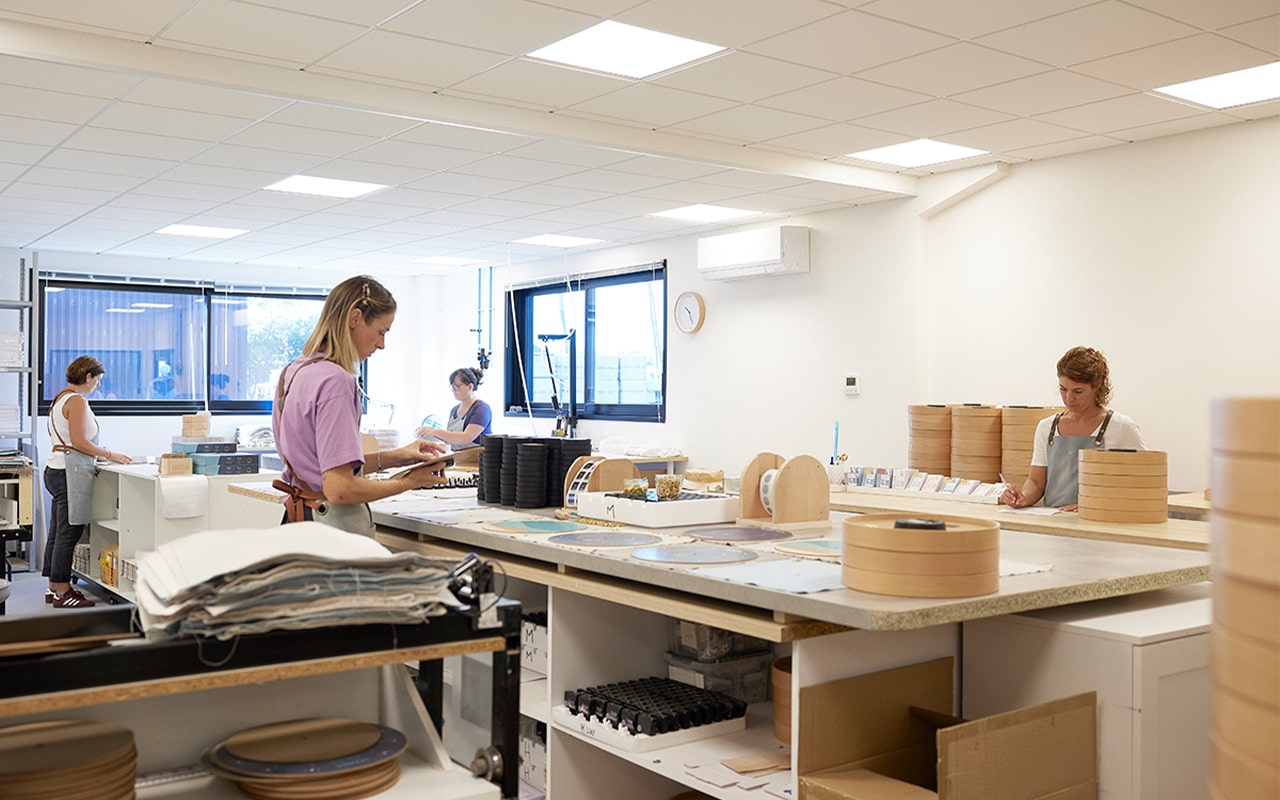 Our know-how
It is in Hossegor, on the Landes coast, that Ocean Clock was born. It was therefore natural that we built our workshop in this lovely town that had rocked our childhood.
After having worked on the design for a long time, it was important for us to carefully choose the materials of our products, prioritising quality and origin.
Every product we offer is hand-assembled with great care by our crew.
Behind our clocks, there are quality materials
The making of our clocks requires precision and meticulousness especially when it comes to assembling the different components. The selection of materials was a crucial step in the design of the clock.
The frame of our clocks is made of natural beech wood. Its diameter is 31cm long for our tide clocks and traditional clocks, and 25.5cm long for My Little Week clocks.
UV resistant, our dials are printed and film coated in the South West.
Their wood-fibre stands are cut to size, a few kilometres away from our workshop.
The mechanisms of our tide clocks, traditional clocks and children's clocks are totally silent in order to safeguard your well-being and your loved ones'. 
As we are attentive to every detail, we have chosen quality materials like brass components and metal hands which confer neat finishes on our clocks.
In 2021, acquiring a new machine allowed us to offer a premium customisation service. Thanks to it, the metal hands are now engraved with the inscription of your choice within our workshop, in Hossegor, offering you a quality render.
The whole is then protected by a mineral glass pane, made in Germany.
Focus on the creation of our barometers
Given that the barometer is a technical tool, its development has required great thinking both in terms of design and making.
To keep the Ocean Clock spirit, our barometers are made, just like our clocks, with a beechwood frame measuring 25.5cm and protected by mineral glass.
The simplified and modernised dials are also printed and film-coated in the South-West. As for their wood stands, they are especially cut for our barometers, 20km away from our workshop.
As their specific mechanism (capsule of Vidie) is very sensitive, it is essential to adapt the different manufacturing steps to the barometer's specific features, which requires a meticulous assembly.
To add a touch of originality to this traditional tool, the marker hand was rethought and replaced by a magnetic bolt cut in beech wood in Burgundy.
The barometer's wood frame also brings originality thanks to its colourful line that is carefully hand-painted in our workshop.
The challenge ofmaking the thermometer
It was after a year of development that we managed to unveil the reinterpretation of the thermometer inspired by our world.
Entirely designed in our office, this thermometer was imagined as an important part of your deco. Every detail was finely worked to make it a unique object, both in terms of aesthetic choice and selection of suppliers.
This is why the quality of materials was a decisive criterion in the development of the thermometer. After numerous tests, we finally found, in Brittany, the perfect partner for the shaping of the beechwood structure, the thermometer's main element. Note that each wood piece has a unique veining.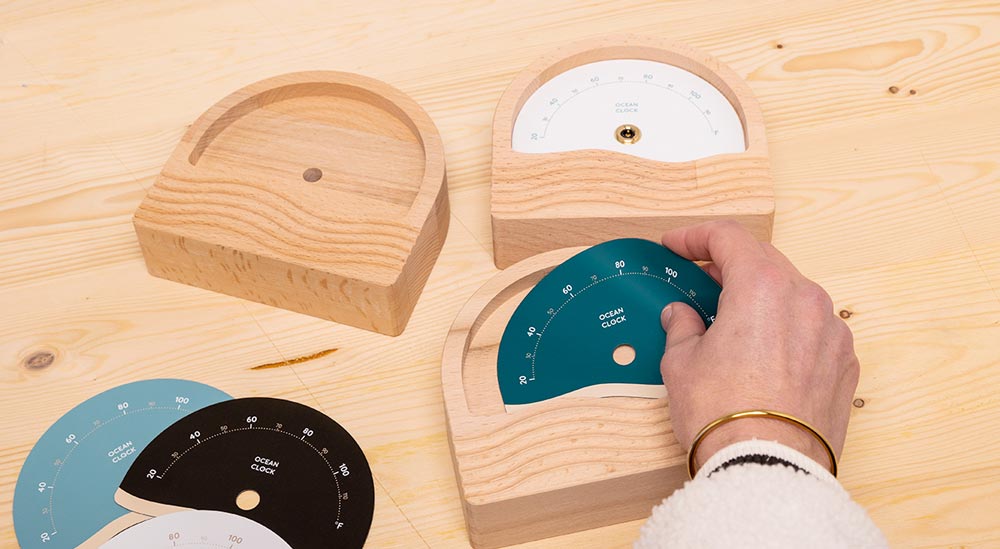 For reasons of proximity, we also chose to work with a French firm, located in the Vosges, for the cutting of the tailored adhesives. They are used when gluing the face on the beechwood structure.
Printed in Italy, the faces, using our emblematic colours, are hand-assembled in our workshop and can be customised by our crew with the inscription of your choice, via a professional printer.
The thermometer's mechanism, operating without using energy, reacts to the temperature via a metal spiral. To assemble it, our team must be very meticulous in order not to damage the metal strip that sticks out a few millimetres from its protective box. Like for the clocks, we use brass components to fix the mechanism and the metal hand.
The latter is placed manually according to the instructions of the thermometer calibrated in the laboratory. By using this tool, we assure you that our thermometer is calibrated as precisely as possible.
The secrets ofour Deco collection
Just like for our clocks and barometers, looking for the right materials was a long-lasting and delicate step as we wanted style and quality for our products.
Our paddles are custom-designed in Europe with ash wood scraps.
They are then hand-painted and hand-customised by us and equipped with a brass hook in order to hang them (a second hook is also provided with the paddle).
Our ephemeral collections, like the garlands of floats and reef knots - hand-tied and accessorised by our team, were also given special care when it came to choosing materials:
The cotton rope, twisted in Holland
The leather, cut and embossed in a workshop located in the South of France
A brass buckle, made in Italy
Beechwood elements from French eco-managed forests, shaped in Jura and hand-painted in our workshop.
A beechwood medal engraved by us with the knot's name
A metal ring hand-painted in our workshop
It is really important to us to apply the same rigour when it comes to choosing our raw materials for the future creations.
Our suppliers'tour of France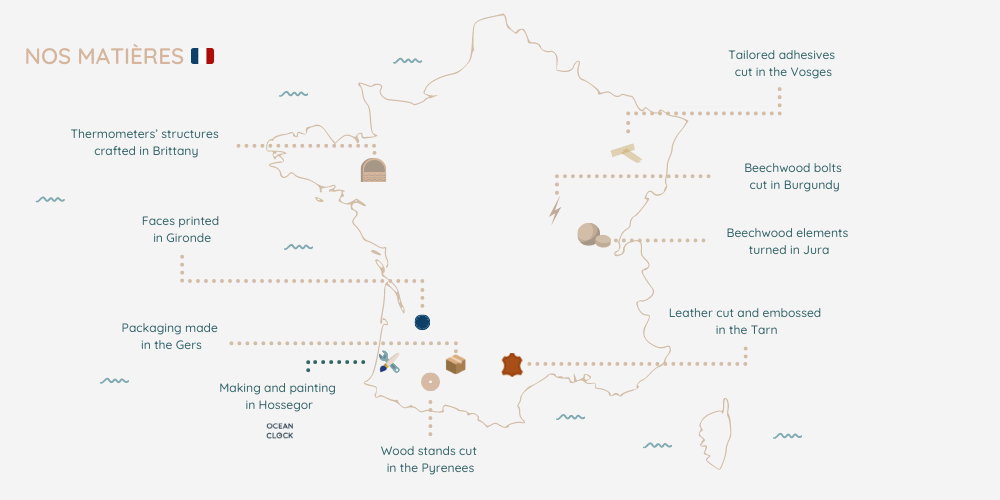 Thetiming
Assembling clocks, barometers and thermometers by hand and making hand-crafted deco objects require a certain mastery of the different manufacturing steps: painting, knotting, assembling…
This patience, rigour and know-how will soon be in your hands!
Our custom-crafted tooling enables us to perform all the manufacturing stages of our different collections.
All our products are shipped the day after you place your order (except weekends), with the exception of the customised paddles which require a period of 48 hours for the painting, drying and varnishing of the customisation.
Made 100km away or so from our workshop by using recycled carton boxes, our packaging is tailor-made in order to better protect our products during transportation.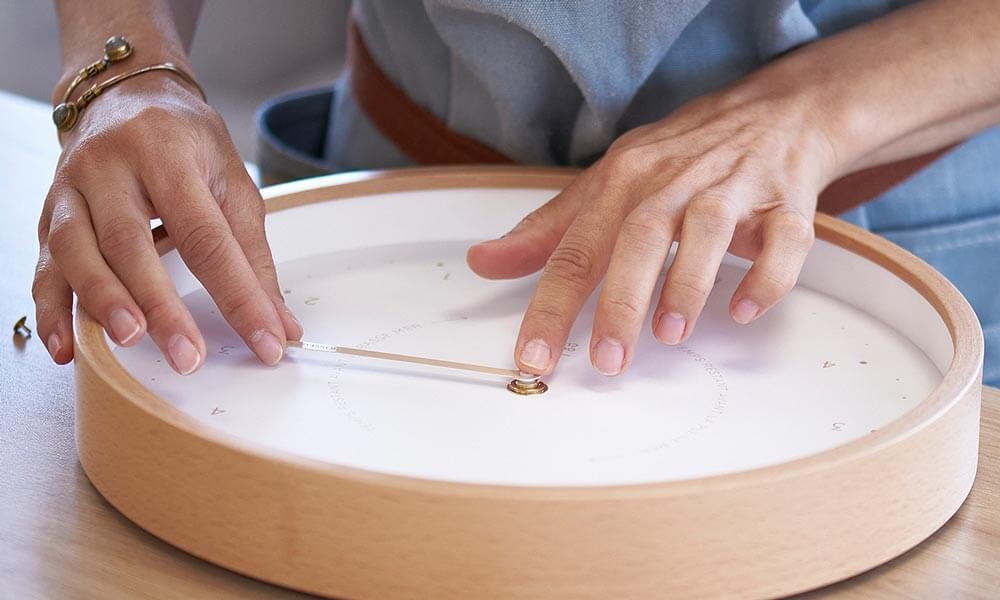 With time, we have managed to improve our manufacturing processes, develop new skills and obtain a better quality and origin of our raw materials.
Sourcing is one of our main concerns as it really matters to us that we collaborate with local suppliers and promote the French know-how. This explains why we work every day, so that the production of our raw materials is carried out very close to our workshop, while prioritising the quality of our products.