A world tour of the most beautiful lighthouses
Scale the heights and enjoy the natural beauty of our oceans
Although many lighthouses no longer shine in the night to guide sailors, they still remain architectural gems, emblematic of the coastline. Let us travel all around the world through pictures and discover these exceptional maritime monuments. In this article, we have selected for you some of the most beautiful world lighthouses that make us want to reach for the sky. 
Let us sail to the North American coasts
Let us start our "lighthouse tour" on the other side of the Atlantic. Ready to be dazzled?
Peggy's Cove lighthouse - Canada
Our first stop is in Canada, not for its maple syrup but for its emblematic maritime lighthouse located in Peggy's Cove, in Nova Scotia.  This lovely white lighthouse with its red light, built in 1914, attracts every year many tourists who love to venture on the granite rocks to have their picture taken next to this splendid 15-metre-high edifice. A must-see spot that offers a magnificent panorama of the bay.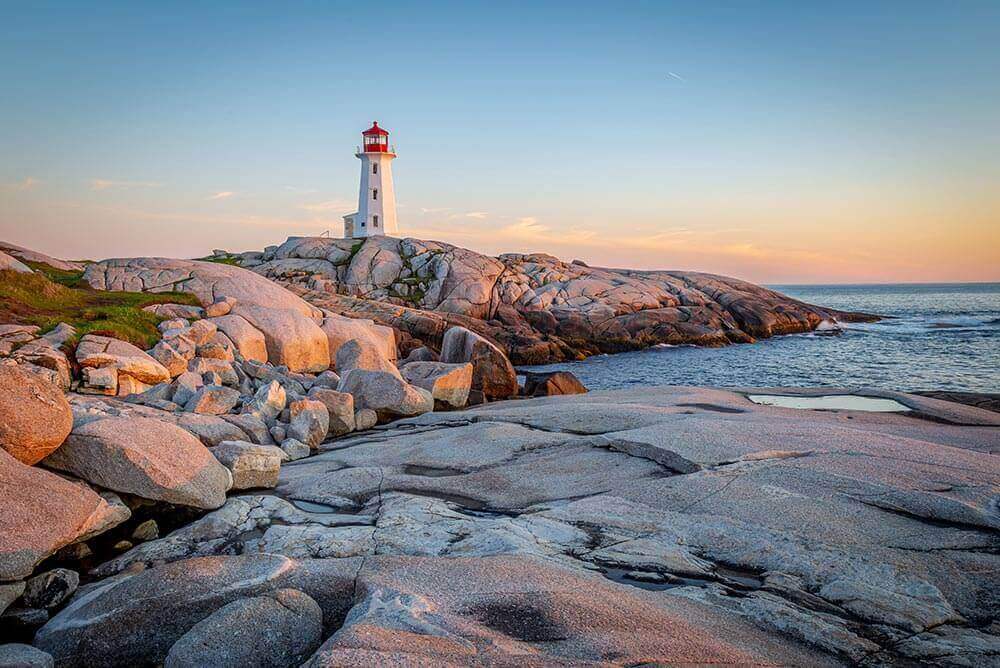 Portland Head lighthouse – United States
Let us leave Canada and head off to the United States' Atlantic coast, in Maine, also called "lighthouse state" because of its 65 lighthouses dotting the coast. Off to Cape Elizabeth to discover the state's oldest lighthouse, built in 1791. A historical place that offers stunning views of the Casco bay, from the top of its lovely steep coast.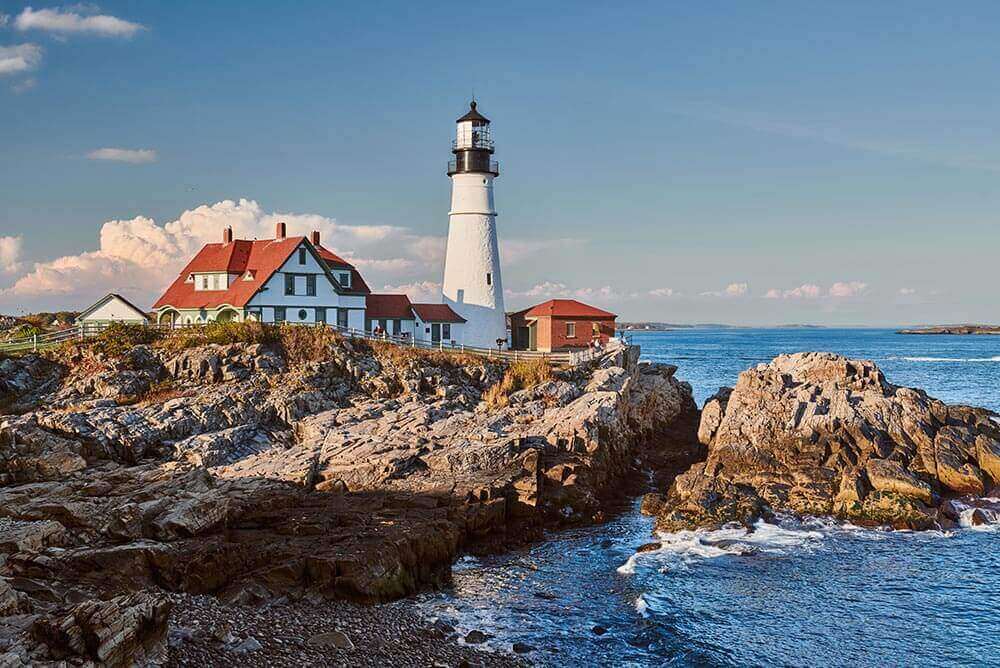 Hillsboro Inlet lighthouse – United States 
Let us warm up on Florida's beaches! This 42-metre-high metal tower was built in 1907. This very original black and white lighthouse is considered one of the most powerful ones in the world with its 52km reach. Enjoy an exceptional view after walking up its 175 stairs.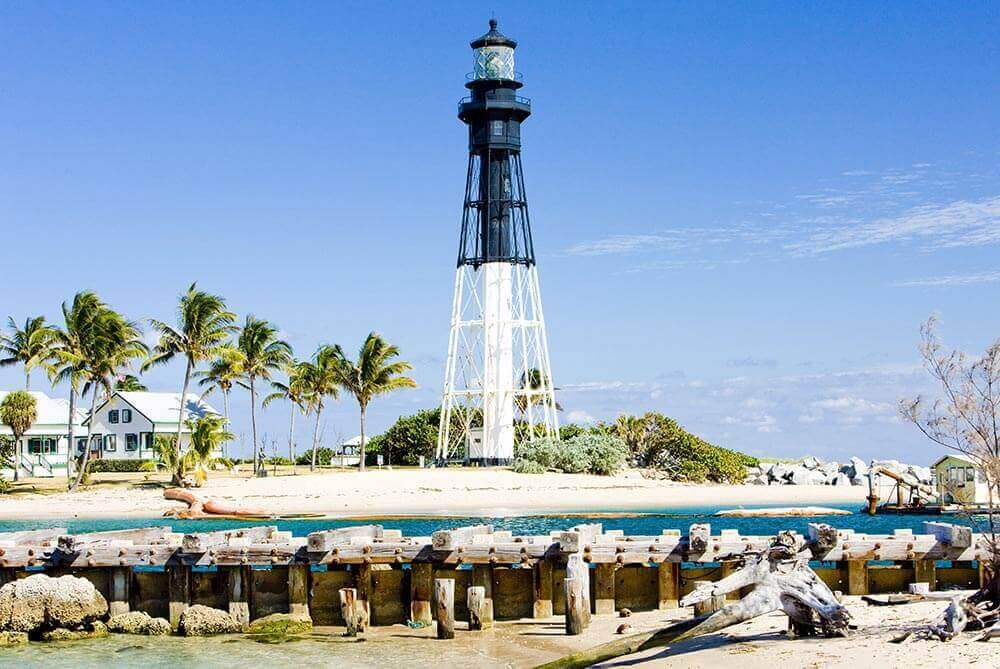 Discover the beauty of the Far North's maritime lighthouses
Let us get back to the European continent and head off to Scandinavia to see its incredible lighthouses either on the seaside or in the open sea. Do not forget your woolly hat!
Tranøy lighthouse – Norway
Let us start our Scandinavian journey within the Norwegian fjords, on the little island of Stangholmen. Venture this tiny piece of land between sea and mountains, accessible thanks to a 270-metre-long footbridge, and walk all the way up this splendid maritime lighthouse and admire the vastness and beauty of Lofoten islands. This red edifice, with its 27-metre-long white stripe, draws everyone's attention in the middle of this land that often gets snowy.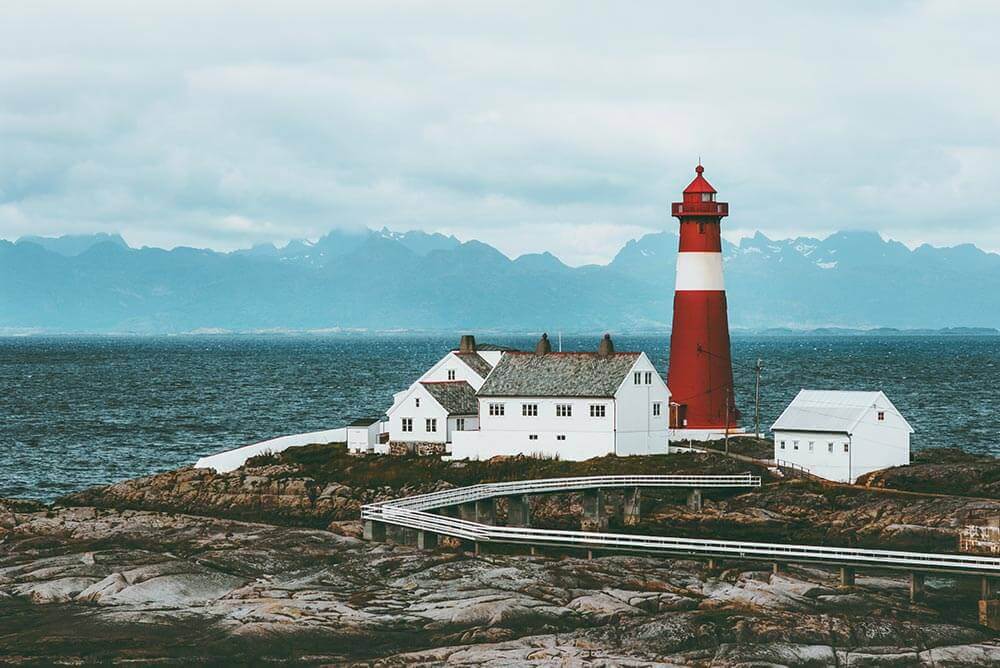 Kjeungskjær lighthouse - Norway
Let us move down to the south of Norway and go to the open sea to discover a stunning entirely red lighthouse. Built in 1880 on a small island, 5 km off Ørland, this small house-like monument welcomes many visitors who come to enjoy the exceptional view of the fjord for a few hours or even a whole night.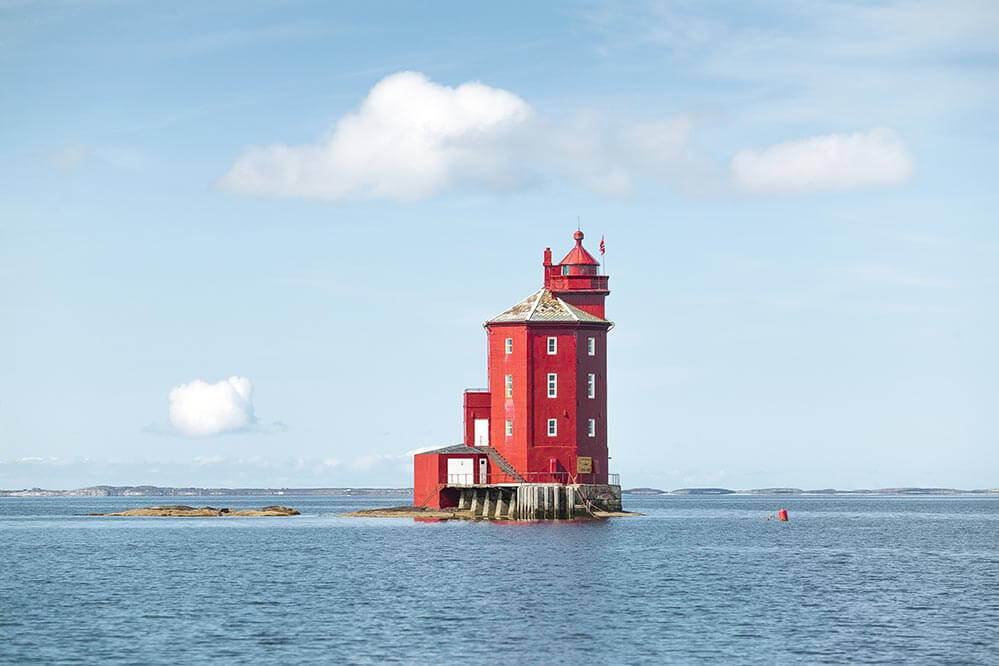 Rubjerg Knude lighthouse – Denmark
This famous 23-metre-high stone lighthouse, located in Hjorring on the west coast of Denmark, has an incredible story in addition to being a majestic monument. This lighthouse, built in 1899, was moved inland, by 70 metres, in 2019 so it does not fall into the sea. Both its story and location, on the dune facing the North Sea, make it a must-see site in Denmark, offering a splendid panorama.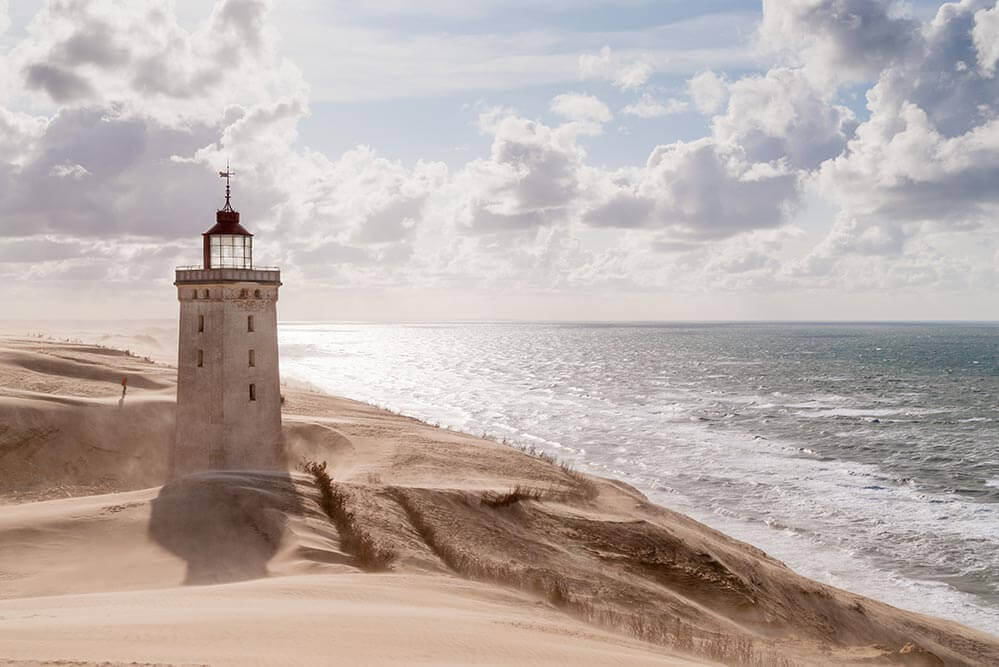 Let us go and admire the maritime lighthouses on the other side of the North Sea
No need to travel far to admire wonderful seaside lighthouses and beacons. Embark with us and let us head off to the United Kingdom and Ireland.
Lismore lighthouse - Scotland
Heading off to the Scottish lochs to discover this lovely 26-metre-high yellow and white lighthouse. Built in 1833, it is located on the little rocky island of Eilean Musdile in the west of Scotland. Impossible to miss this listed monument, it is visible from even far distance thanks to its immaculate colour which contrasts with the green and rocky hills of Scottish landscapes.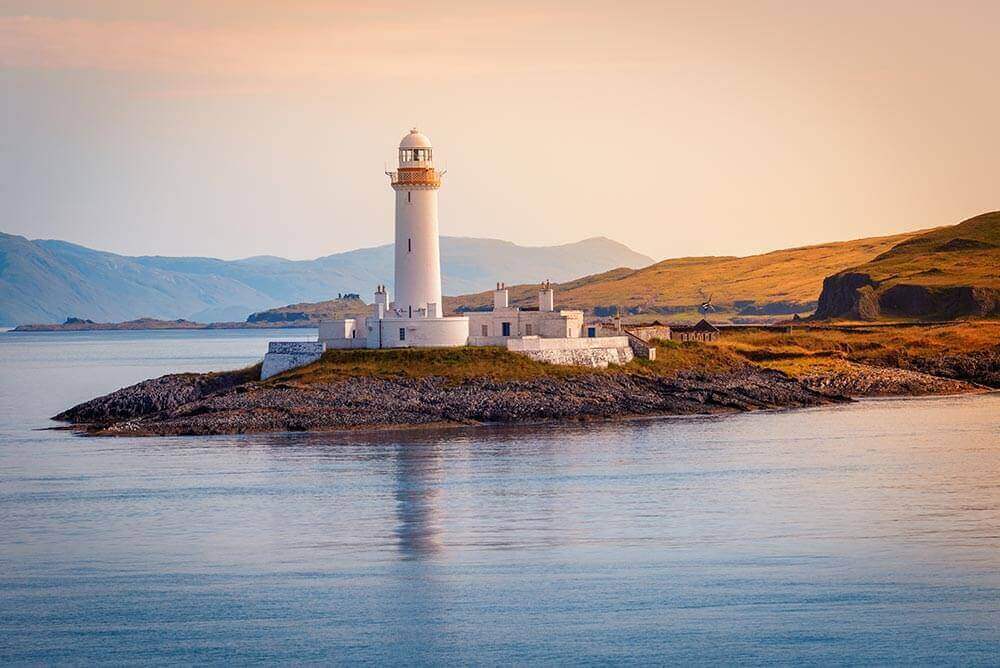 Beachy Head lighthouse – England
Contemplate this English emblematic lighthouse, dated 1902, located at the bottom of the Beachy Head cliff, the highest chalk cliff in Great Britain. Make the most of low tide and head off to the lighthouse and contemplate it from every angle. Don't miss low tide, check the tide clock to know what is the best time to go to the lighthouse. Enjoy a lovely seaside walk along this must-see spot and see the Seven Sisters site, and contemplate the sea as far as the eye can see. A spectacular view!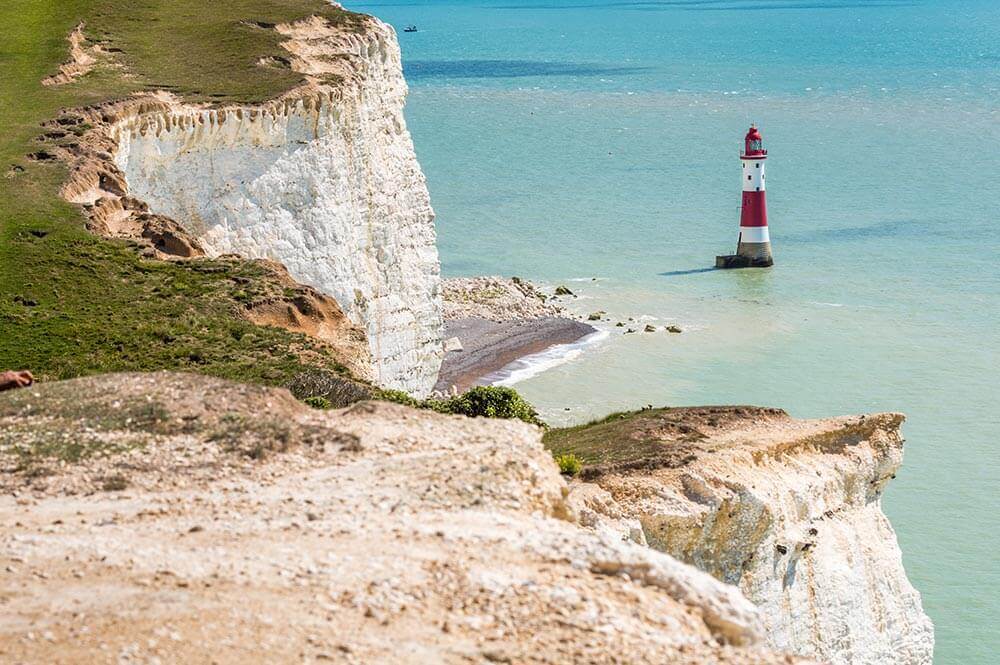 Fastnet lighthouse – Ireland
Let us move away from the coasts and get closer to this lighthouse in the sea that is quite exceptional. Located on Fastnet Rock, a rock that is 7 km off the south of Ireland, this granite lighthouse is the highest (54-metre-high) in both Ireland and Great Britain. It is so emblematic that it has become a strategic point for the famous British sailing race, the fastnet race. Do not expect to go up to its light as it is difficult to berth the rock so you may as well go on a boat trip if you wish to have a better look at this incredible site.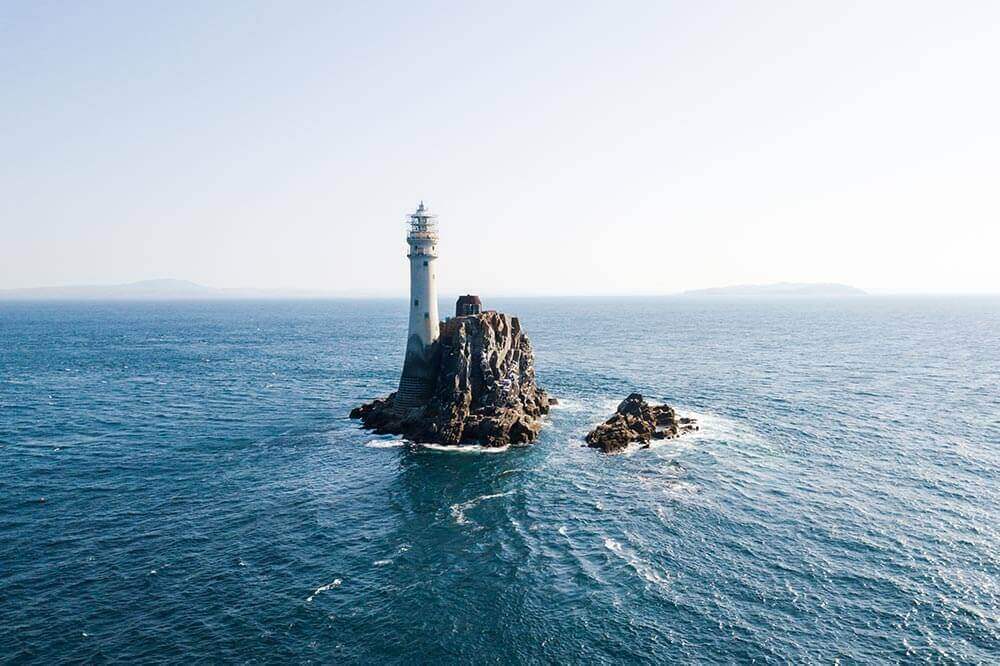 Heading off to the oceanic continent to see its lighthouses at the world's end
Let us finish this quick world tour and go to the other end of the planet, that is to say Australia and New Zealand.
Hornby lighthouse - Australia
Located in Sydney, this little original lighthouse that looks like a circus tent is just as beautiful as the view it offers from its cliff. Go through the harbour's national park and enjoy a 360° panorama of Sydney, its bay and the Pacific Ocean. An iconic spot in the region to see absolutely!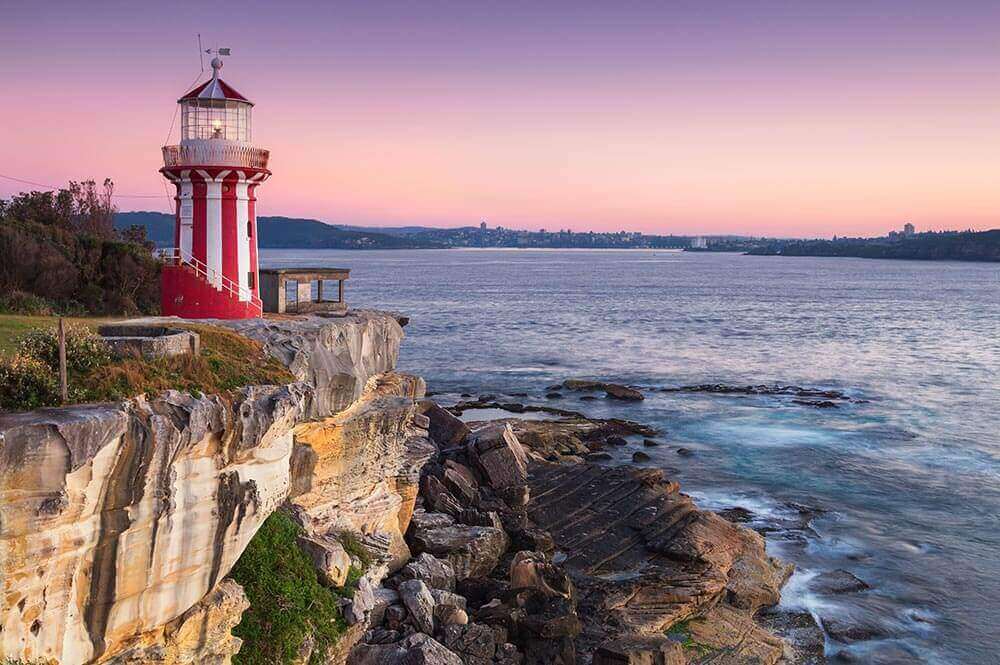 Cape Byron lighthouse – Australia
Perched on a cliff edge, the most powerful lighthouse in Australia offers pretty panoramas of Byron Bay where you may watch whales swim. It is also a magical spot, much visited, where you can contemplate sunrises and sunsets. The trails located near the lighthouse will offer you exceptional vantage points of Cape Byron.
Castlepoint lighthouse – New Zealand 
Over there, a beautiful panorama of the Pacific Ocean and Castlepoint Reserve are awaiting. Reach the maritime lighthouse by roaming through the forest and be marvelled by this unique spot where you can admire the lagoon, dunes and historic site of Castle Rock. If you are lucky, you may see sea lions and dolphins.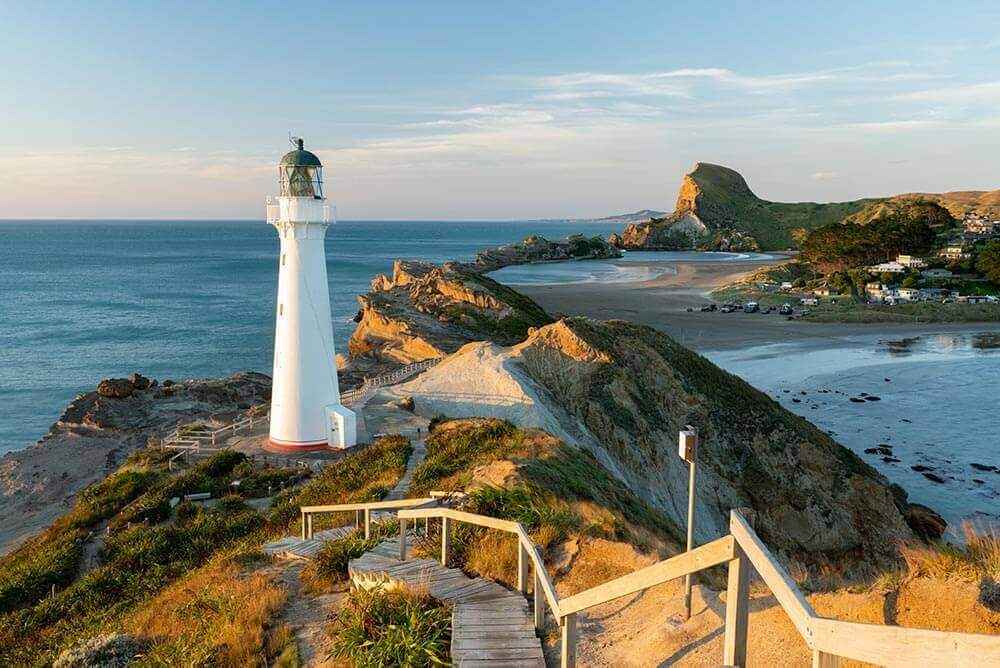 The French coastline also has stunning lighthouses which we will definitely tell you about in a future article.