Most beautiful salt marshes in France
A mosaic of colours between sea and land
There are not only beaches to contemplate on the French coastline! All year long, salt marshes keep fascinating us with their stunning landscape-transforming mosaics of colours. Green, orange, pink… Water in salt marshes offers us a rainbow of shades caused by the water's saltiness and microorganisms present in the pools. In this article, we have selected for you the most spectacular salt marshes in France you should visit on the Atlantic Coast or Mediterranean banks.
The Atlantic coast and its traditional salt marshes
Let's now head off to the Atlantic coastline to discover some of the most beautiful salt marshes which colour landscapes from Charente-Maritime to Brittany.
The famous salt marshes of Guérande
Guérande's salt marshes cover more than 2,000 hectares of land where 300 salt workers put their skills together to produce Guérande's famous salt, recognised in the whole world for its quality. By visiting Guérande's marshes, not only will you have the opportunity to enjoy an exceptional panorama but you will also be able to discover the engaging job of salt workers, a know-how that has been going on since antiquity. Follow a salt worker in this maze of pools to understand the running of a salt marsh, the influence of the sun, wind and tides on his/her work, as well as the manual techniques used to collect salt. You might even have the chance to taste a salt flower. Like a salt marsh worker, keep an eye on the tide thanks to the Ocean Clock tide indicating device.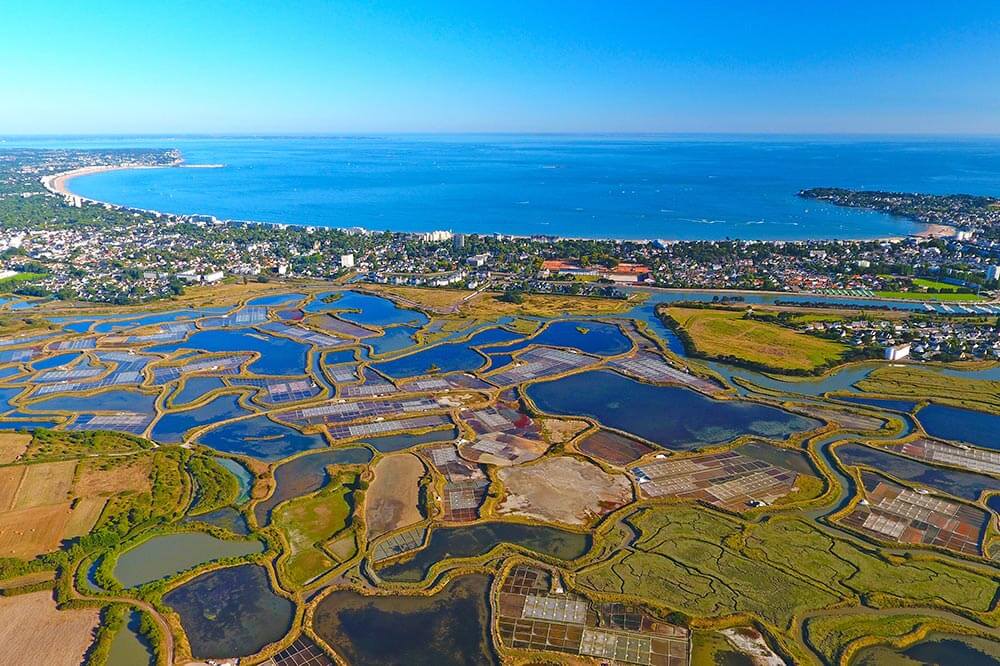 Île de Ré and its salt marshes
Known for its wild landscapes and typical houses, Île de Ré is best to be discovered by bicycle if you want to fully enjoy its beauty. Take one of the numerous cycle paths and head off to the north of the island to discover a postcard landscape right between the ocean and salt marshes. As salt production has been part of Île de Ré's history for several centuries, take the time to discover the secrets of white gold and salt marshes during a visit of the Ecomuseum of Salt Marsh located in Loix. During the visit, you will be able to watch the salt manufacturers in action as well as the fauna and flora (samphire, black mustard, white stilts or even egrets) present in these salt marshes 
To complete your salt-related trek, make a stop at the Cabane des Sauniers (Salt Manufacturers Hut) to buy a few things. There, you will find a wide range of salt-related products (coarse salt, toffees, salt flower…) that have been developed by the cooperative of the Salt Manufacturers of Île de Ré. The perfect place to find gifts for your close ones.
At sunset, you will be able to admire the sky's beautiful colours reflect within this maze of saltwater pools, an outstanding show to immortalise!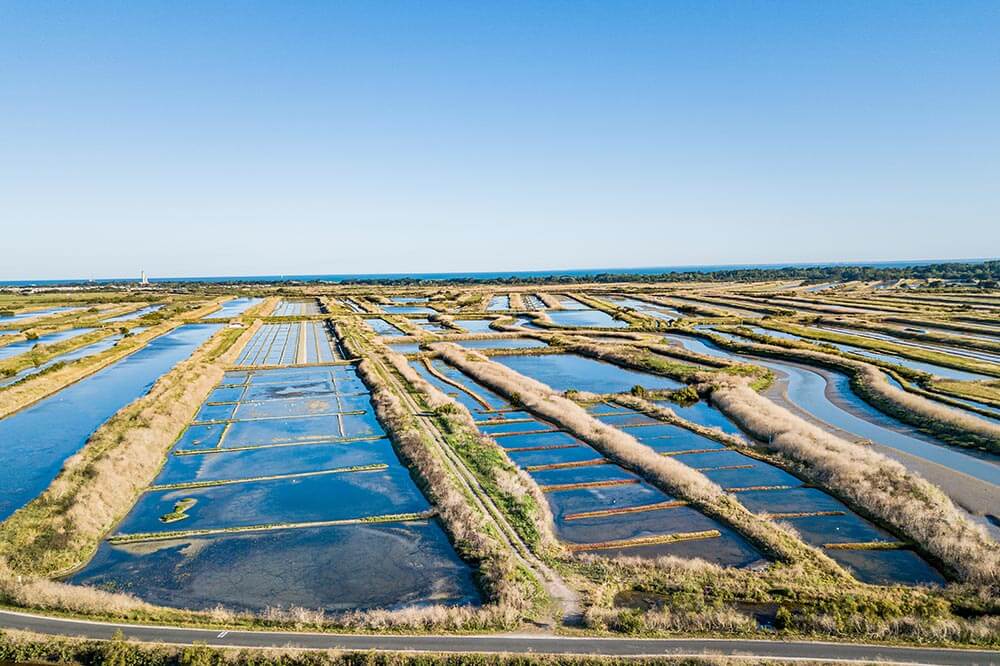 Salt marshes in Marennes-Oléron
Long exploited for salt collection, it is in the 18th century that salt marshes on Île d'Oléron and its surroundings saw their activity progressively disappear in favour of oyster production.
For many years now, salt marshes have been used again for their initial purpose thanks to a few enthusiasts who carry on the ancestral tradition of salt production. To wander through the incredible landscape drawn by the marshes, we advise you to go to Île d'Oléron where there are around fifteen salt marshes in activity. Head off to Port des Salines, Echappées Nature certified, where you will discover the history of Île d'Oléron's salt production through guided visits and its ecomuseum. Do not resist the temptation of a boat ride at the heart of the marsh to observe its magnificent natural set. In summer, you can even get initiated to salt collection with the help and advice of a salt manufacturer.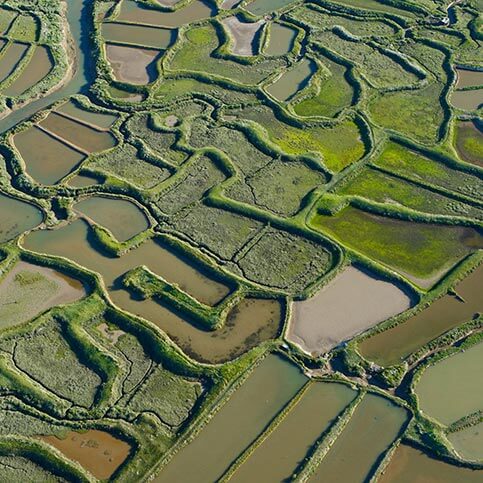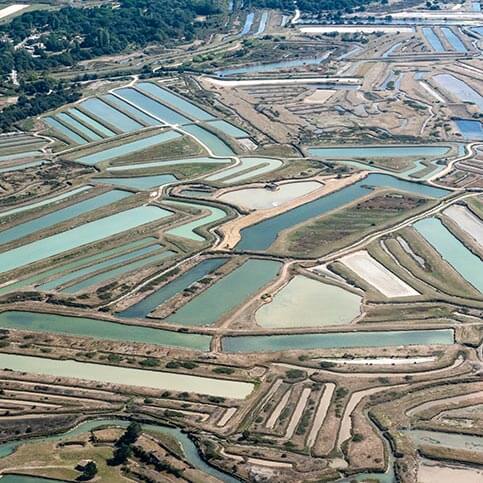 Mediterranean colourful salt marshes
It is on the Mediterranean seaside where most of the salt production is found in France.
The pink waters of Camargue's salt marshes
Camargue and its numerous salt marshes offer us a stunning panorama thanks to its pink tints. In Aigues-Mortes, more than 10,000 of hectares have been exploited since Antiquity to collect white gold. Go and discover the ancestral know-how within Camargue's salt marshes! Roam the colourful pools on foot, by bike or by riding a little train and see how the pink shades turn into red and how salt workers do their job. Those pink shades can also be seen on flamingos, emblematic of Camargue, that you can watch and contemplate during the visit. 
End your walk or ride at the very heart of the marshes by climbing to the top of the salt mountain, called "camelle", where you have a spectacular view on salt marshes as well as on the town of Aigues-Mortes and its ramparts. An exceptional change of scenery that will make you see life in pink!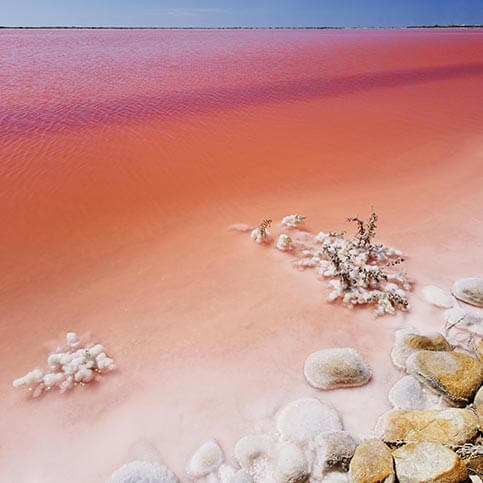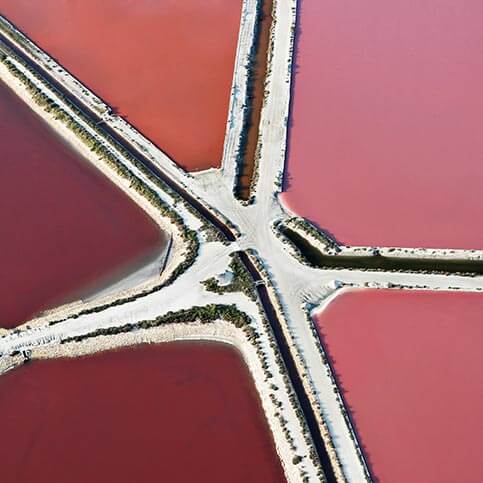 A few kilometres away from Narbonne, La Palme's salt marsh is a stunning place where the sea, the garrigue of the Aude's coastline, and the pools' numerous colours all mix together. Have a train or horse-drawn carriage ride to discover the bewitching colours that cover 400 hectares of pools. During your ride, do not be surprised if you come across birds like flamingos or gulls as they thrive in such a calm and humid area where food does not lack.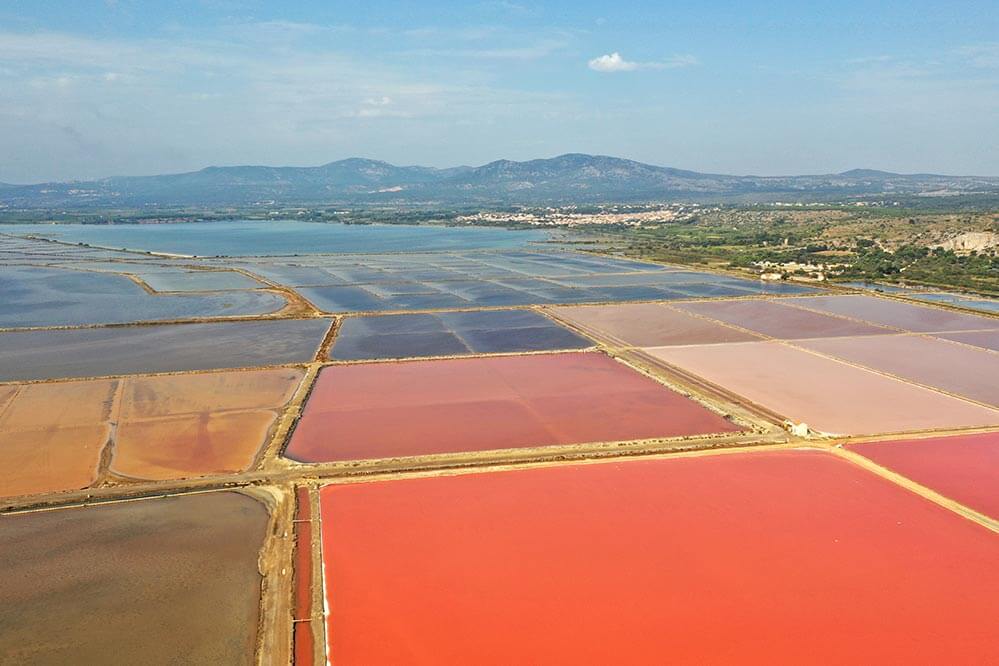 The best time to contemplate the beauty of salt marshes as well as the work of both salt merchants and salt workers is definitely summer, so we advise you to come and visit at that time of the year when salt is collected.
Where are you off to for the next holidays, Mediterranean or Atlantic coast? Find out about our favourite family seaside destinations.