Go and discover France's most beautiful forests
Our favourites to revitalise yourself in the middle of nature
With sunny days about to come, we are increasingly longing to go outside. Nature lovers cannot resist checking their barometer in the hope that the weather will get better. Fortunately, France has 16 million hectares of forests to meet our need, on sunny days, for open spaces. In this article, we have selected for you France's most beautiful forests where we can revitalise ourselves.
Walking in the forests of the South-West of France
Let us start our exploration of beautiful landscapes with France's most wooded region: Nouvelle Aquitaine. With almost 3 million hectares of forest, walking trails do not lack.
Obviously, we could not write this article without mentioning France's most beautiful forest, Landes forest. As we grew up among pine trees, we might not be objective though.
With almost one million hectares, Gascogne's Landes forest covers 3 French departments: the Landes, Gironde and Lot-et-Garonne. Mostly made up of maritime pine trees, this forest was planted in the 19th century to fix dunes and drain swamps' water. Today, it offers an exceptional landscape and breathing space for all ramblers.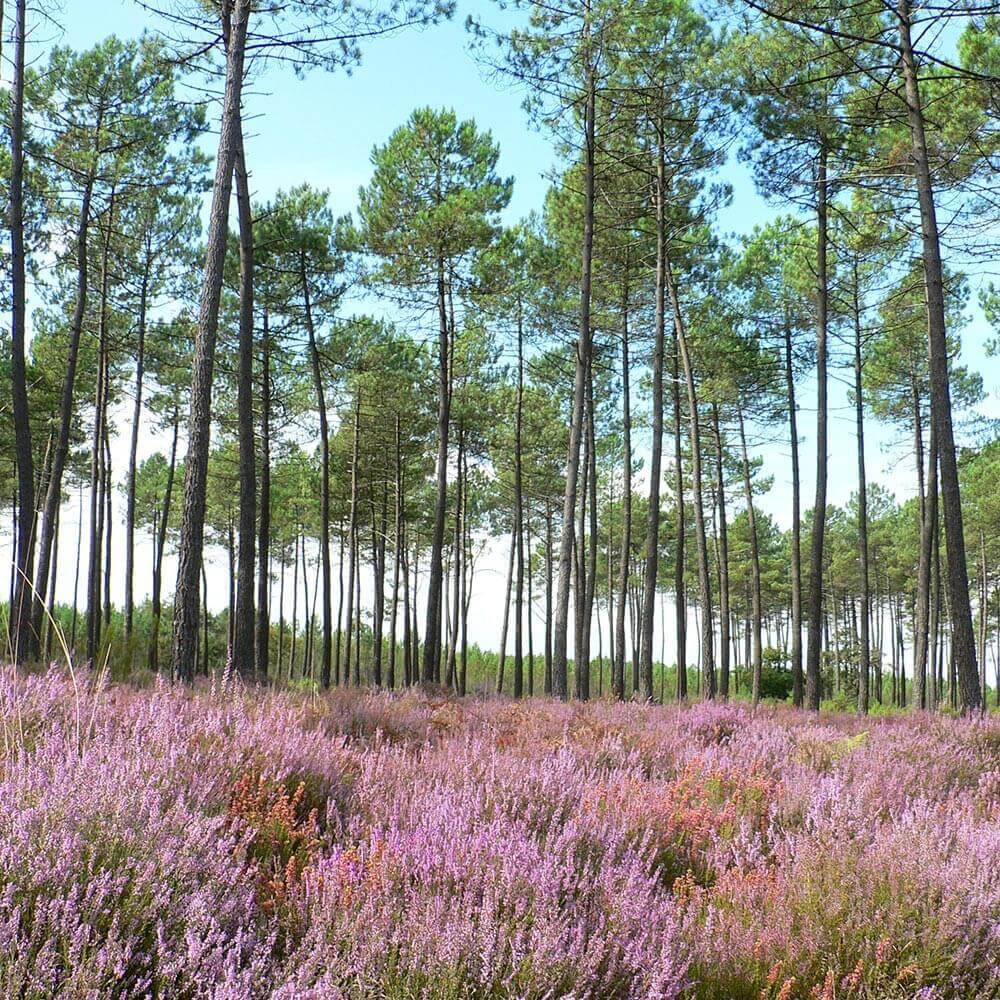 On foot or by bicycle, take some its numerous sandy hiking trails through ferns, heathers and maritime pine trees. To turn a corner, you will be able to see dunes, the ocean but also works of art. A spectacular forest with intoxicating fragrances that will bring lots of surprises to your walk.
Let us gain height by heading off to the Pyrenees to discover Europe's biggest beech forest. The Irati forest, at the heart of the Basque Country, counts more than 17,000 hectares of forest shared between France and Spain. In summer like in winter, the Basque forest will seduce you by its beauty that keeps unveiling itself throughout the seasons.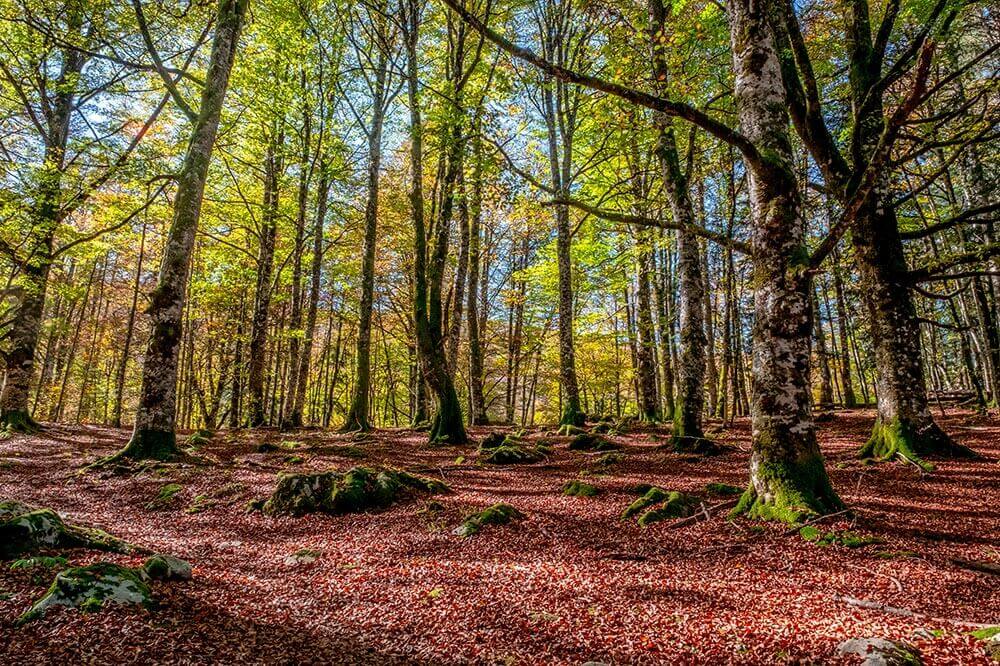 On foot, by mountain bike or on snowshoes, venture into this majestic forest and admire the sunbeams break through the beech trees. An almost mystic show which reminds us that this forest is full of myths and legends. If you roam its hiking trails, be cautious! You would not want to disturb the lord of the forest, the Basajaun yeti.
Venturing into the magical woods of Brittany
Let us continue our tour of France's most beautiful forests with other mystic locations. If the weather allows it, let us go to Brittany and its legendary forests. 
Located within the regional park of Armorica, this lush forest of 1,000 ha called Huelgoat (meaning "wood top" in Breton) looks like something out of a Breton legend. This one-of-a-kind forest has the particularity to be located amid huge blocks of rock, some of which have rather original shapes like a mushroom or kitchen utensils. All along your expedition, you will have to climb rocky blocks to discover the magic of this place where greenery managed to find a niche for itself.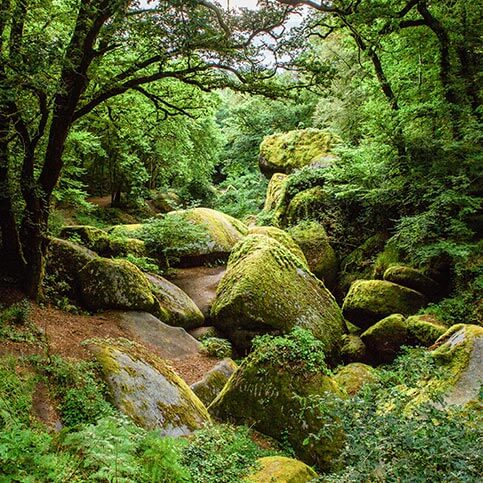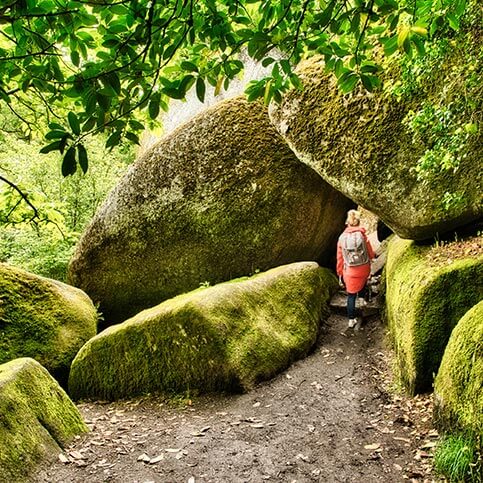 As the legend says, the forest of Huelgoat would have been covered with rocks following Gargantua's tantrum. As the meal served by the forest's inhabitants did not appeal to him, he decided to take revenge by throwing into the forest all the rocks he could find on his way.
But it is not the only legend that dwells in this forest! During your walk in the forest, you will discover places that also have their own story: the fairies' pond, Artus camp or even the Virgin's household. An exceptional forest to roam with the family to discover Breton myths.
Let yourself travel in an imaginary world by discovering the most famous Breton forest!
Take the footpaths that were once traversed by the Knights of the Round Table and discover the places that marked the legend of King Arthur: Merlin's tomb, Vivien's house, the Valley of No Return and its gold tree… Live a unique and magical experience by traversing its pathways, accompanied by a storyteller who will make you live the Arthurian legends as if you were there.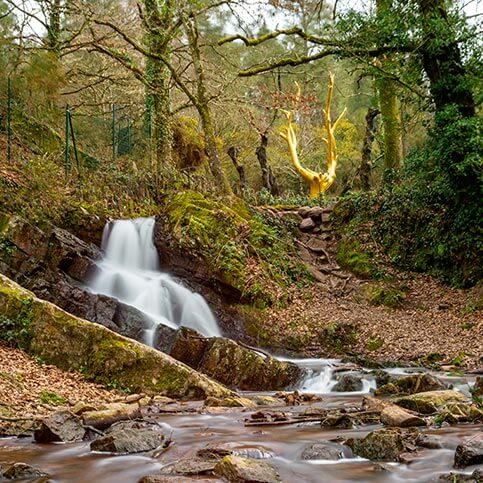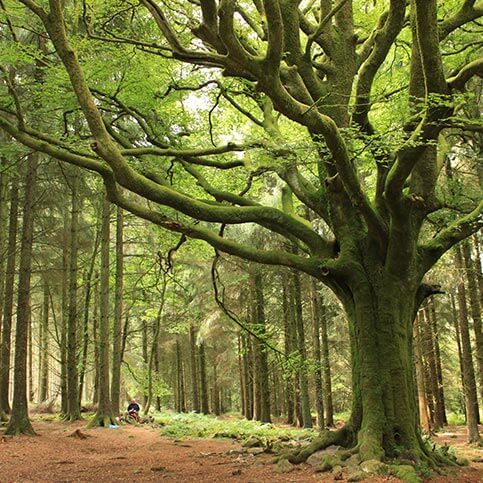 However, not only medieval legends make this 7,000ha forest an incredible place. During your Breton getaway, you will have the occasion to admire the outstanding flora that covers the mythical forest of Brocéliande. Guillotin's oak tree, Hindrés's oak tree, Pas aux biches's chestnut tree… The majestic trees that are more than a hundred years old will make this walk in the forest even more magical and memorable!
Roam the rocky footpaths in the South-East of France
After the enchanting forests, let us discover a completely different landscape where mountains and limestone cliffs get dressed in green to offer you an amazing panorama.
The national forest of Grande Chartreuse
Located in Isère, this forest in the mountains is the perfect hangout for nature lovers. More than 8,000 hectares of pine trees, spruces and beech trees stand between pastures and limestone cliffs. Enjoy the sunny days and recharge your batteries in this green setting that exudes serenity. In this exceptional forest with huge trees, you will be able to roam its numerous hiking trails and contemplate the beauty of the setting until you reach the monastery of the Carthusian Order.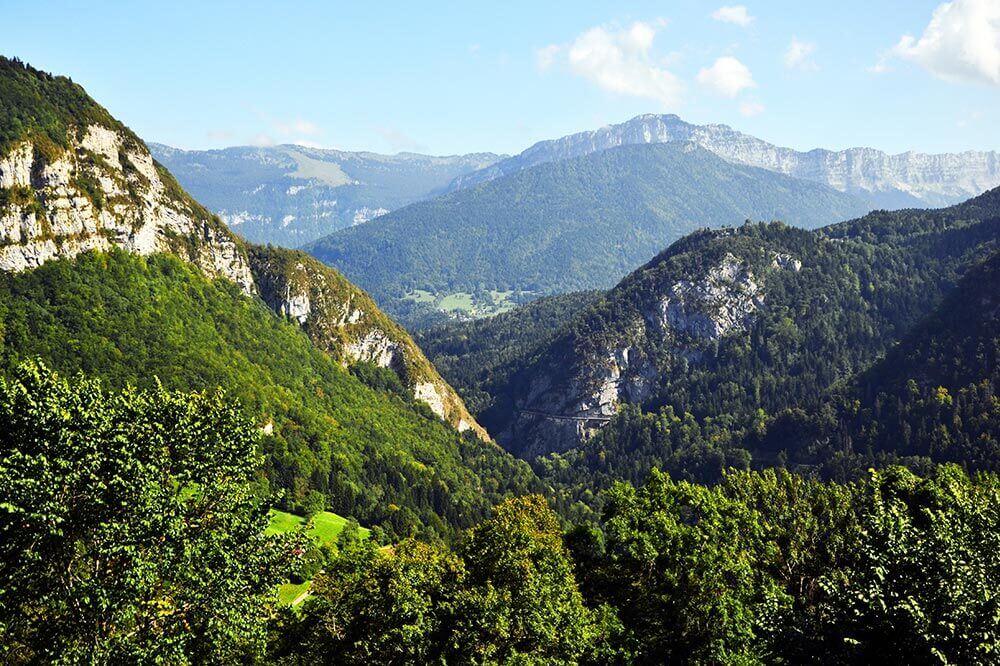 If you continue your climb, you will be able to see mountain pastures and meadows that will offer you stunning views of the summits of the Chartreuse's mountain range. And who knows, you might spot a few chamois.
To end this selection of the most beautiful French forests, let us head off to Ardèche and its Païolive woods. Venture into this maze of oak trees and limestone to the meeting of an exceptional biodiversity. This protected natural site covering 16 km² is home to many plants and rare species like beavers and Eurasian eagle-owls. During your walk through the forest, take some time to observe the remarkable fauna and flora of these woods.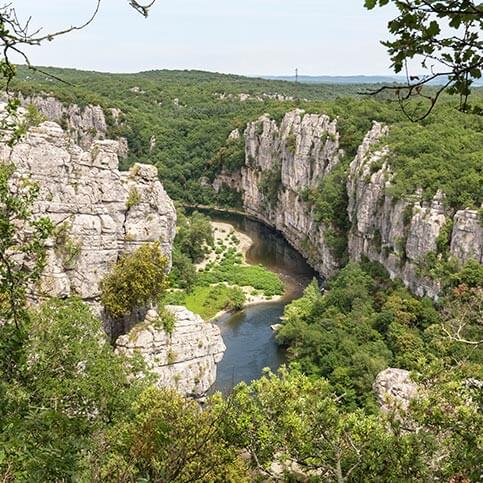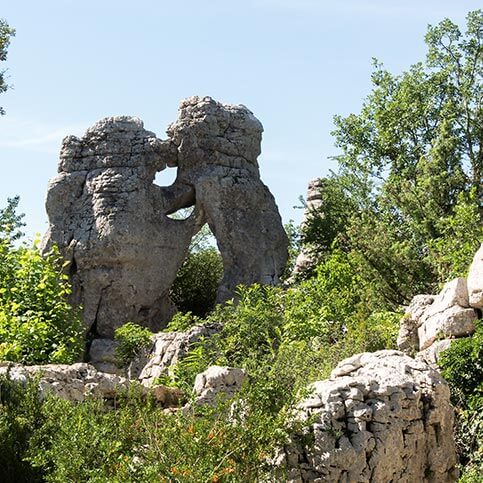 Slip between limestone blocks which have astonishing shapes sculpted by erosion like the bear and lion rock, and admire the breathtaking view over Chassezac gorges. The beauty of this place has not finished to surprise you.
France has other forests that are just as beautiful. Once rain gives way to the sun, do not wait and roam the many hiking trails that our lovely French forests have to offer.