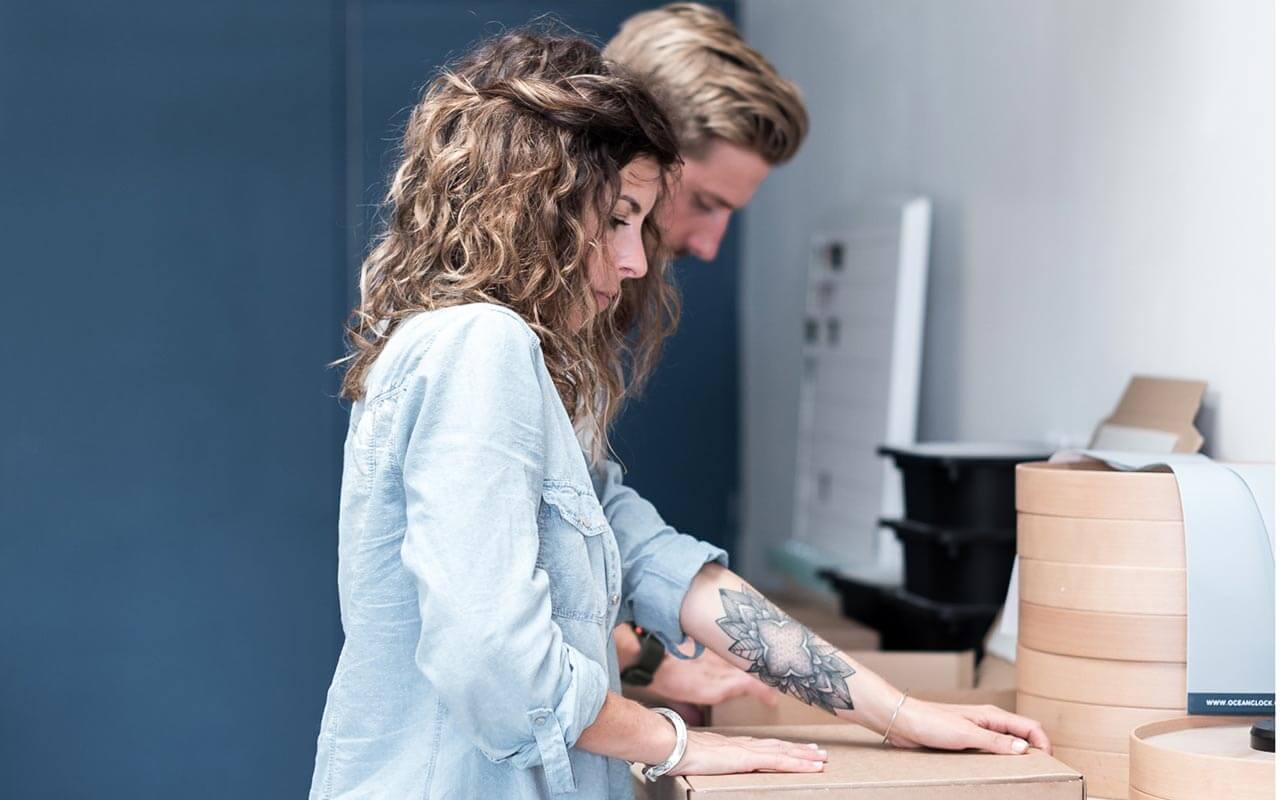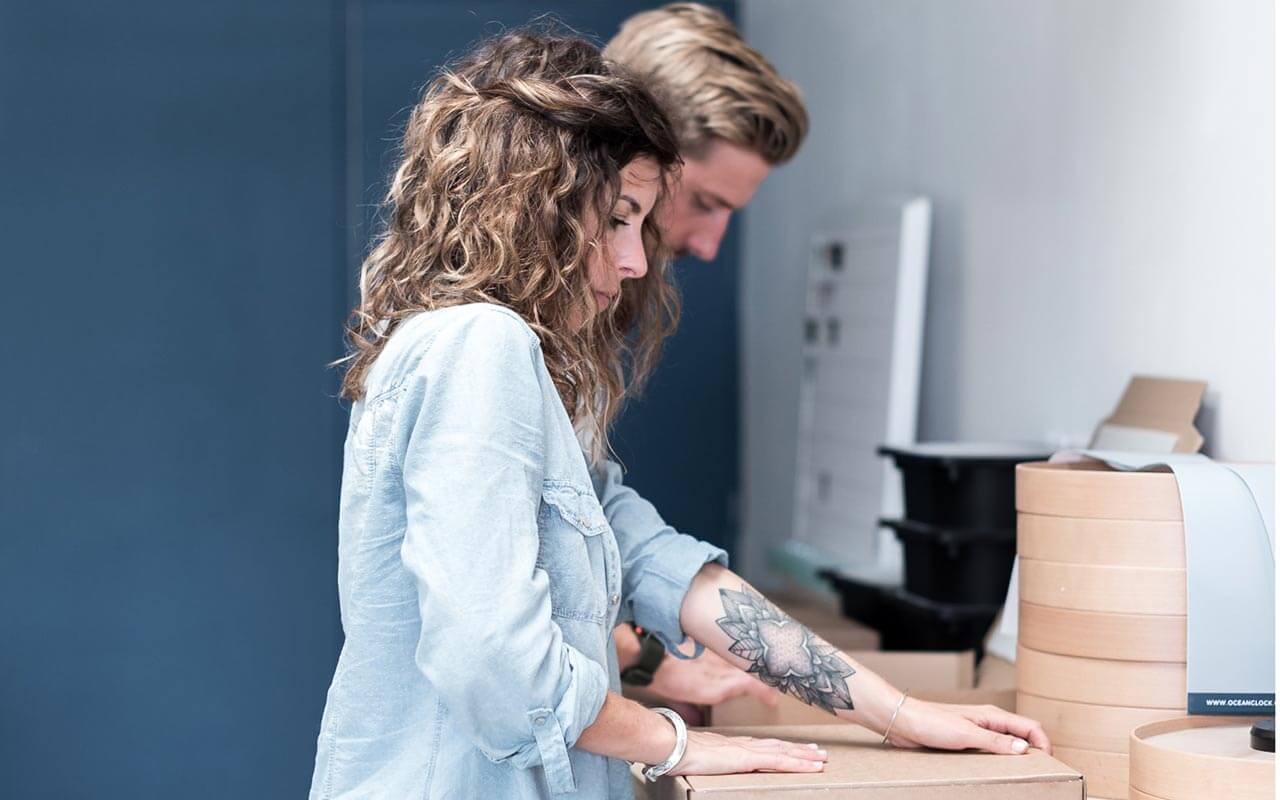 Ocean Clock's team
They were just 2 when the Ocean Clock adventure started. Since the success of the tide clock, James & Stéphanie have managed to be supported by a creative, motivated and meticulous ocean-loving crew.
The office and workshop teams have the same objective: transport you into our world.
Get to know our crew's members!
The workshop,our engine room
Visible from our shop, the workshop is at the heart of our headquarters. That is where our team gathers to assemble, paint and customise Ocean Clock creations.
Since the manufacture of our first homemade clocks, our workshop has developed over the years: removals, new recruits, development of new skills and new manufacturing processes.
It is now in a space exceeding 300m2 that our crew puts its know-how at the service of your decoration.
Their duty: preparing your orders meticulously.
Florinehead of the engine room
In 2018, she joined her sister, Stéphanie, in the Ocean Clock adventure. Her duty: preparing your orders meticulously without delay.
Both diligent and meticulous, this assembling pro also knows how to handle a paintbrush with particular attention when it comes to colouring and customising your paddles, she also ensures the quality of our products thanks to her eagle eye. 
Her thing: expanding her shoe collection
Clairea sailor expert in assembly
Always full on, she is fearless when it comes to assembling our clocks and thermometers. The screwdriver, blow gun and squeegee have become her best work companions.
From gluing the clock face to assembling the mechanism, Claire uses her expertise to offer you a quality measuring instrument.
Her promptness and precise gestures make her indispensable within our workshop.
Her thing: putting ginger in all her dishes
Alexandresailor expert in logistics
On the delivery deck, he ensures the protection of your order, not with his muscles, but with very resistant packaging.
As a very meticulous man, he packs goods at great speed but always with great care and this until their loading.
In the warehouse, he handles the pallet truck like no one as if he was playing a game of Tetris.
His thing: running 40 kilometres every week
Comeon board !
Depending on the activity, our little crew has expanded with new recruits who lend a hand to the workshop.
It is always a pleasure to pass on our know-how, share our values and our love of the ocean with new sailors.
Look-out post,the point of reference of our customer service
Customers' satisfaction is for us a priority. This is why we have established our customer service at the very heart of our workshop, a prime location for a better responsiveness.
You can definitely count on it to advise and accompany you all through the order process, and even after.
Don't hesitate to contact us by online chat, email, phone or social networks!
Carolecustomer service captain
Cheerful and attentive, she has constantly been doing her utmost, for the last 4 years, to answer your questions on the functioning of our products as well as tracking your package.
True expert in engraving clock hands and in shipments, she takes great care of every step of your orders.
Her thing: dancing to Dalida's songs
The navigatingbridge
Let's ascend to the upper deck to meet the rest of the crew!
Up there, it is a totally different atmosphere, manual work leaves room to creativity.
Here, brains are restless in order to imagine the next creations, make you travel through our world and prepare lovely surprises for you.
Stéphanielieutenant in charge of creation
Very creative, Ocean Clock's co-founder keeps having new ideas for future creations. In collaboration with the team, she turns ideas into reality.
Very keen on quality, Stéphanie carefully chooses the raw materials of our products.
It is really important to her to share her vision of the seaside spirit. This is why she cares for all details related to the Ocean Clock's world.
Her thing: crime investigation podcasts
Mathildeofficer specialised in international activities
Truly versatile, Mathilde is on all « decks ». Between the office and the workshop, she has met all challenges successfully since 2020.
Thanks to her international experience, she has for mission to promote Ocean Clock throughout the world.
With her head full of ideas, she unveils Ocean Clock's backstage with funny and creative stories.
Her thing: speaking into a microphone
The commander'squarters
Our commander set up his quarters not far away from the navigating bridge.
More seriously, it is here that big decisions are made.
Jamesour Captain
Co-founder of the brand, James is the maths brain of the crew. With him, finances are masterfully handled.
As the privileged interlocutor of our 150 resellers, he deals with their requests in close collaboration with the workshop and keeps developing our distribution network.
James and Stéphanie are a dynamic duo who never stop reinventing the seaside spirit.
His thing : eating chocolate
Working asa team
Collaboration and teamwork are essential to expand a company.
At Ocean Clock's, we work hand in hand with all our crew members in order to keep outdoing ourselves and pleasing you, both by the quality of our know-how and our devotion to customer relationship.