An Indian summer on Atlantic's North-American beaches
Let's cross the Atlantic for an autumn with our feet in the water!
Beaches display their beauty in all seasons! Although autumn is not the ideal time to sea bathe (especially if you are nesh!), a few days of nice weather are enough to make us want to put our feet in the sand. From Canada and across the US east coast, make the most of mild autumn days and go and discover the Atlantic's pretty beaches. 
This autumn, fall for the charm of Canadian beaches
Let us start this adventure with a trip to Canada! Famous for its beautiful lakes, mountains and forests, Canada has many gems to offer thanks to its 243,000 km of coastline that leads to 3 different oceans (Atlantic, Pacific, Arctic). Here, we will simply make a quick stop on the Canadian Atlantic Coast which you will definitely find breath-taking. Before going on an excursion, don't forget to glance at your tide indicating device to enjoy the beach at the best time of the day.
The South Dune's beach on Magdalen Islands, Quebec
Located in the Gulf of St. Lawrence, Magdalen Islands consist of 16 islands linked to each other by sandbars for most of them. It is on Havre aux Maisons's island that you can admire the South Dune's beach. This Canadian beach offers an exceptional panorama between the ocean, golden sand and red sandstone cliffs. A wonderful contrast that you will not get bored of.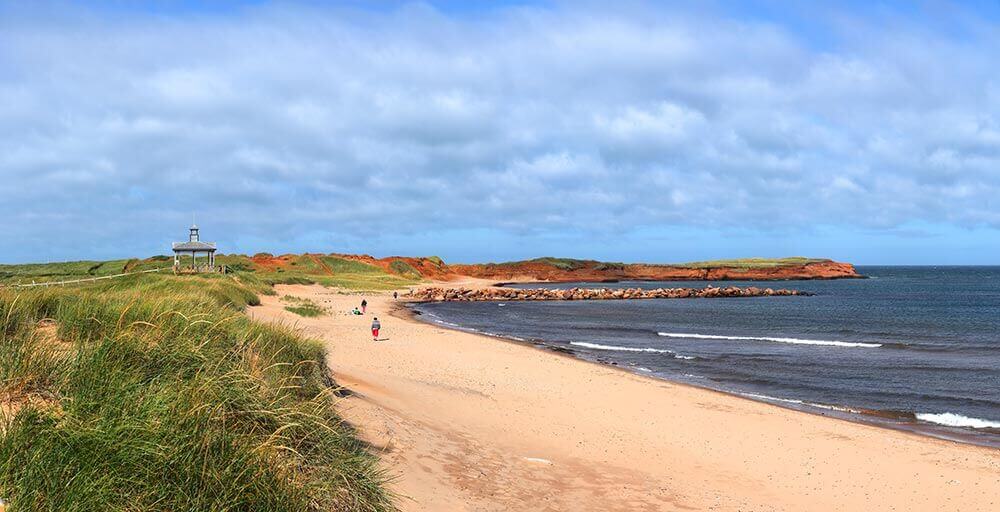 Carters Beach, Nova Scotia
It is in Port Mouton where hides one of the most beautiful beaches of Nova Scotia: Carters Beach. Turquoise waters and white sand that could almost make us forget we are in Canada. Even if this heavenly beach looks a bit like the Maldives, however, the water's temperature does not exceed 14°C in autumn. If you cannot help yourself getting in the water, put on a wetsuit so you may fully enjoy this magical location surrounded by dunes and spruce forests.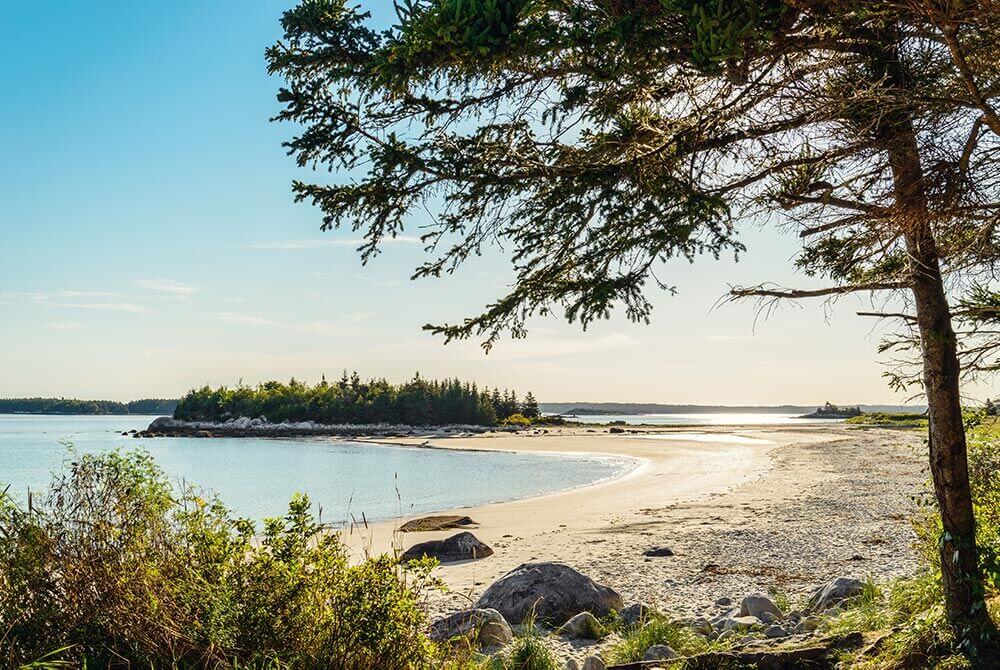 Black Brook Beach, Cape Breton Island
Follow the famous Cabot Trail until Black Brook Beach. This route, one of the most beautiful ones in the world, will give you an incredible view on Cape Breton Highlands National Park. With a freshwater brook that runs through it, this sand & rocks beach offers an astonishing show thanks to its little waterfall and grand landscape, between ochre cliffs and lush forest. The perfect seaside spot to have a break during your road trip or trek.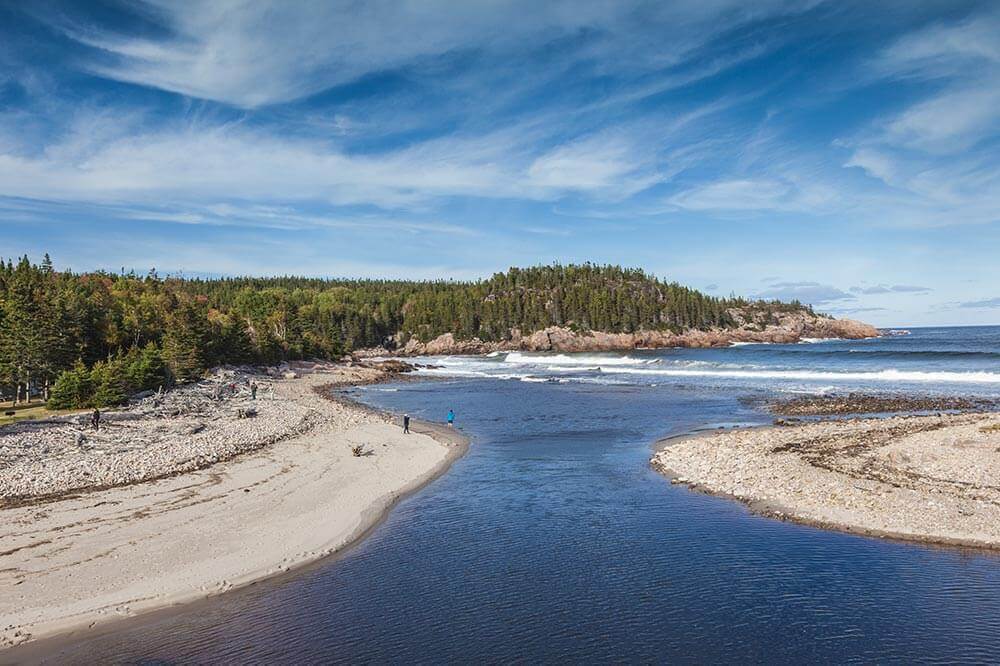 Crystal Crescent Beach, Nova Scotia
With its 3 beaches of white sand and emerald green water, Crystal Crescent Beach is an idyllic spot to laze around and reconnect to nature. Also, the different trails will enable you to discover the beauty of this provincial park until you reach Pennant Point where the view on the Atlantic Ocean is just outstanding.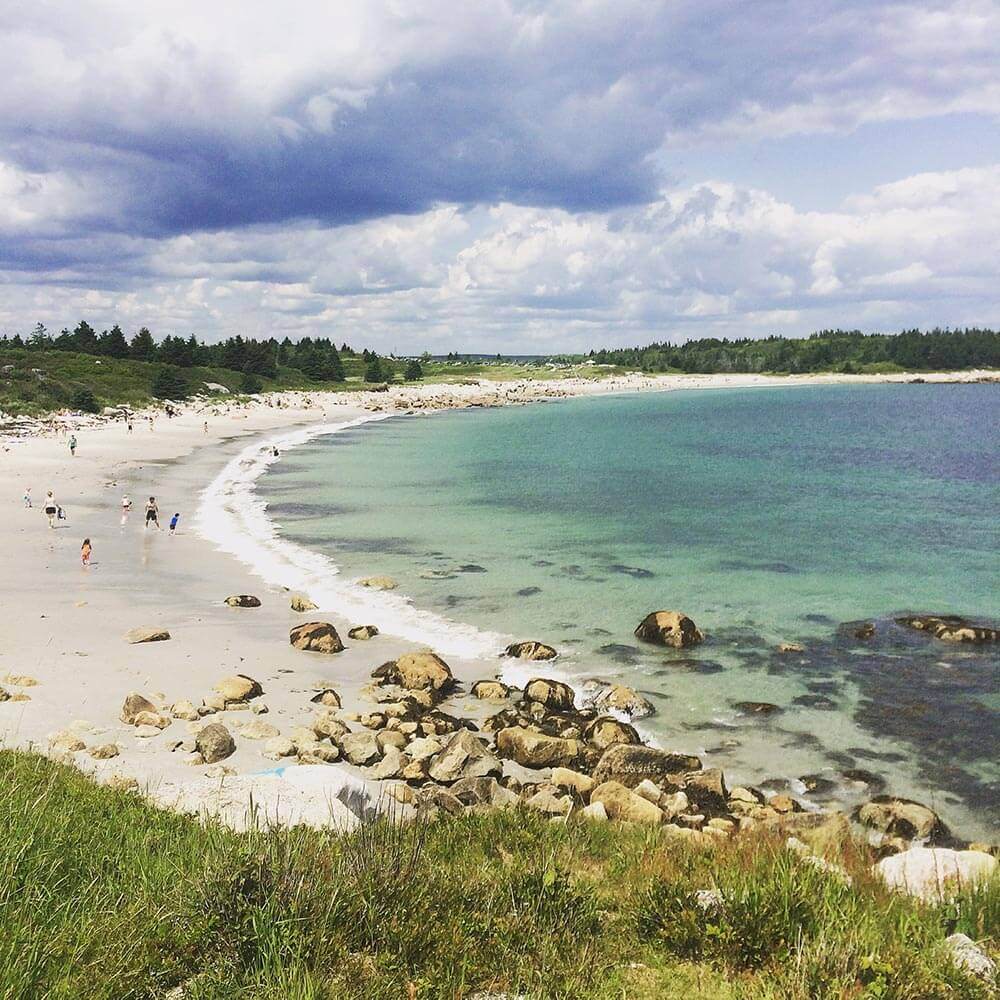 Canada will never stop to amaze us with its natural landscapes that are both beautiful and various.
Escape to the lovely beaches of US EAST COAST
No need to head off to the Caribbean to relax on beautiful beaches. Let us cross the Canadian border and discover some of the prettiest beaches of East America.
Brant Point Beach, Nantucket Island, Massachusetts
Located off Cape Cod's peninsula, Nantucket's small island, classified as historic site, is very popular among tourists, especially Boston inhabitants who love to stroll through its picturesque streets. Located in the north of the island, Brant Point is one of the spots not to miss because of its lighthouse but also its pretty beach. It is not the best spot to swim but it has an astonishing view on Nantucket port. The perfect beach to relax after visiting the whole town centre on foot.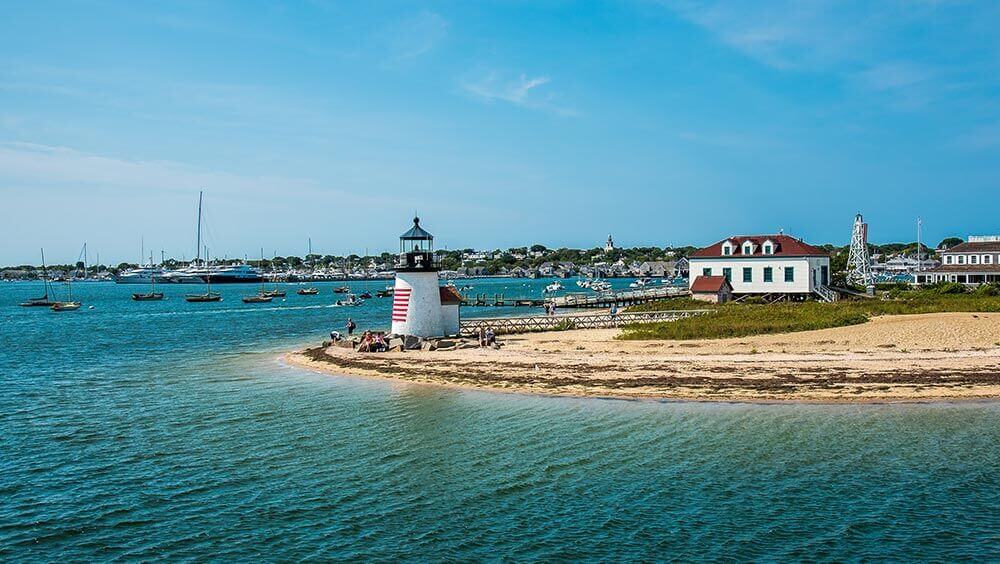 North Beach Island, Cape Cod, Massachusetts 
Only accessible by boat, North Beach's little island, once attached to the continent, is a unique place where nature prevails in the landscape. Enjoy spending a few hours on its long wild beaches where you can admire, on the one hand, the town of Chatham and, on the other hand, the Atlantic Ocean as far as the eye. A moment of total deconnection from civilisation to fully enjoy nature's beauty.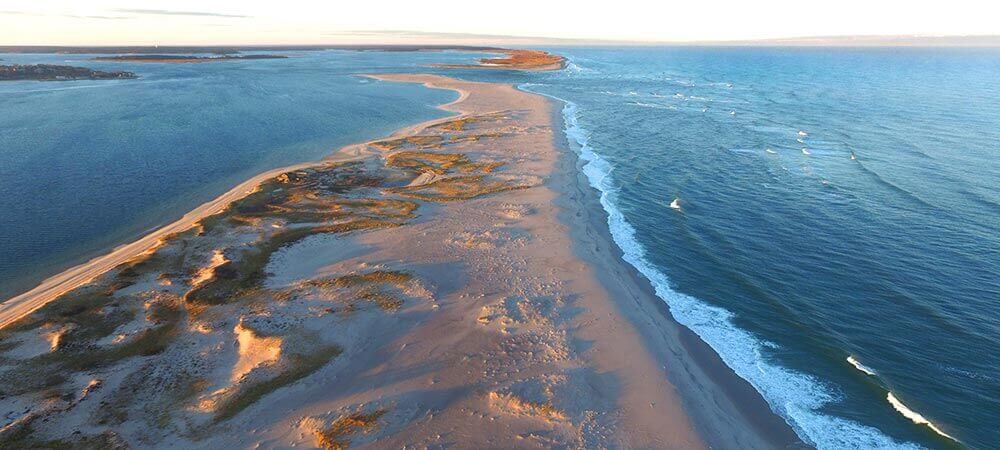 Asbury Park Beach, New Jersey
With its kilometres of sand beaches and its numerous attractions, the town of Asbury Park is the ideal place to spend a day far from New York's tumult. Reading on the beach, wetting your feet, walking along the seaside promenade… What are you going to do on this long American beach? To end your day on a high note, have some takeaway food from one of the restaurants that make the promenade so lively and eat it on the beach in front of a sumptuous sunset.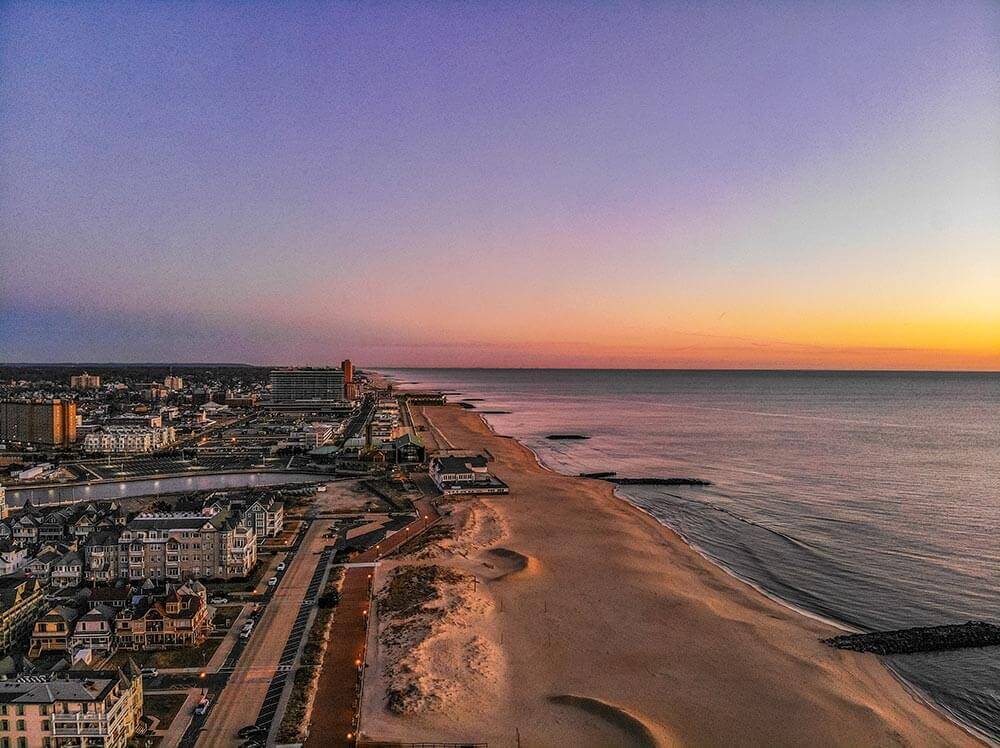 Fort Lauderdale Beach, Florida
This town in Florida, known as "America's Venice", consists of kilometres of white-sand beaches where the water's colour and temperature make us dream. After pacing up and down the town's canals by taxi boat, relax on Fort Lauderdale's beach. With water temperature reaching 27°C on average all year long, you will not have any problems immersing in the turquoise waves of this Atlantic's heavenly beach.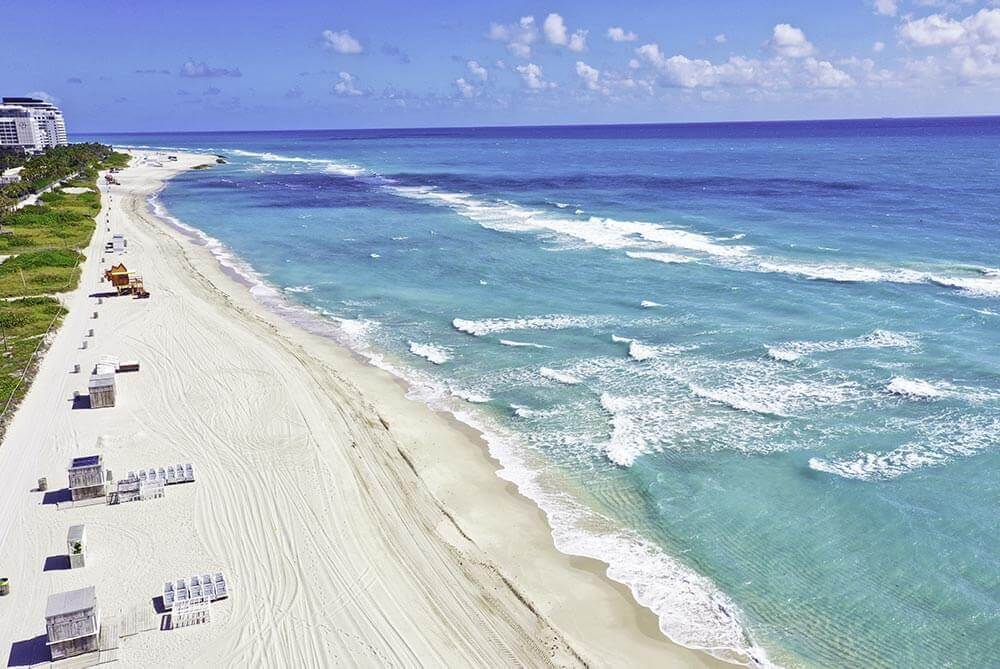 Which of those beaches would you like to escape to? If you have not found what you are looking for, it may be on the other side of the ocean among the 10 most beautiful beaches of the Atlantic.