How doesit work ?
You may ask yourself how a clock can show days of the week ?
At Ocean Clock's, we have designed a clock adapted to children to help them learn the days of the week.
Our My Little Week clock on sale, assembled meticulously within our french workshop in Hossegor, in the South West of France, includes a specific mechanism that rotates in 168 hours, that is to say 7 days.
Therefore your little one can see, at a glance, what day of the week it is by just looking at his custom kids clock.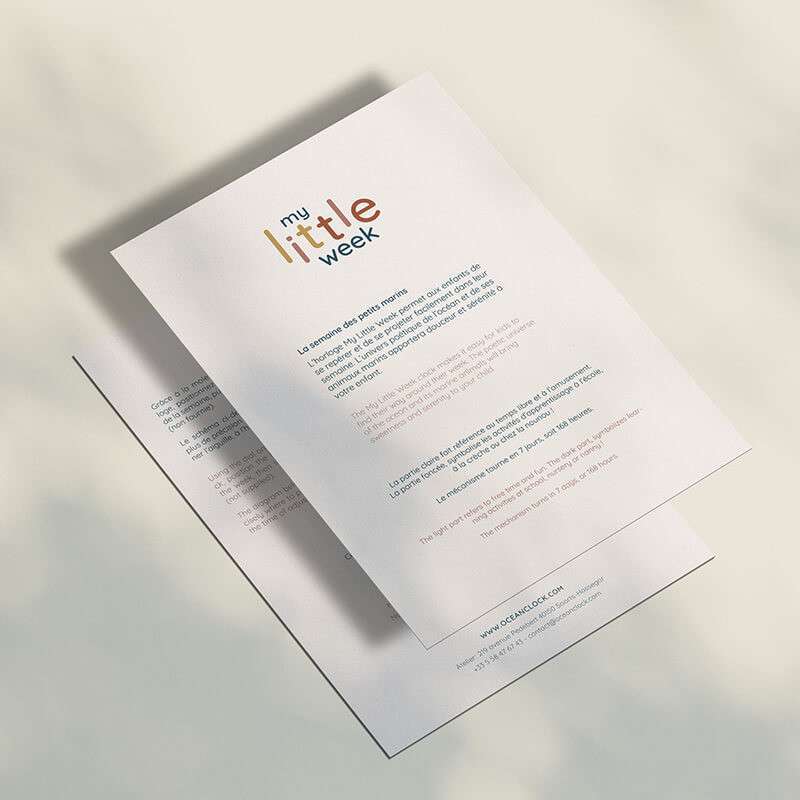 Setting the week clockin just a few seconds
Before fully enjoying your child's lovely wooden clock, you need to set it first to then complete his/her bedroom's decoration.
Setting this children wall clock is very easy and will only take you a few seconds. What will take you longer is finding the right place to put it. But how to set your child's clock ?

To do so, you will only have to position the clock hand on the day of the week at the time you are setting it by using the thumbwheel at the back of the clock. Then you insert a AA battery in the space provided.
Positionthe clock hand
To help you position the clock hand more precisely, here are some additional instructions in order to acquaint yourself with the clock face depending on the setting time.
As you can imagine, the setting is even simpler than the one of a traditional clock since there are not two clock hands to position but only one.

Child's play !
After the day clock is set, all you need to do is let it operate ! 
What todo next !
Clearly, you ought to put it in a place visible to your child so he/she can look at it on a daily basis.
Since our made-in-France clock's mechanism is totally silent, it will fit perfectly in your child's bedroom without disturbing his/her naps and night sleeps. This lovely and original deco object will bring a touch of poetry to your little darling's nest thanks to the clock face's soft colours and sea style.
Now that the clock showing days of the week embellishes your darling's bedroom, all that is left to do is help him/her learn the days of the week.