Plunge your kid into the ocean with a trendy bedroom deco
Tips for putting some ocean style in your child's bedroom!
From the first brushstroke to a total makeover, your darling kid's bedroom requires its own style. It is not easy to make a choice amongst the countless cute children bedroom deco ideas. In this article, we give you a few tips to have a child bedroom deco that is both trendy and completely ocean style. Colours, accessories and wall deco... We are going to sift through all of them !
Blue and warm colours for some contemporary childlike decoration
Forget about the traditional sea deco which combines the usual colours : navy blue, white and red. It is time to modernise seaside deco by bringing modernity and warmth into it. Let's get started sailors !
How could we put some ocean style in our child's bedroom without falling into clichés ? That is when the choice of colours comes in. We need to combine sea-style tints with trendy colours. Of course, we must not forget that it is your little darling's bedroom, therefore we ought to opt for mild, warm and soothing colours.
For a successful colour combination that accurately follows a sea theme, do not hesitate to mix different blue tints such as dark blue, blue grey and sky blue. This camaieu will bring this ocean atmosphere you are looking for while remaining modern, harmonious and soothing. This camaieu could also be used for your kid's bed linen. It would totally suit your darling kid who is much into the deep-sea universe.
To create a welcoming atmosphere within your kid's bedroom, we suggest you add a few touches of warm colours to enhance the sea-deco bedroom. Ochre tints such as mustard, terracotta and caramel colours will warm the room up in the twinkle of an eye, by using cushions in these colours for instance. For a more girly atmosphere, opt for old rose, it will perfectly match that range of colours.

Regarding children deco, all these colours are real trendy nowadays, you cannot go wrong. Here you go, you may now have some super trendy sea deco for your kiddo !
A seaside atmosphere with a child touch thanks to such cute deco objects
So your little darling can feel in his/her element, all you need to add is some seaside decoration and toys to make this space suitable for creativity and well-being.
Convert his/her seaside-style bedroom into a true little cocoon by adding some warm-coloured cushions and, more importantly, some fun whale-shaped or shell-shaped cushions . Your kid will adore them !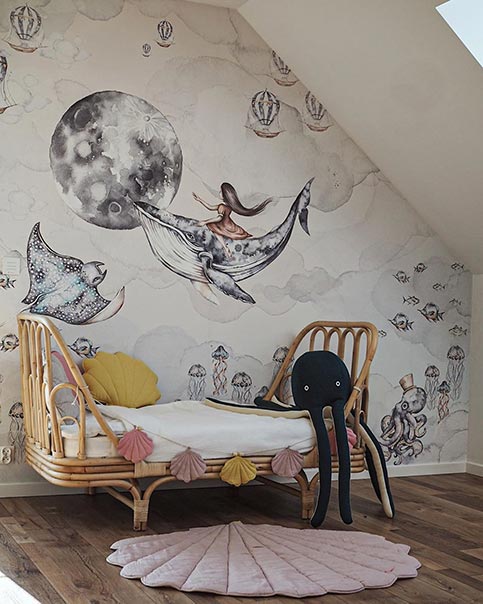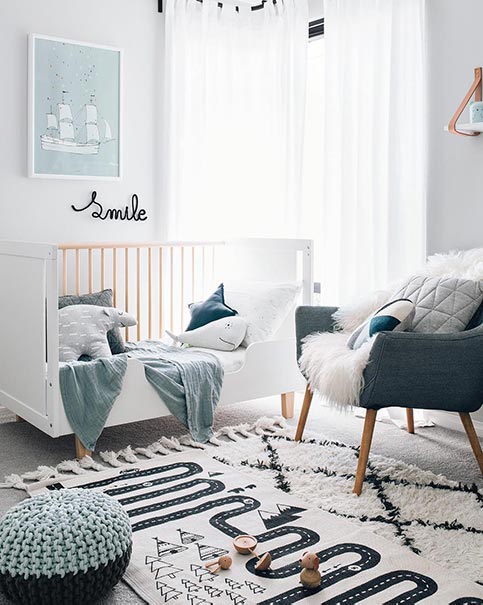 © kinga_szy - oh.eight.oh.nine
Do not forget to embellish the floor with a colourful rug so his/her tiny toes do not get cold when he/she gets out of bed. Your little darling will not wait long before converting it into a cosy play space suitable for his/her "20,000 leagues-under-the-sea" adventures.
Also, clad the shelves' walls  with some deco accessories like aquatic animal-shaped figurines, which he/she can play with, and you might as well put on those shelves some fabulous storybooks or even a child clock.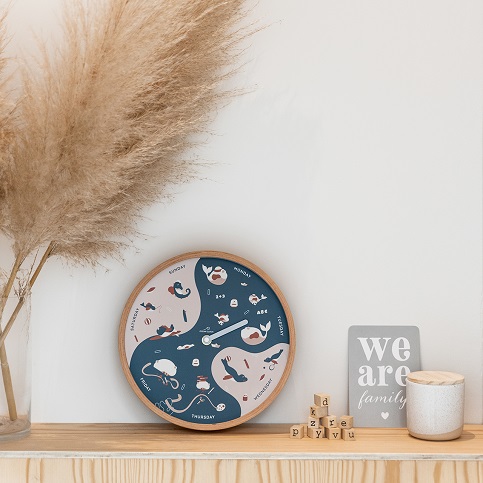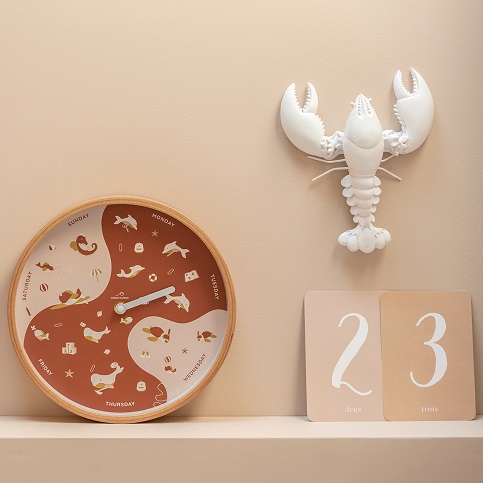 © Studio 255
When one mentions child bedroom, we automatically think of mountains of toys and teddies ! Do not hesitate to put some mermaids, octopuses, seals and other sea animals of all kind in your kid's sea-style bedroom. They can be figurines, teddies, puzzles... They will surely become wonderful playmates.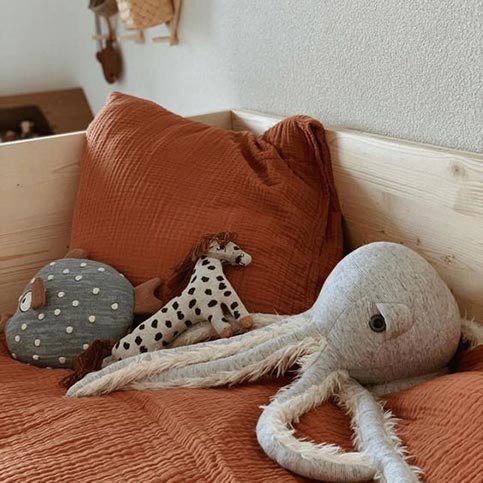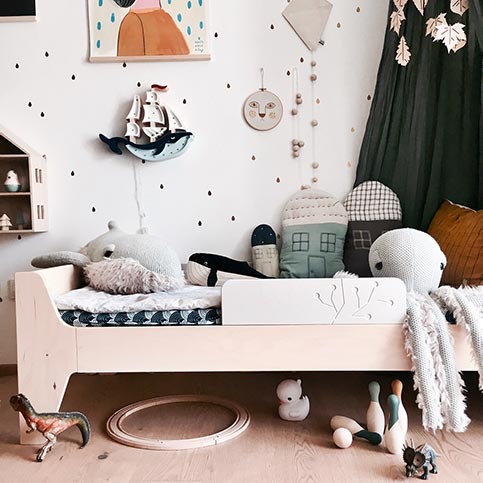 © Big Stuffed - ella_and_tinyt
All this little world will have to fit into this childlike and colourful ocean. Therefore, you will have to find some storage spaces. You could use some wicker baskets to store his/her bricks, cars or dolls. Moreover, these baskets will adorn his/her bedroom even more and they will also turn out to be very useful to tidy up the bedroom fast. 
Opt for cute child wall decoration for your darling 
So the kid can feel like being in the depths of the ocean every time he/she is in his/her bedroom, think of hanging some child deco objects on the walls.
You could choose to paint a section of wall, or just half the wall, in blue and obtain an awesome result that will remind him/her of the sea. You could also opt for some sea-style wallpaper or stickers with patterns such as whales, ships, mermaids, shells...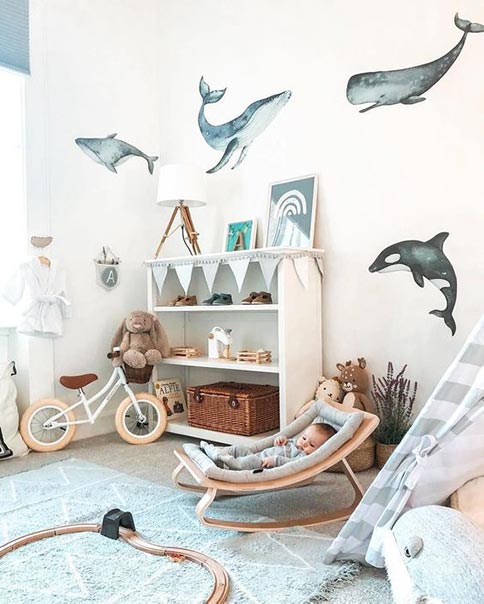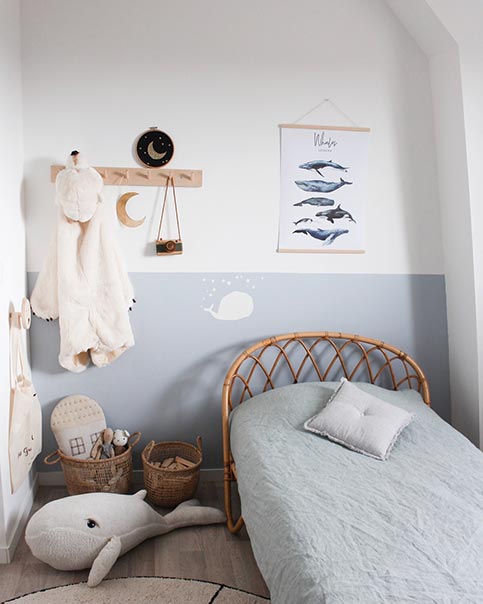 © Pinterest - Lola et ses minis
To complete your kid's bedroom decoration, all you need to add is a few items to your walls. Ready to use your hammer ? Frames, pegs, wall lights or other decorative elements will plunge your kid into a marine universe.
Keep the bedroom's decorative theme well in mind in order to find the right child wall deco. A wave of whales, fish, shells or even boats will break on your kid's bedroom walls. Many illustrated hangings or posters of whales could be used to clad the wall above the desk. Why not have a wall full of frames showing different sea animals and other figurines emblematic of the ocean ? Also adorn your kid's bedspread in an original way by hanging a shark-shaped plush trophy.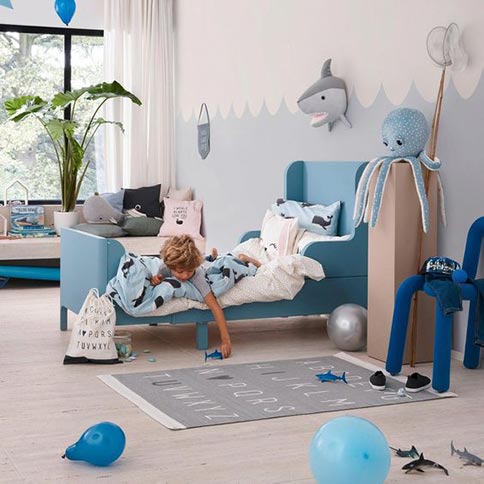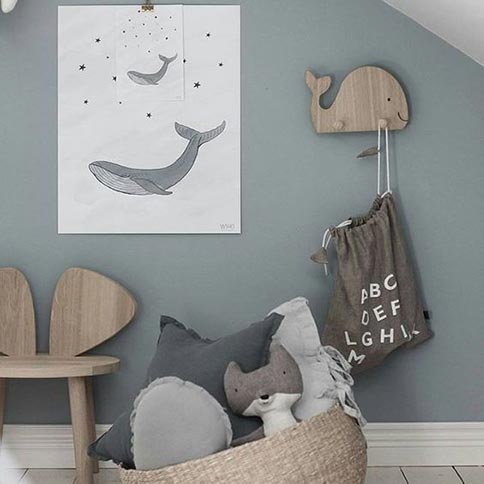 © H&M Home - Clem Around The Corner
As for babies, opt for useful and original deco objects like wooden wall lights or hanging music boxes.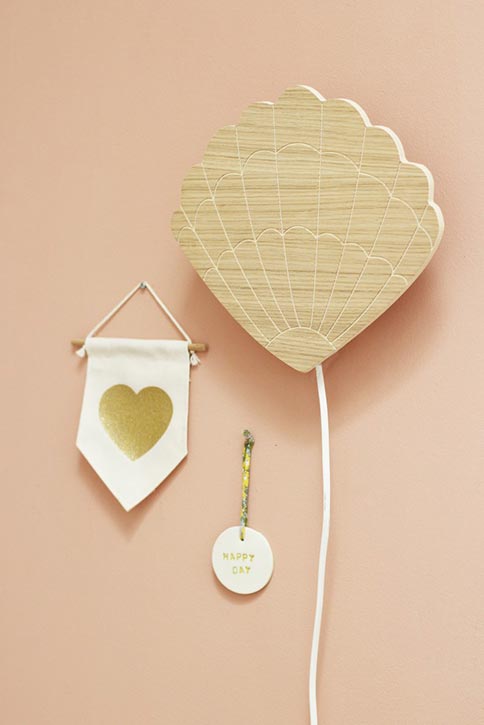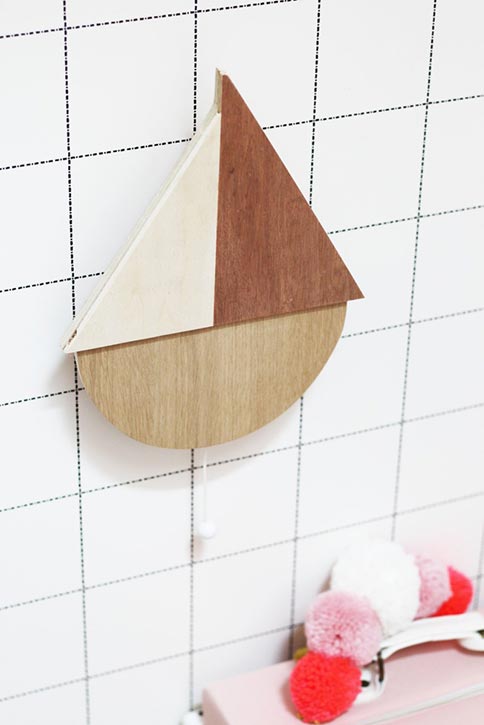 © April Eleven
At April Eleven, you have the choice between a shell, whale or even a boat to illuminate the room and lull your child. It will definitely complete the seaside-style bedroom in minute detail.
To push the theme even further, add a last marine touch by hanging a whale-shaped mobile above your baby's bed. As a result, your baby's nights will be cadenced by the ocean.
And you, which decorative theme have you chosen for your kid's bedroom decoration ?