Our wave of inspirations to make you choose wavy deco
Dive into this ocean trend!
You are dreaming of subtle ocean-inspired decoration? Then, we have the perfect deco style for you: a gentle mix of modernity, softness and ocean curves. We are obviously talking about the wavy trend! In this article, we have found for you ideas of furniture and accessories to shop to create a well-rounded deco. Ready to take a dive?
Wavy decoration, what is it?
You have never heard of this deco trend? Let's provide you with an overview of this inspiration which, for a few months now, has made waves in the world of design.
The wavy style is not only popular within the hairstyling world. Designers have also managed to grasp the delicate shapes of oceans to create harmoniously-curved furniture and accessories.
This inspiration is part of an organic decoration trend. A style made of nature-inspired asymmetrical and round shapes which brings much softness into our interiors.
Wavy deco can be used in small touches but also by combining pieces with irregular shapes, to create harmony and serenity. As for colours, we can either use natural tones, like earth or nude tones, or pop tints.
By choosing either the discreet version or the flashy one, you ought to know that wavy style gently shows its curves in all interiors.
Wavy curves for my furniture
To reproduce this soft wave-inspired atmosphere, nothing beats masterpieces with organic design.
In the living room, fall for the rounded shapes of a bean-shaped sofa. Classy and very comfortable, it will soften the atmosphere thanks to its delicate and comforting lines. You may add some colour to it by putting some wave-patterned cushions on it.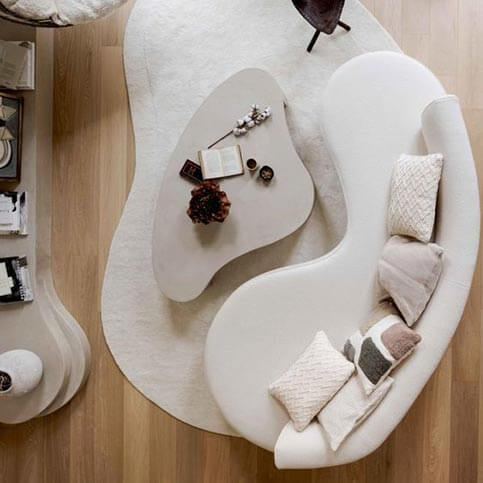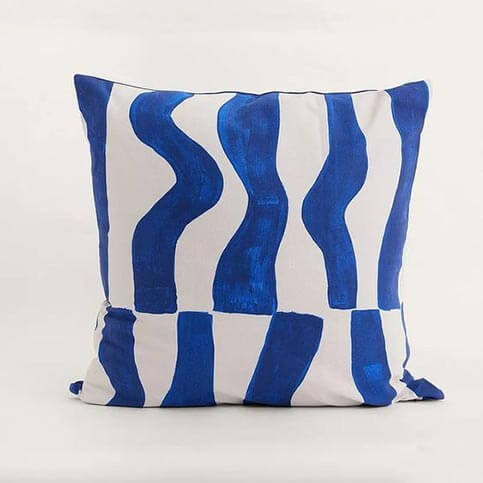 © Pinterest - Na-kd
Another must-have object for the main room: the coffee table. Here again, designers have revisited this wavy-looking piece of furniture that we are so fond of. Forget about angles and focus on beautiful undulations to complete your living-room deco. A wave-shaped leg table or an asymmetrical table top, to each his own style!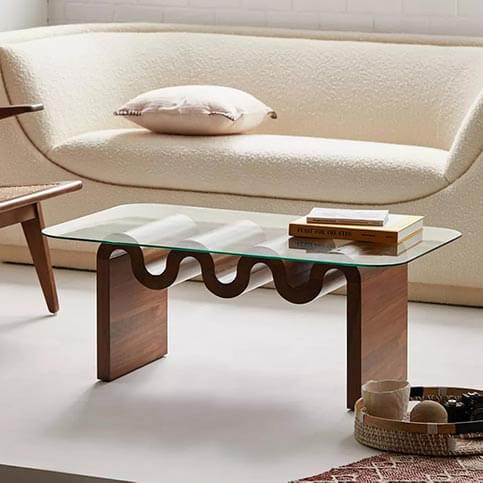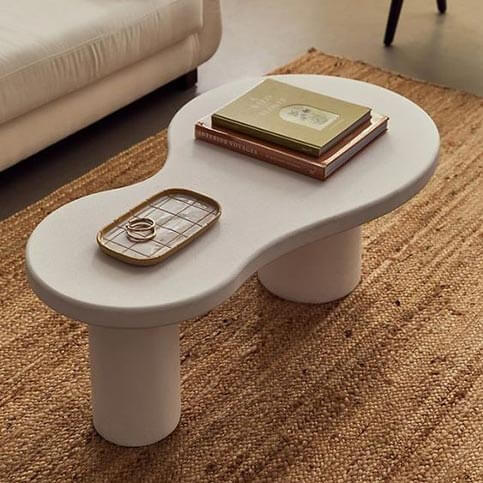 © Urban Outfitters
After the living room, it is the bedroom's turn to be swept away by this deco wave. The wavy organic shape will bring into your rest area an enveloping and cosy atmosphere that you will find hard to leave. To do so, invite the ocean to your bedroom with a pretty and delicate wavy-shaped headboard. To make even more waves, get yourself a wavy-looking glass side table that you could use as a bedside table.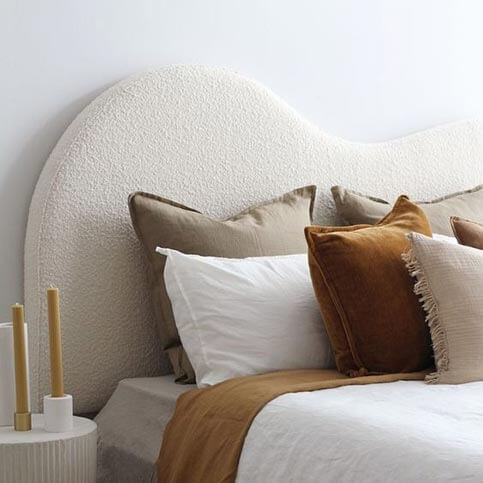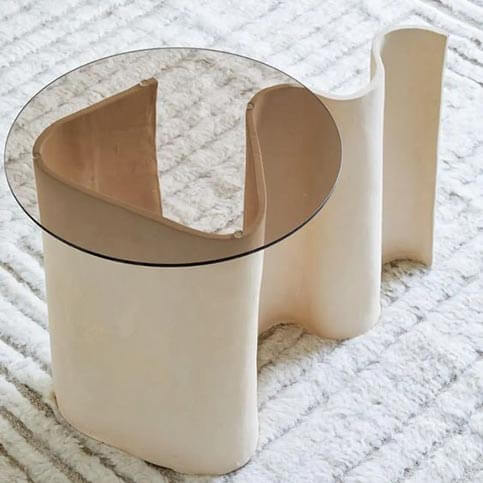 © A&C Homestore - pinterest
Deco accessories inspired by the motion of the ocean
To complete your navy decoration with finesse, we have found for you some organic-style decorative gems to showcase in your interior.
Deco accessories are now made of pretty curves to disseminate softness in every corner of the house. The carpet, essential item in interior decoration, is no exception to the rule and displays a very modern wavy look that can warm up any room with style.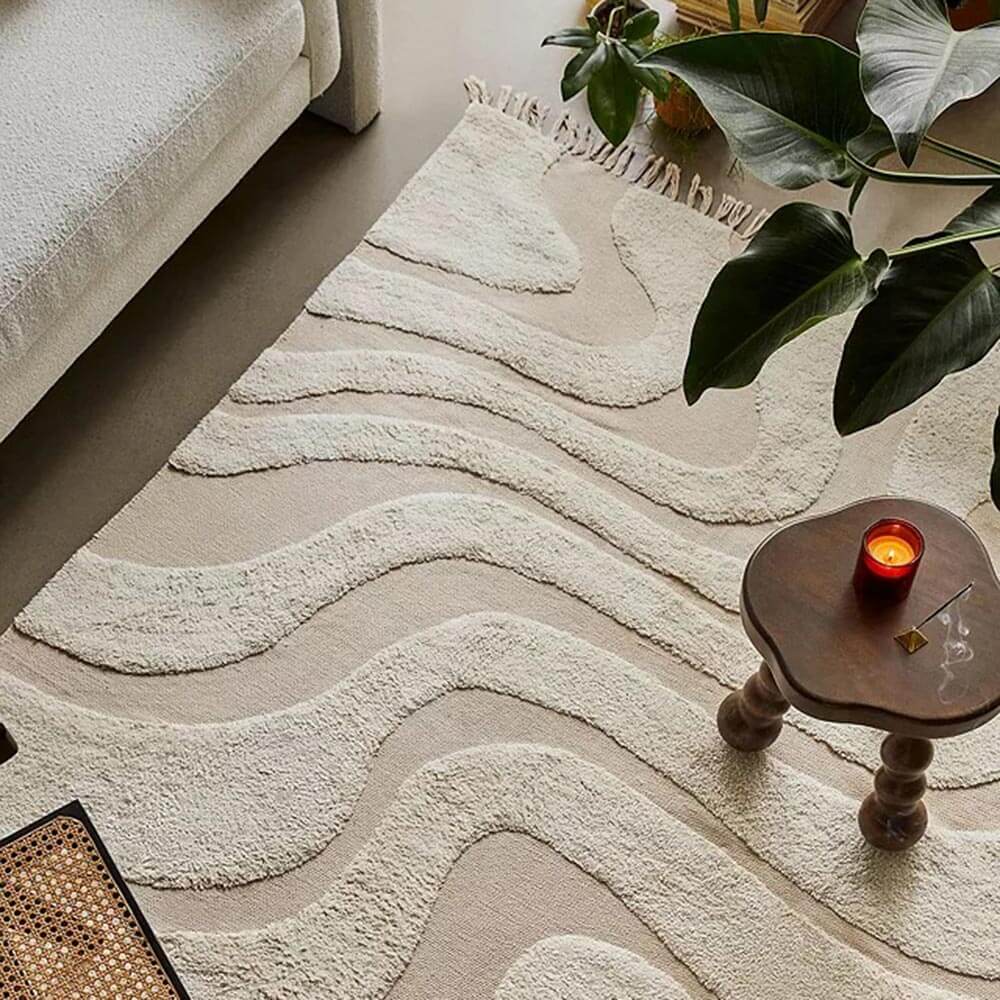 © Urban Outiftters
As for walls, them too can travel at the foot of the waves thanks to a very original seaside wall deco. Mirrors are now drawn with asymmetrical shapes. Not only do they make the place more spacious, but they also are true deco objects where imperfection and harmony mix.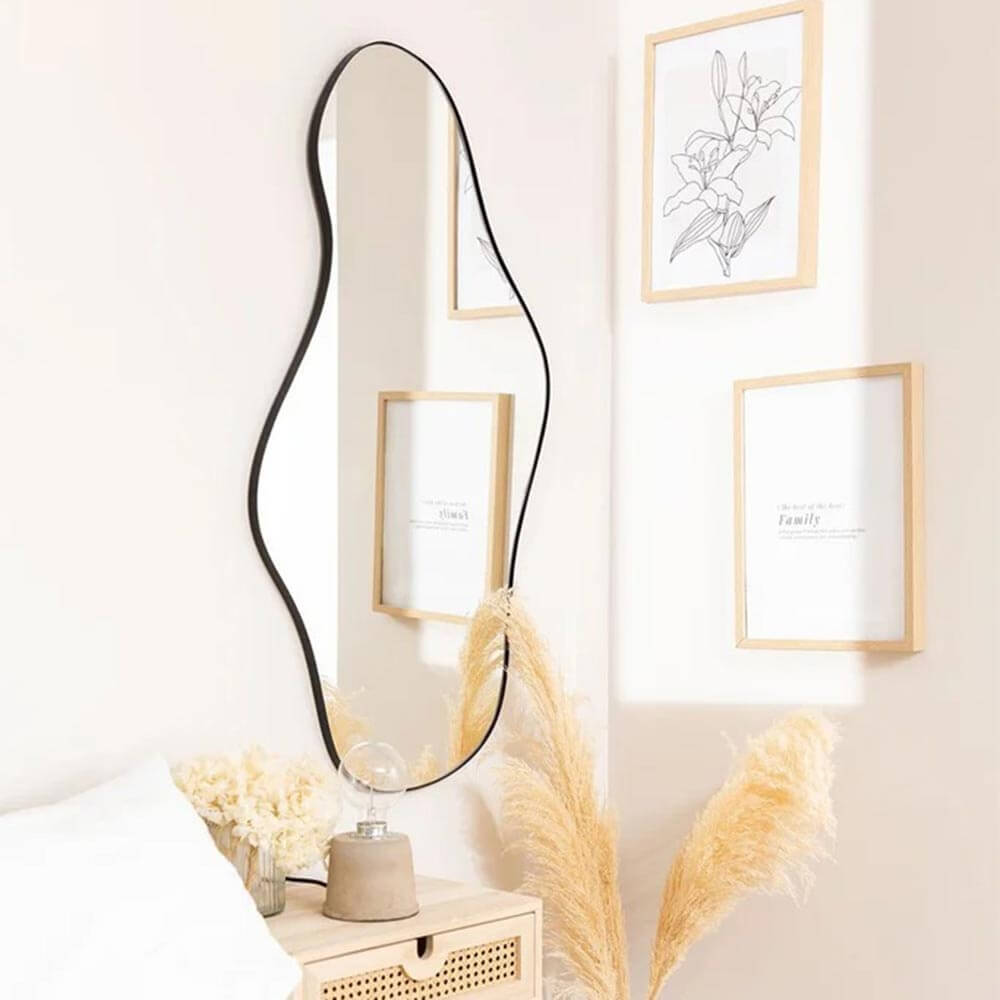 © Sklum
To colour your walls in a wavy and delicate way, opt for the Seaside tide clock and its graphical representation of the seaside. Its curvy lines and pretty colour gradient will give character to your walls.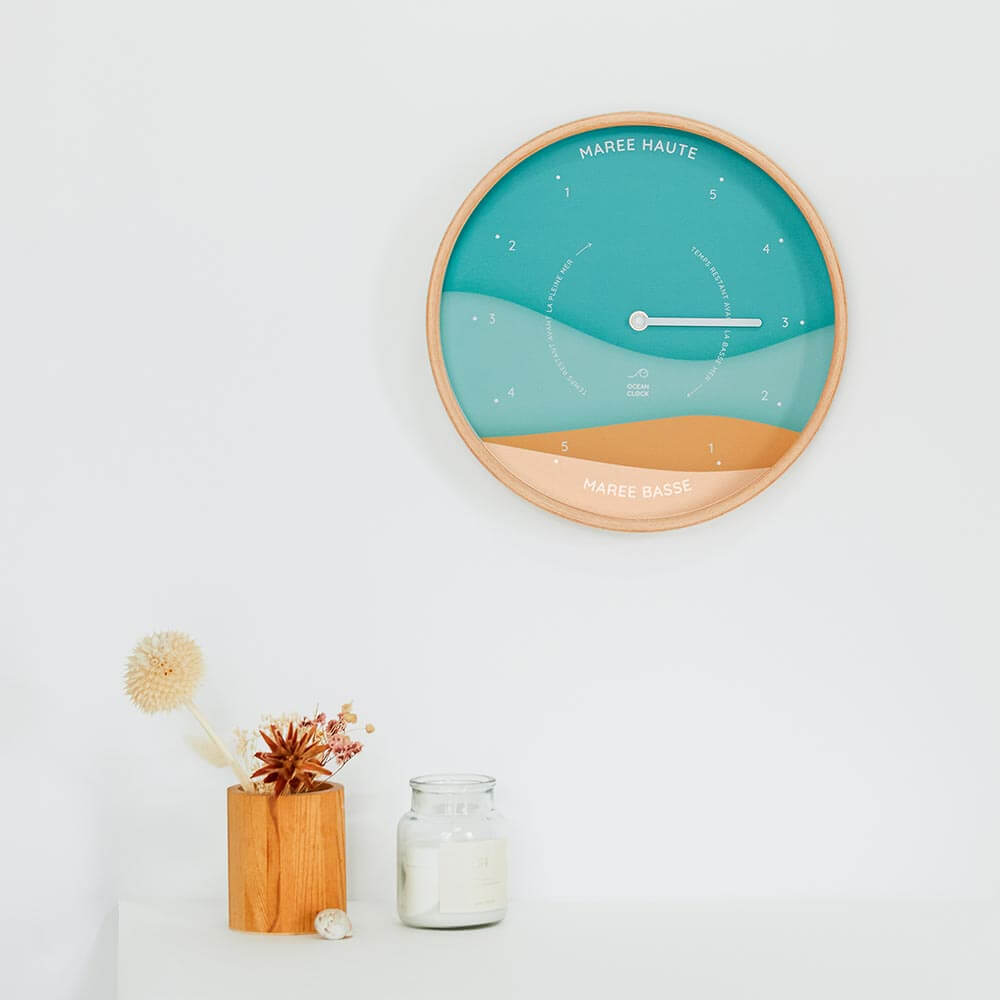 © Studio 255
Other tip: Wake your interior by creating a wall of frames, still very trendy. Favour colourful posters with abstract shapes to remind you of the curves the ocean inspired you.
After enhancing your walls, it is time to move on to the little details that will make the whole difference. Always keep in mind the wavy style's sinuous lines when it comes to choosing the elements that will complete your decoration.
In the kitchen, leave aside ordinary plates and instead add colour and delicate lines with some crockery which will plunge your guests into a nautical and poetic world. 
To put on a table, a sideboard or a desk, vases and candlesticks are essential decorative objects to assert your style. For a delicate seaside decoration, fall for colourful and wavy candlesticks to create a cocooning and soothing atmosphere.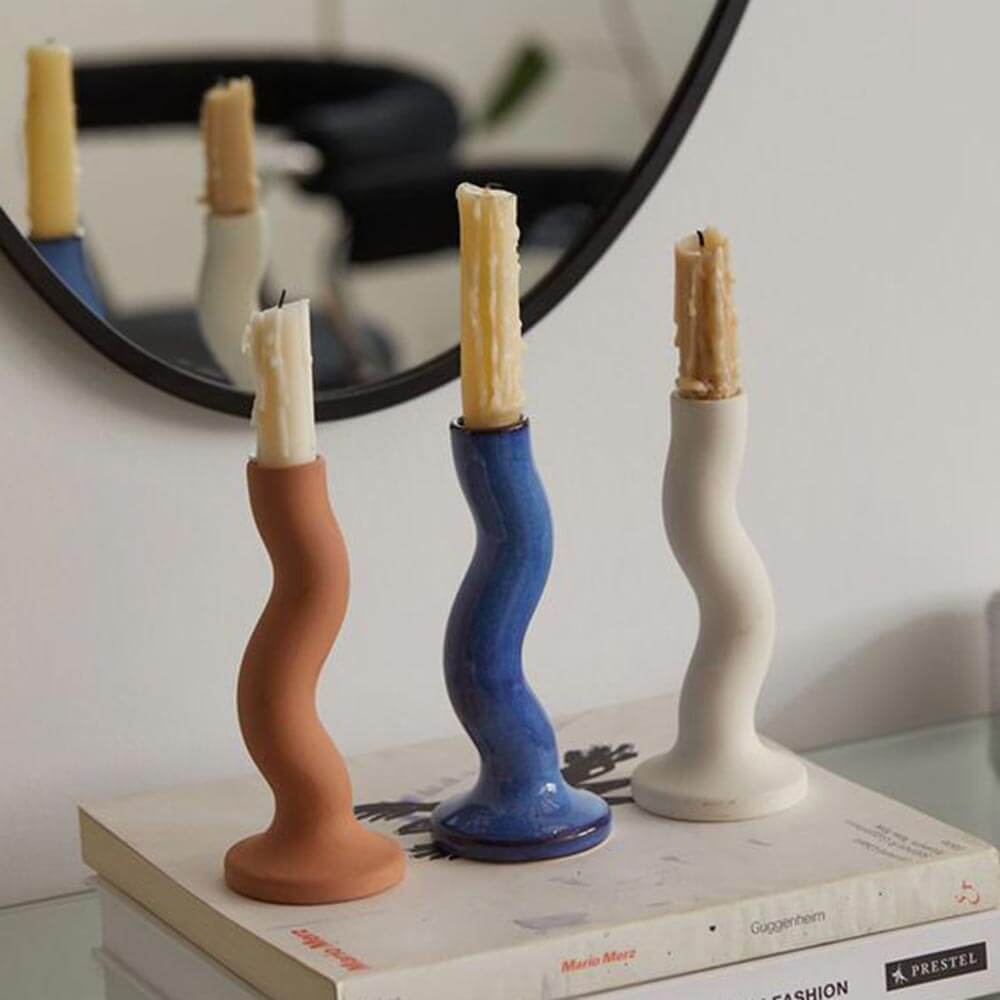 © Urban Outfitters
As for vases, dare mix colours and sizes! Asymmetrical shapes or wavy patterns, let the wavy spirit unfurl in all your interior.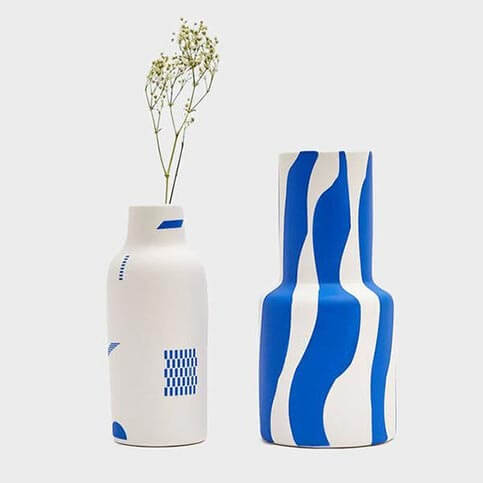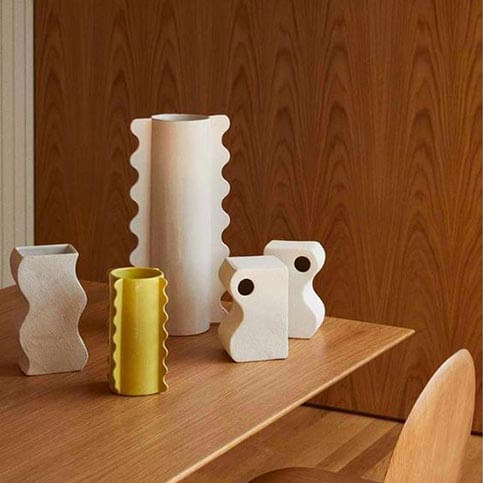 © Pinterest - Insidy
Will you fall for this new deco wave?