How to decorate your exterior space in the seaside spirit?
Our tips to escape without leaving your balcony or garden
Summer, with its hot days and relaxing moments… It is the perfect season to enjoy your exterior spaces and fill up on vitamins D. After having shared with you some ideas to let the Mediterranean get inside your home, we will now be giving you deco tips to arrange your exterior space in a seaside atmosphere. Balcony, patio or garden, ready for a makeover?
Create a very welcoming seaside decoration for your patio
If you are lucky enough to have a garden, patio or balcony, create a comfortable and soothing space where you will love to lounge and invite your loved ones.
You should see your exterior space as an actual room. To feel good in it, you need to create a cocooning atmosphere, as you would for your interior, while keeping the charming and soothing aspects of nature.
To extend your cocoon to outside, take some time to think about the purposes you want it to have: dining area, relaxing space or even both. However, beware not to saturate the space, especially small balconies.
For those who dream of a place where they can chill, opt for a very cosy rest area with contemporary seaside-deco garden furniture! Choose garden furniture made of wood or rattan and make it super cosy with light-coloured (white, ecru) and blue-tinted cushions so your outside deco makes you feel like you are at the seaside. This natural and cosy garden furniture will be the perfect spot to relax and have drinks with friends.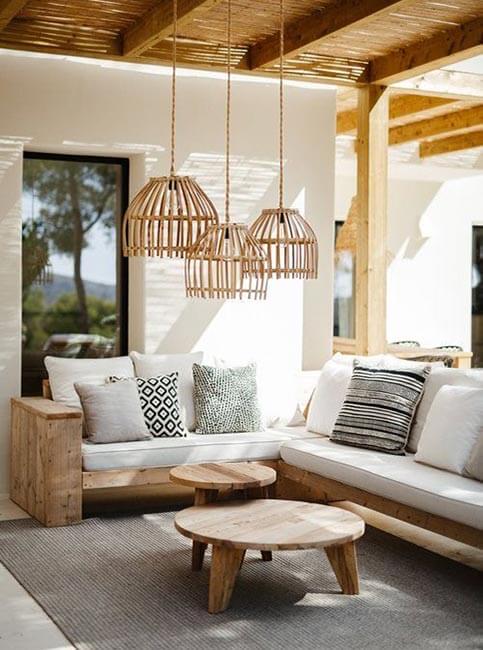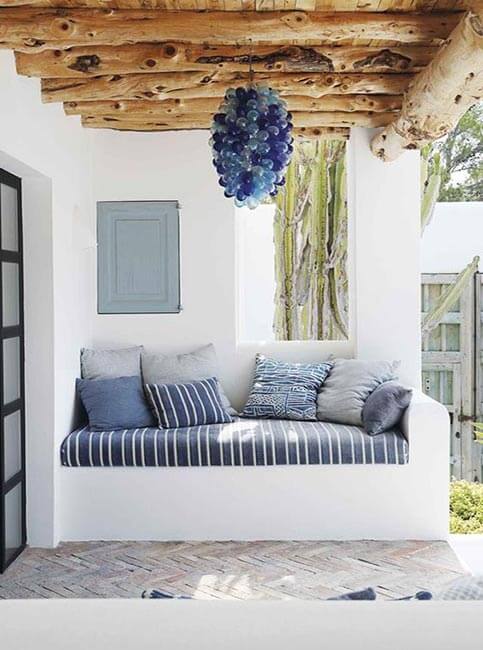 © Pinterest
You want to enjoy the warm weather by dining outside on your patio?  Then, install an outdoor dining room to enjoy meals with family or friends. Create a warm and authentic atmosphere with an outdoor table and wood benches. For those who have a large area, install an outdoor kitchen around your barbecue or plancha. This layout will make the preparation of meals much easier and will also give you the impression you are at your holiday home.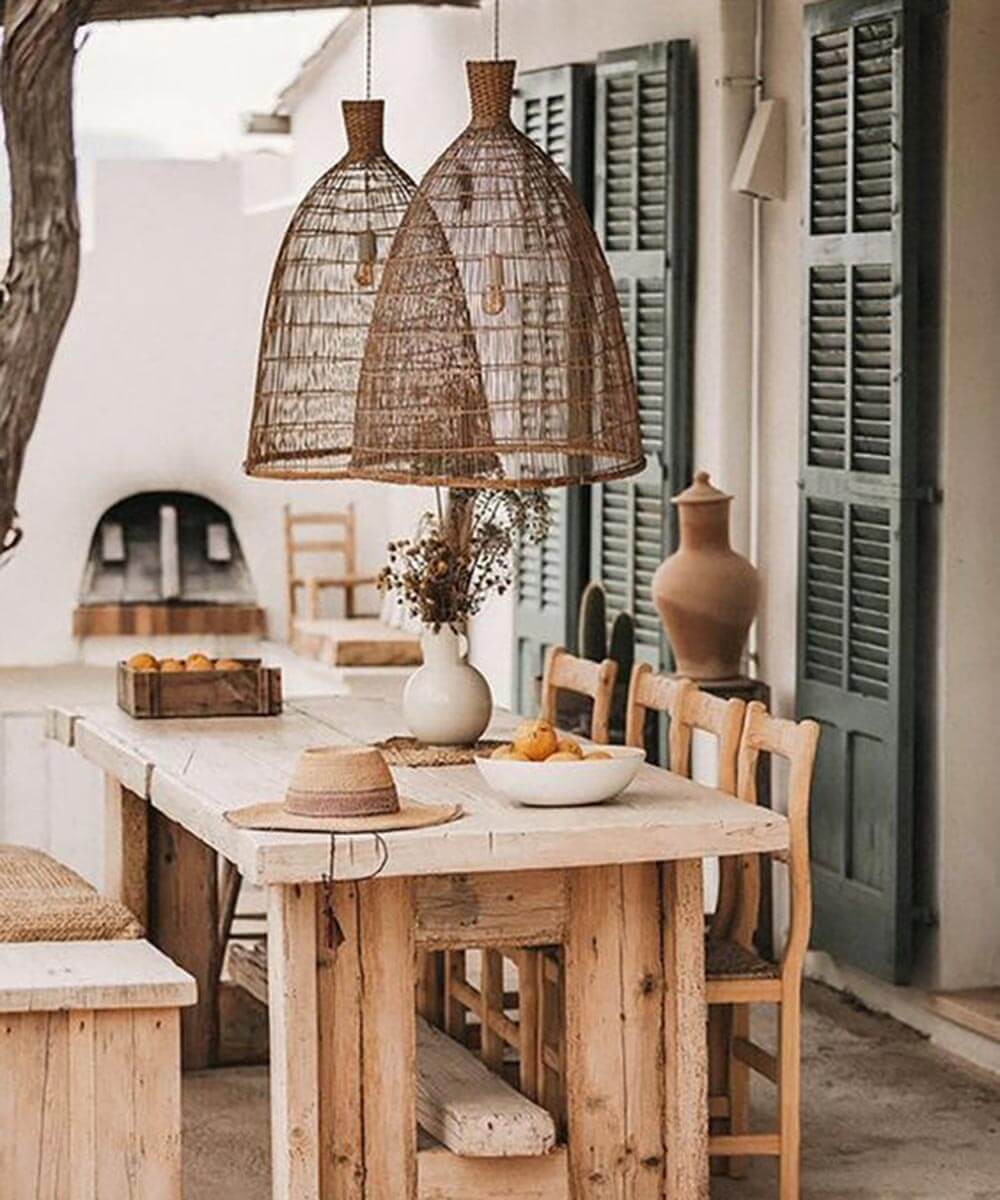 © Pinterest
To fully enjoy your meals on the patio, we suggest you install a pergola. Be inspired by straw huts or beach shacks to reproduce a holiday atmosphere within your seaside-style patio. To do so, opt for a natural look made of wood and reed, perfect for a trendy patio deco. With this lovely natural pergola, you will no longer have to bother moving the parasol around all day because of the sun moving.
Some accessories for an outdoor deco conceived in the finest detail
To create an atmosphere that perfectly reflects seaside spirit, you need to take great care of your sea-style decoration, even outside.
To feel like you are at the seaside, opt for a natural and nautical style. Complete the sea deco of your garden furniture with wooden totems which you can use as console tables. This small craft-looking furniture is perfect to put a cocktail or your favourite book on it.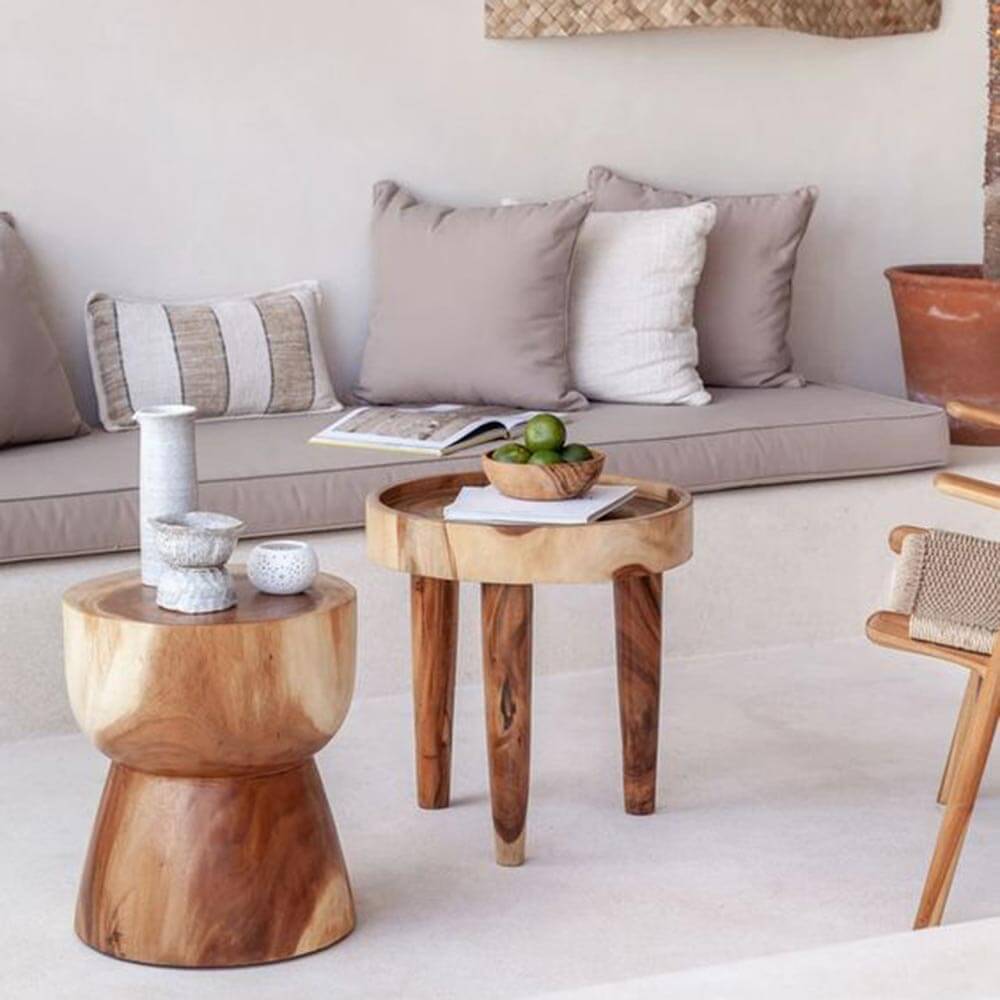 © Pinterest - Bali Bungalow
Outside too, walls have character. For some sea-style wall decoration, place objects emblematic of the seaside like floats or decorative paddles. Add a modern and nautical spirit to your patio by hanging a colourful nautical garland and a deco wood paddle featuring elegant curves. Make sure you hang them in a sheltered spot, like under your pergola, to protect them from the sun and bad weather. That way, your wall deco will remain intact. Deco items to shop so you can travel, even if you do not have a sea view.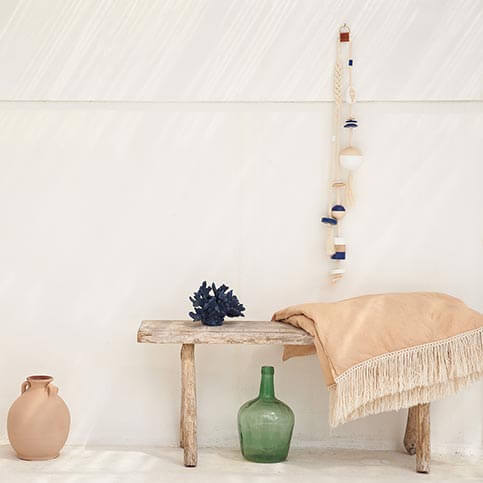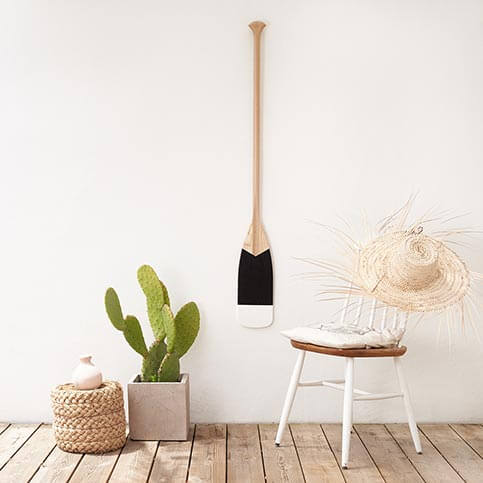 © Studio 255
Creating a warm and gentle atmosphere for your exterior space is possible! Now that you have your cosy garden furniture and soft cushions, add a few natural lanterns under your pergola. At nightfall, light candles and let your mind wander in the beautiful summer sky. The must-have accessory of cocooning deco enthusiasts.
Do not hesitate to also place natural-style luminaires as they will perfectly match your pergola's canisses or balcony's privacy screen. For more festive evenings, place some fairy lights.
The must-have items for exterior spaces calling for escape and relaxation
Because summer rhymes with idleness, we could not talk about outside deco without selecting for you the must-have items you should have to feel like you are chilling on the beach.
Relaxation means comfort! What better than soft and trendy outdoor pouffes to laze around in your garden. Like us, you will fall for the original XXL pouffes in the shape of starfish or crab, designed by MX Home. They are this summer's must-have items to chill in the garden or swimming pool (yep, they float!).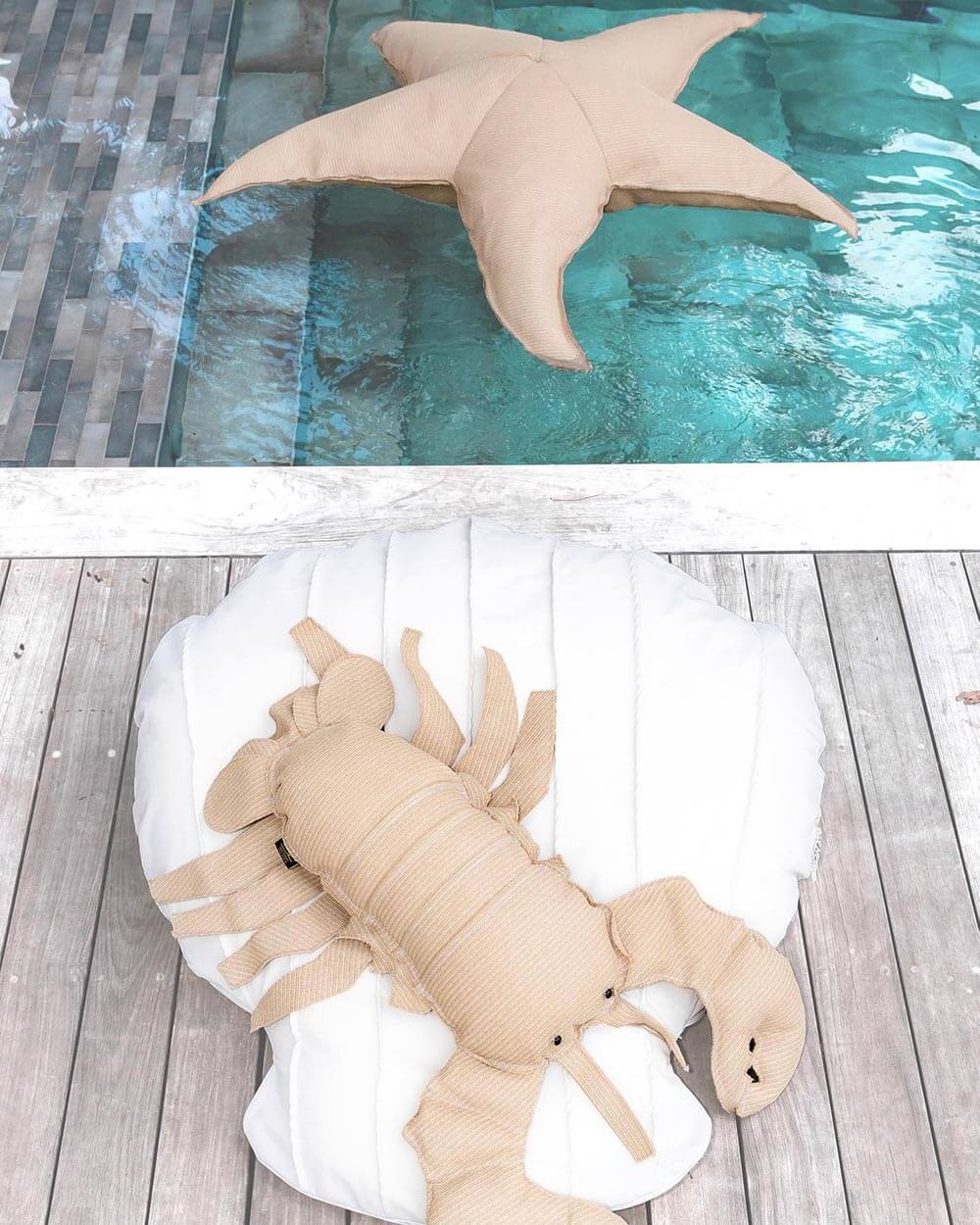 © MX Home
Fancy sunbathing? Either on a balcony or in a garden, fall for the comfort of deckchairs. Opt for the seating position to read a book or the lying position to get tanned, you will definitely find it hard to get off this must-have summer seat. As you have to protect yourself from the sun, put next to it a pretty super trendy Courant Sauvage fringed parasol. With its fine colours and retro style, this parasol has become a super trendy deco object.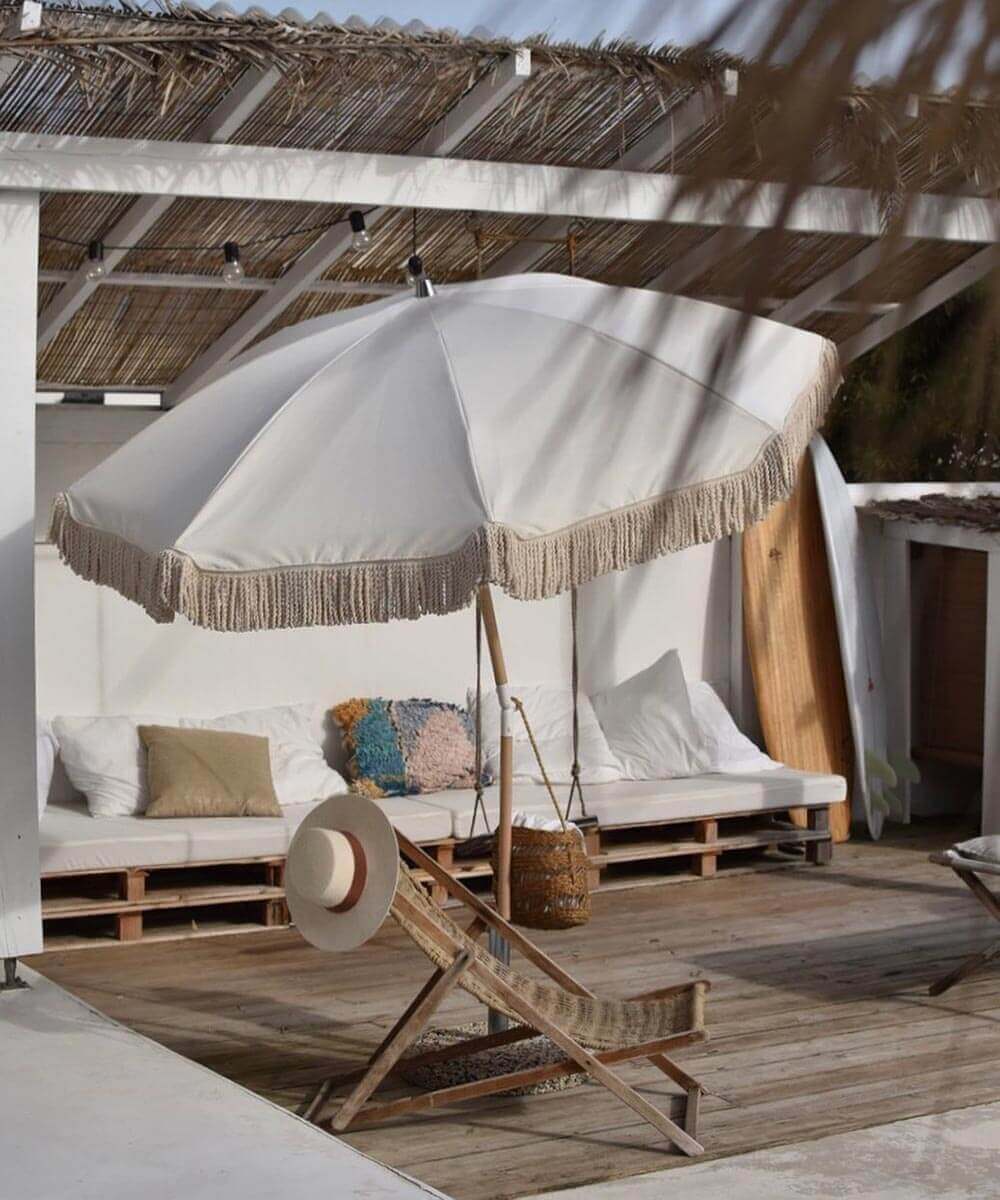 © Courant Sauvage
For those who just love napping in the shade or sun, do not hesitate to get yourself a hammock which will definitely make you feel like you are on holiday at the other end of the world. Not enough space to hang one? In that case, get yourself a suspended chair in natural fibres. Chilling in this little cocoon will make you feel completely serene.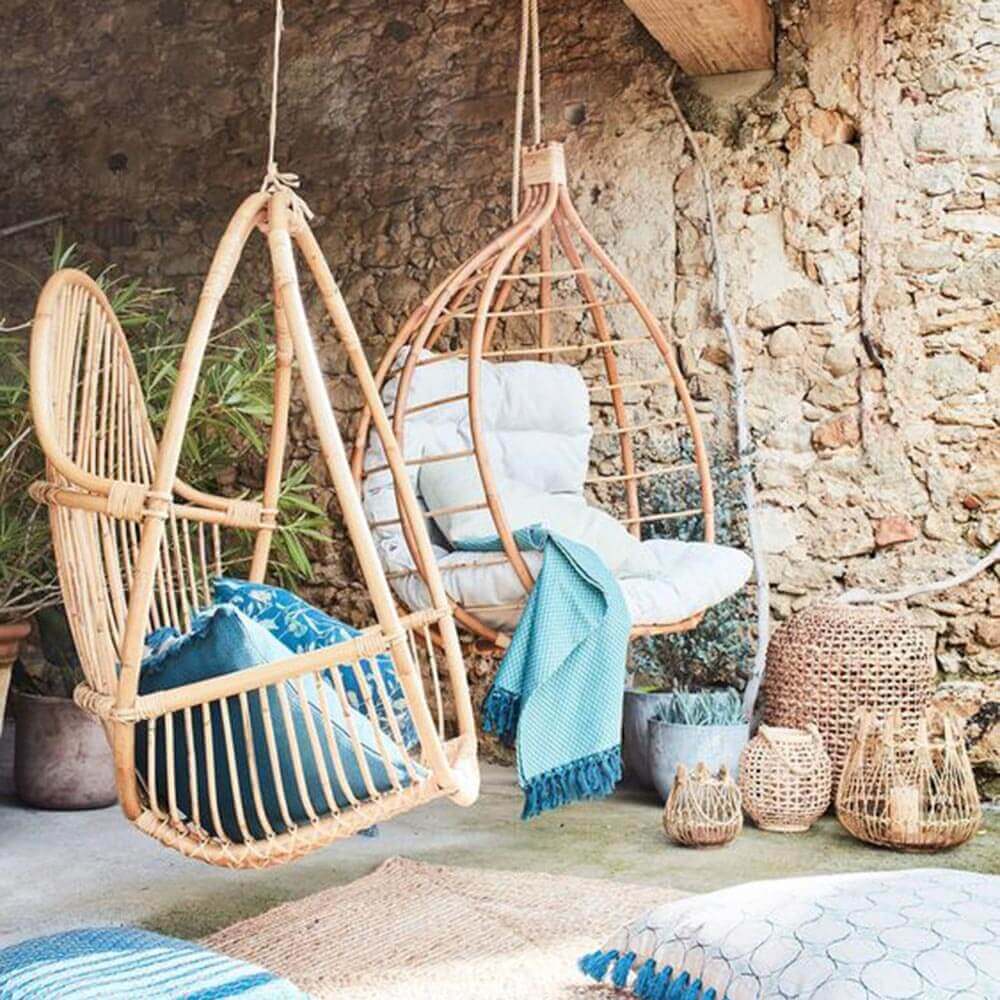 © Pinterest
You cannot possibly rearrange your exterior space without adding notes of greenery. For those who do not have a garden, add green touches with potted plants. For some Mediterranean seaside atmosphere, fall for Greek-style pots in which you can plant small olive trees or lavender. For a patio in the spirit of tropical holidays, opt for yuccas and cactuses. If you are lucky enough to have a garden, plant them directly or create trendy and refreshing planters, and use terracotta pots as decorative objects for your patio.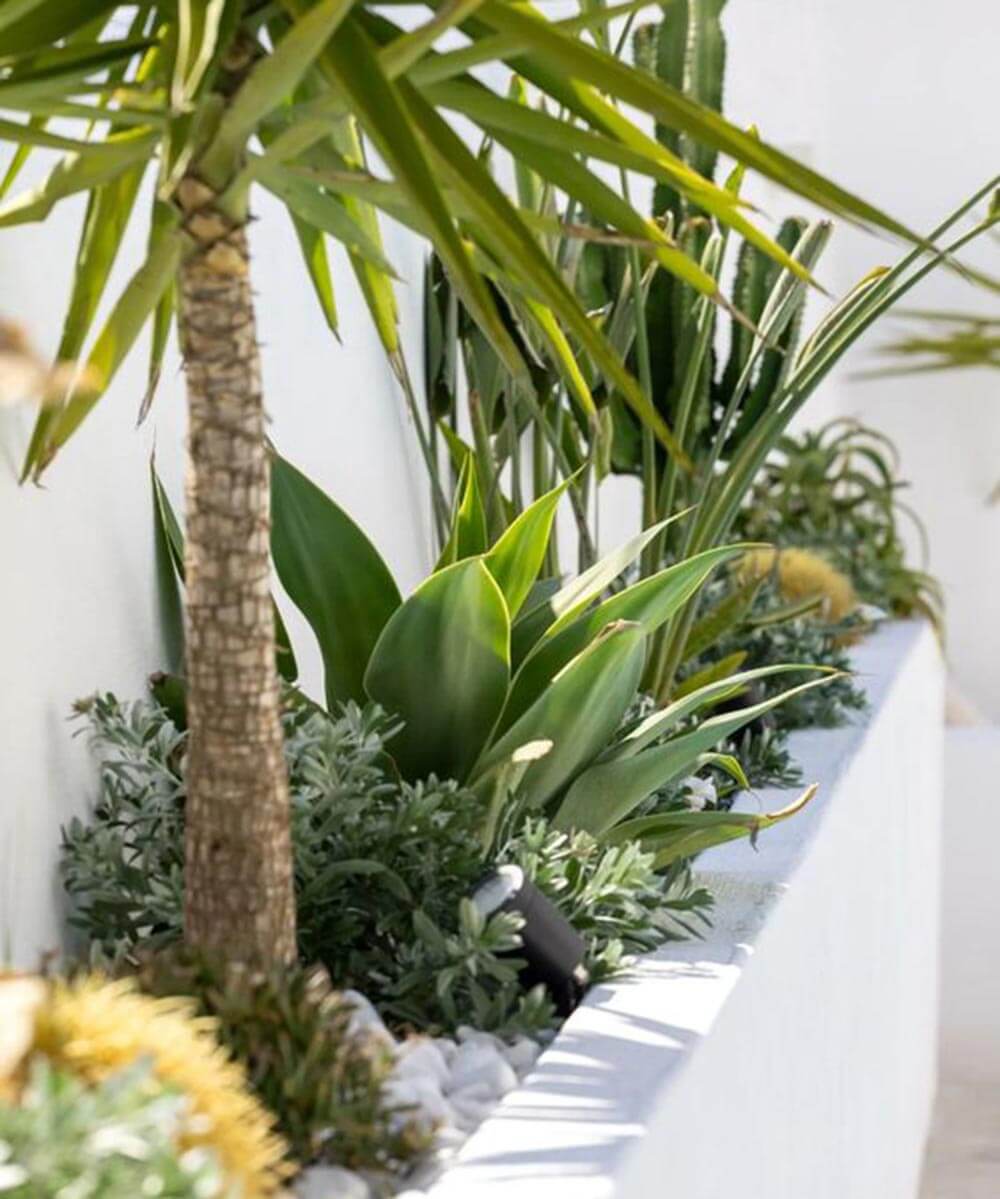 © Pinterest - Côté Maison
With a seaside-style decorated exterior space, you will feel like you are at the beach every single day!