Prolong sunny days with a warm and colourful deco inspired by the 70s
When deco also travels through time
Get ready to make your deco travel through time and create a comforting and colourful atmosphere. To keep the smile this autumn, we are drawing inspiration from the 70s in search of powerful colours and vintage deco objects. In this article, find out about all our tips for embracing the spirit of the 70s while modernity.
Back to the 70s for a characterful interior high in colours
The 70s are characterised by strong and warm colours in both fashion and deco. So, let's dive into our memories or photographs of that time and wake our interior with powerful tones.

For a warm and trendy autumnal deco, opt for colours emblematic of the seventies like orange, brown and mustard yellow. Add a touch of nature thanks to splashes of green and also shades like pine green, common in the 70s, emerald green and olive green, very trendy in interior decoration. This combination of colours is perfect for creating a welcoming and soothing atmosphere, so typical of autumn. 
But rest assured, it is not necessary to adorn entirely your home interior with these powerful tints. For a modern and bright interior, it is better to favour light colours on your walls as well as a few accessories (cushions, carpets) to contrast with these characterful colours. You will bring this natural and sunny touch through your furniture and deco objects. How?
We suggest you adorn your walls with some abstract posters that reflect the colours you chose for your retro and modern decoration. Complete your wall decoration with the must-have Sailor clock with its intense emerald-green face that will bring elegance and depth to your wall.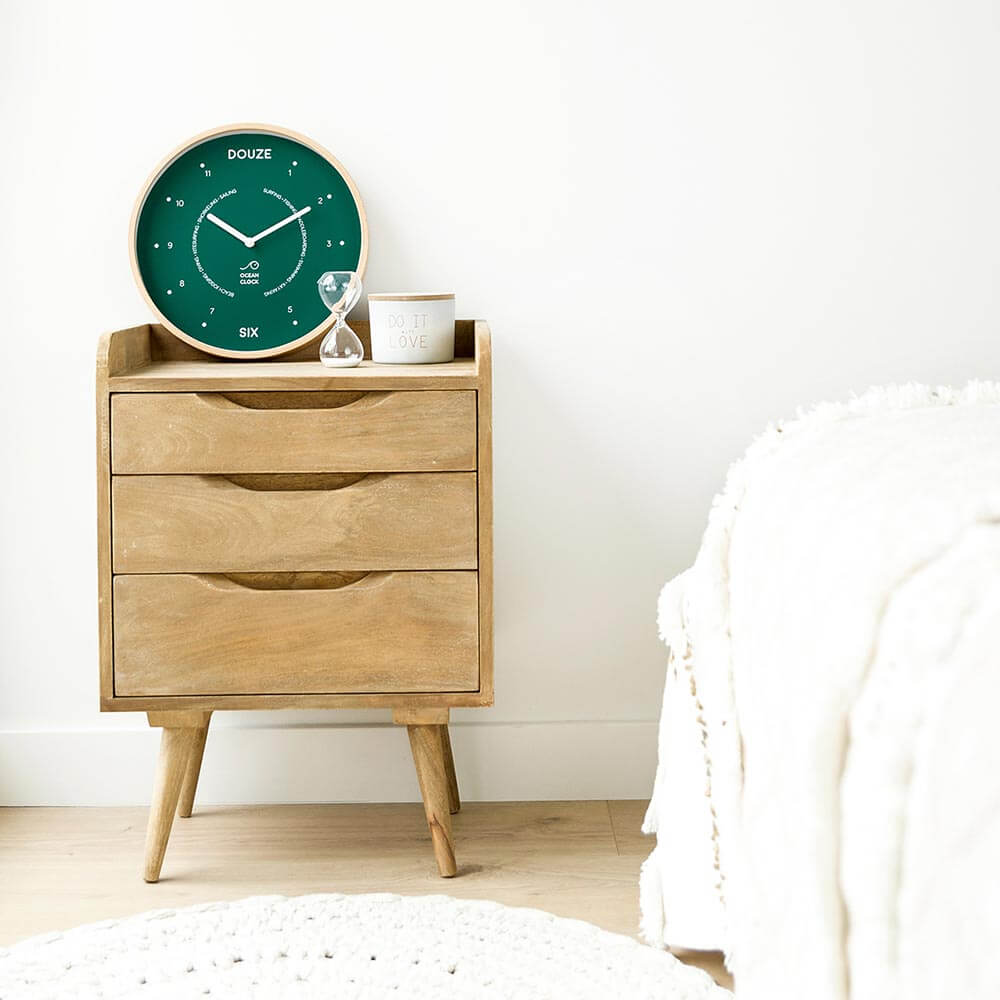 © Studio 255
For a welcoming and cosy atmosphere, follow today's trend and use checks when it comes to household linen and cushions. Minimalist checks for your cushions or coloured checks like gingham for the kitchen tablecloth, fall for these delicate and modern geometric patterns that you will be able to easily combine with plain green linen.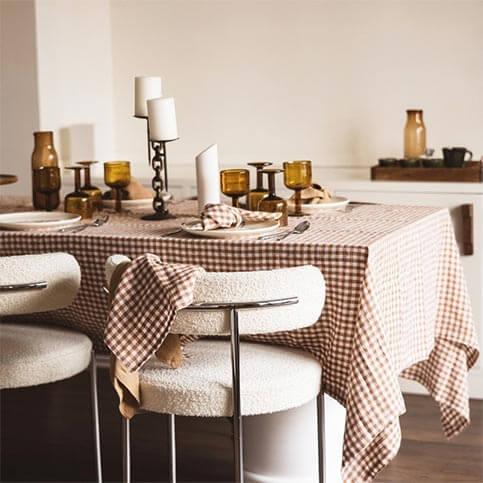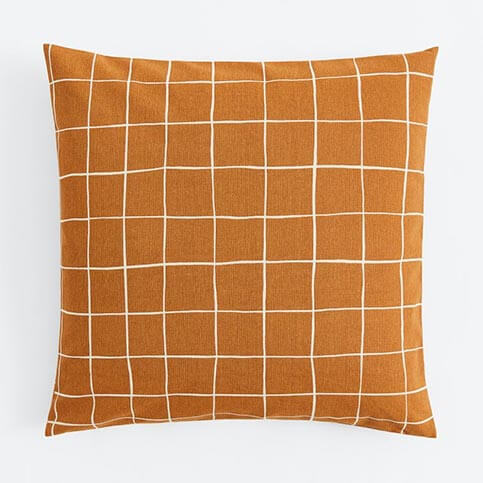 © Gabrielle Paris - H&M
The 70s are about colours but also curves. So, fall for trendy coloured twisted candles, the must-have deco object for the end of year. Yellow, orange, emerald green… Distil colour everywhere in your interior and get in the spirit of the seventies within your cocoon.
© Pinterest
The trendy objects and materials to choose for a modern and vintage deco
The deco style of the 70s is back in the spotlight and this is in addition to its iconic materials and accessories. Forget about flower patterns because here the spirit of the 70s echoes with modernity for a warm and super trendy interior.
For the living room, imagine a cosy and comforting place that will warm up your interior during the long winter days. In that case, nothing beats a velvet sofa, so typical of the 70s, for relaxing moments. For the colour, we recommend orange or terracotta tints as they will brighten up your interior. To illuminate your living room, put a super trendy curly-wool armchair near your sofa, perfect for making your autumnal deco look like a cosy cocoon.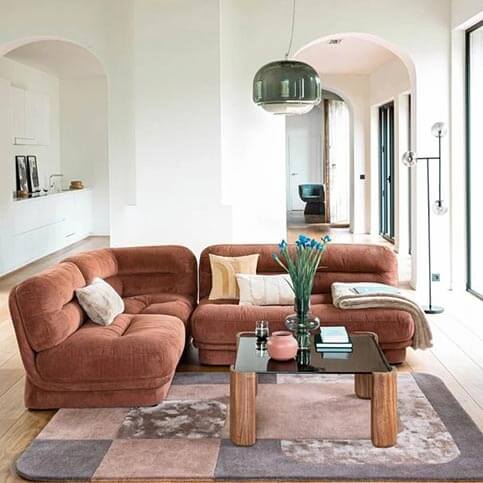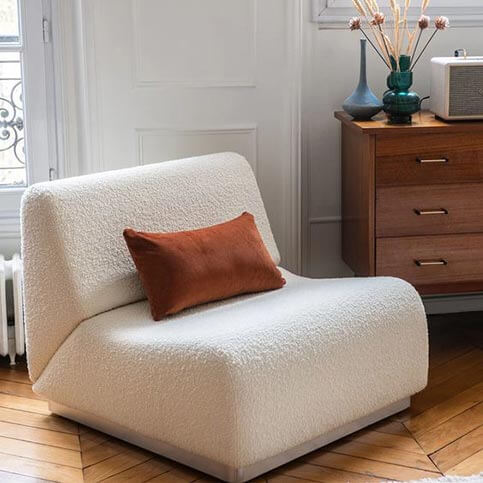 © La Redoute Intérieurs – The Socialite family
After velvet, another material emblematic of the 70s is making its comeback: tinted glass. Declined in furniture, crookery and deco objects, this material is perfect for livening up your deco thanks to its large palette of colours.
In a bedroom or living room, fall for a pretty side table in yellow or green coloured glass to brighten up and liven up the room. Make your kitchen shine brightly, too! Proudly display your coloured crookery and dare mix tinted glass with ceramic when it comes to your dinner set.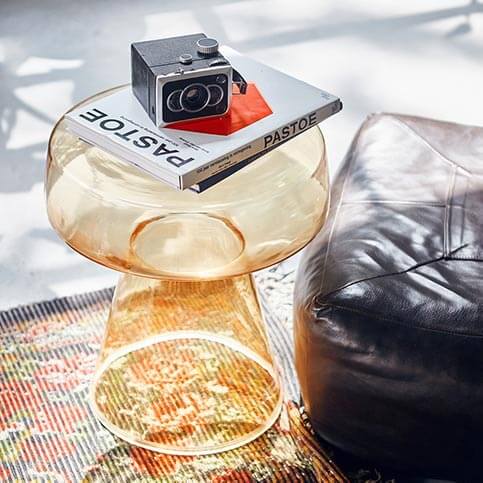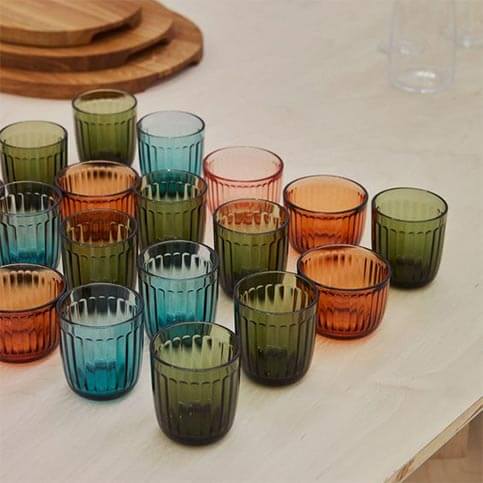 © HKliving - Pinterest
Then, refine the details of your vintage deco by adding vases and candlesticks, essential deco accessories. Here again, favour tinted glass to bring touches of colour to your interior. If you like originality, do like us and fall for this charming glass watering can… isn't it cute?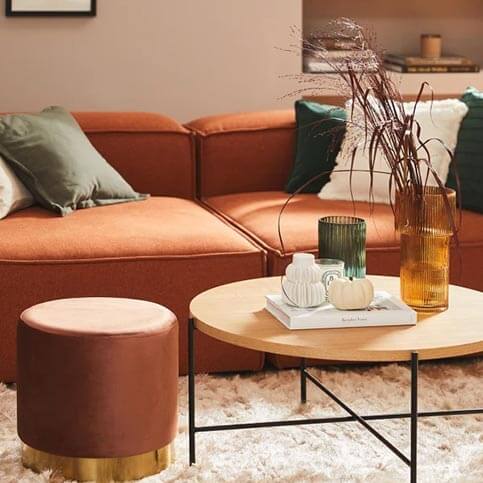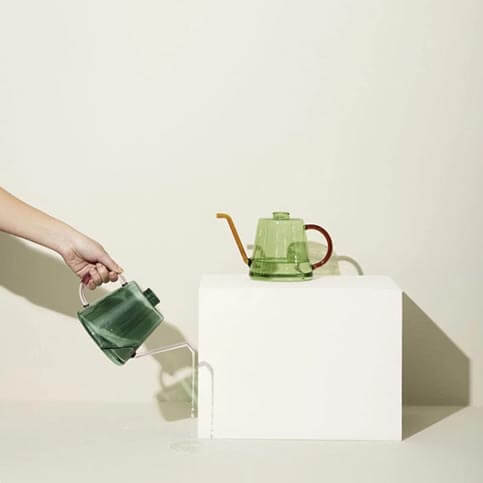 © Westwing - Hübsch
For a 70s effect while modernity, do not bother about suspending devices and lamps made of rattan or other natural materials but dare the light fixtures either in glass or coloured metal. Very trendy, the mushroom lamp, coming right from the time of flared trousers, strongly appeals to all design enthusiasts. Add this iconic object to your deco to illuminate a bedroom or your reading corner. To colour your ceilings, fall for a vintage-style deco design: a Flowerpot suspending device. Alone, in pair or by three, above a central island, dinner table or sofa, you will warm up the atmosphere thanks to this lamp, so typical of the hippy years.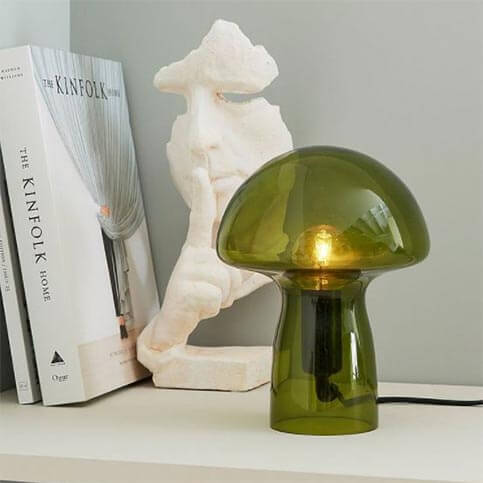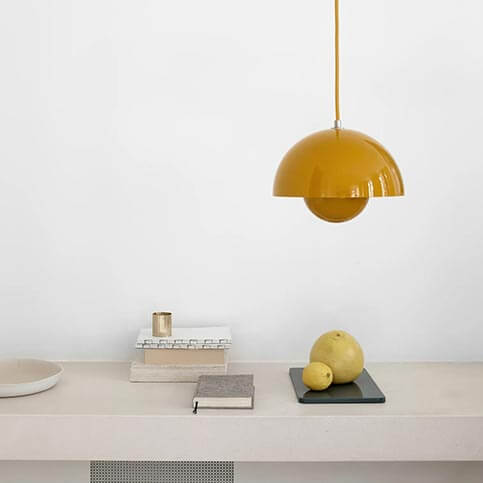 © Rumi Living - &tradition
For a contemporary 70s deco, combine your glass deco objects with accessories in raw materials like marble or ceramic in order to add a touch of authenticity and refinement.
Like in all deco styles, one must not forget the little touch of greenery that will create a calm and soothing atmosphere. Think about putting eucalyptus branches in your vases and add a few green plants in each room to obtain a livelier deco.
Fond of the style of the 70s? What are you waiting to warm up your interior with pretty autumnal colours?