Japandi: minimalist and cocooning deco style to create a haven of peace
The Fusion between Scandinavian and Japanese Design will delight you !
Fancy an interior that exudes serenity and well-being? Look no further! We found for you the perfect deco style to dress up your cosy nest: Japandi. Both minimalist and cosy, it is currently one of the greatest deco trends to make deco-lovers' interior travel and to create a true haven of peace that one finds hard to leave. Focus on the Japandi deco trend!
When Japanese deco meets Scandinavian style
For some years now, Japandi has been mentioned in numerous deco magazines and social networks which draw from this clever mix of styles to create a soothing and cocooning atmosphere. But what is this funny sounding name trend about?
The word « Japandi » is the contraction of two words: Japan and Scandinavia. This new deco style is a trend that comes from two different horizons which the world of deco is familiar with: Scandinavian and Japanese styles. It is the blend of these two decoration styles that enables to create a warm and minimalist interior in which we like to relax.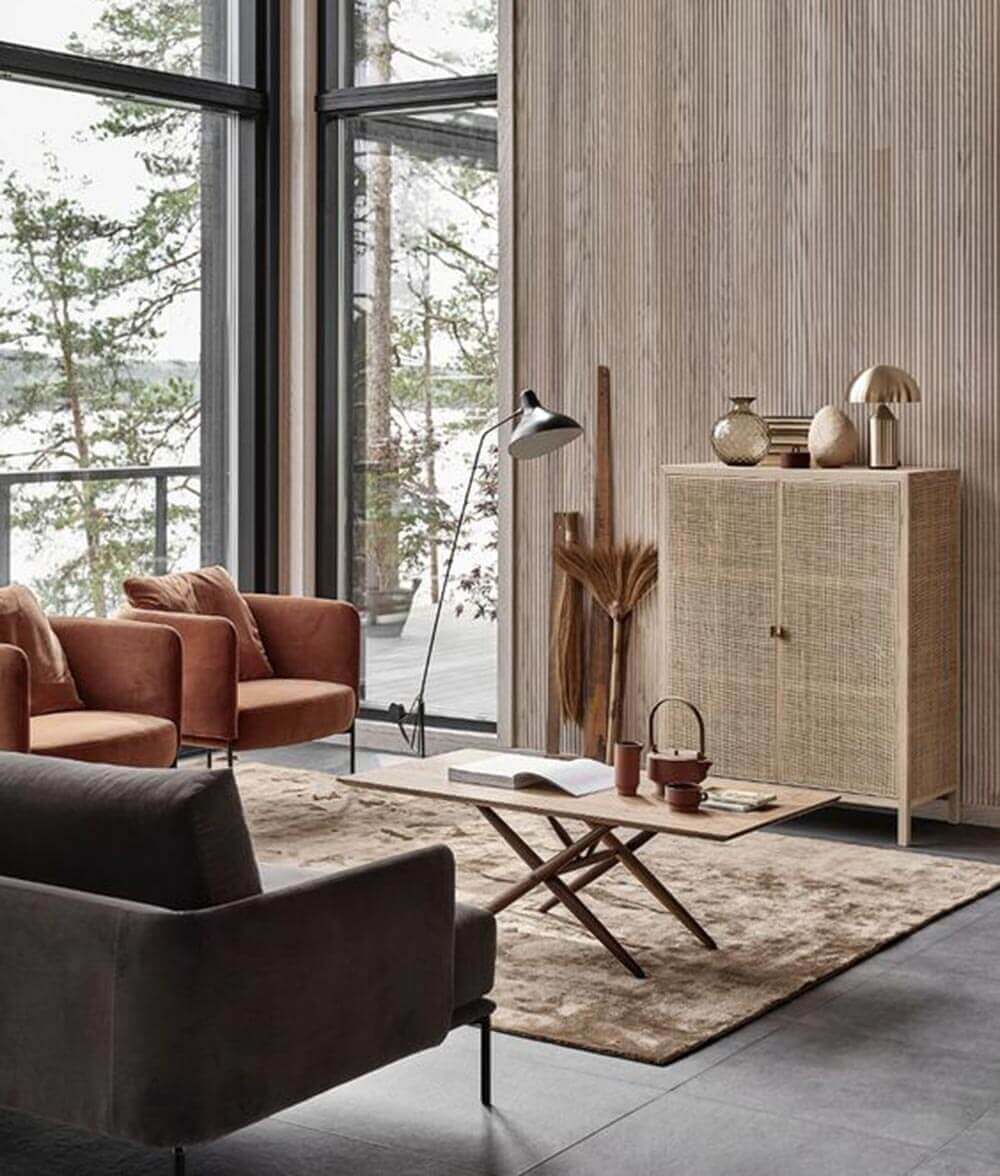 © Pinterest
Japandi is more than just a style, it is a genuine life philosophy inspired from "wabi-sabi". This Japanese concept is defined as the art of perceiving beauty in imperfection, simplicity and authenticity.
As you probably understood, in order to create a Japandi-spirited deco, you will have to forget about the superfluous and focus on the essential. Above all, your interior must be functional and bright. You may of course add to your decoration some handmade deco objects from Japanese or Scandinavian crafts to bring some life and warmth to your peaceful interior.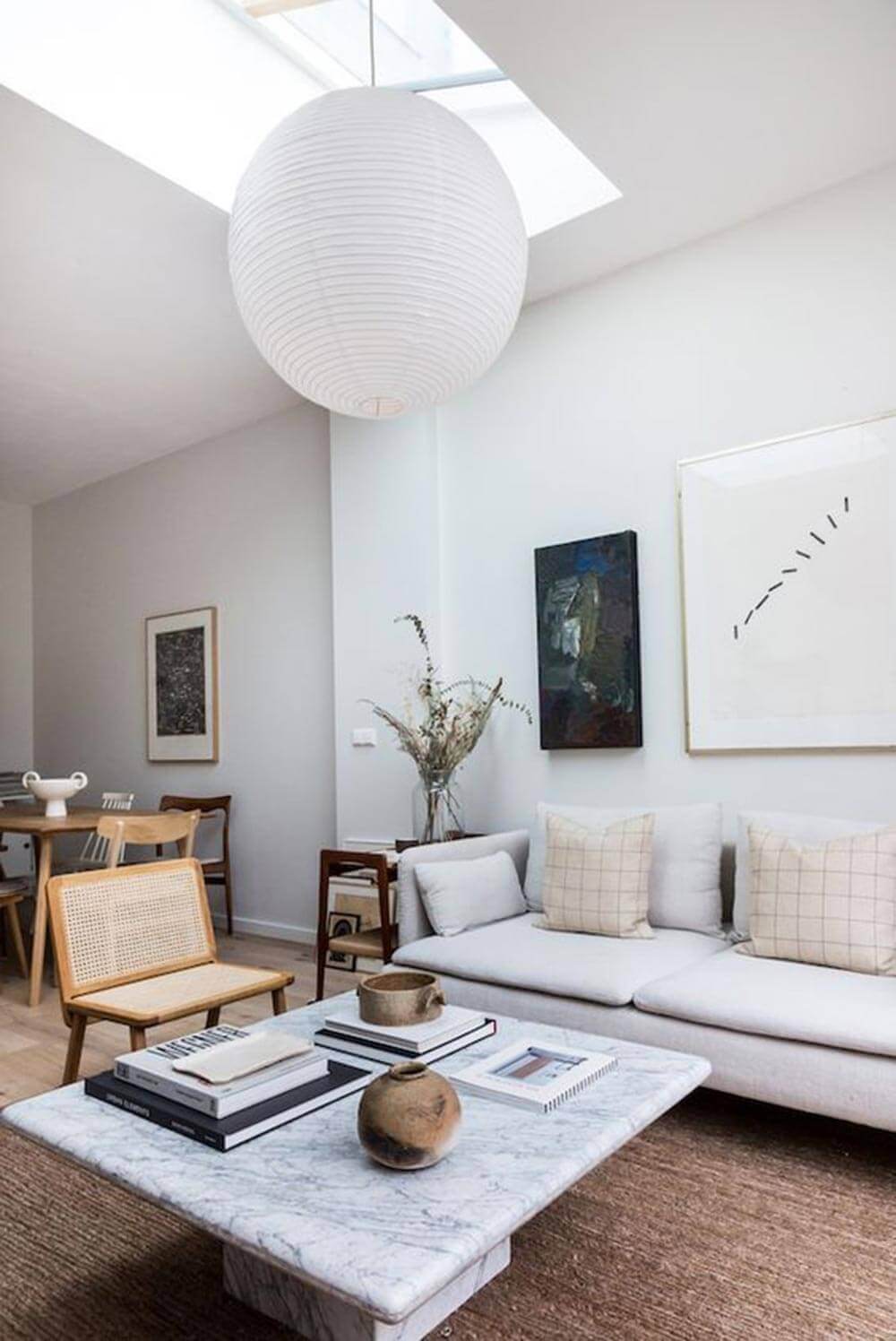 © Pinterest - Avenue
Let this trend, that mixes Japanese aesthetics and Scandinavian cocooning, enter your interior by following our deco tips. Ready to make your decoration travel?
The colours to adopt for a Japandi-style interior
Sobriety and minimalism define this new deco trend. To transcribe this look that mixes the warmth of Scandinavian hygge and the purity of Japanese style, it is important to choose deep and delicate colours.
Forget flashy tints and instead choose a palette of softer colours which are closer to nature and create a serene Scandinavian-style atmosphere and a much brighter space. Cream, pearl grey or even honey are shades you can easily add to your deco when it comes to wall paint or household linen. Do not hesitate to contact a house painter to renew your walls if you are not much of a painter.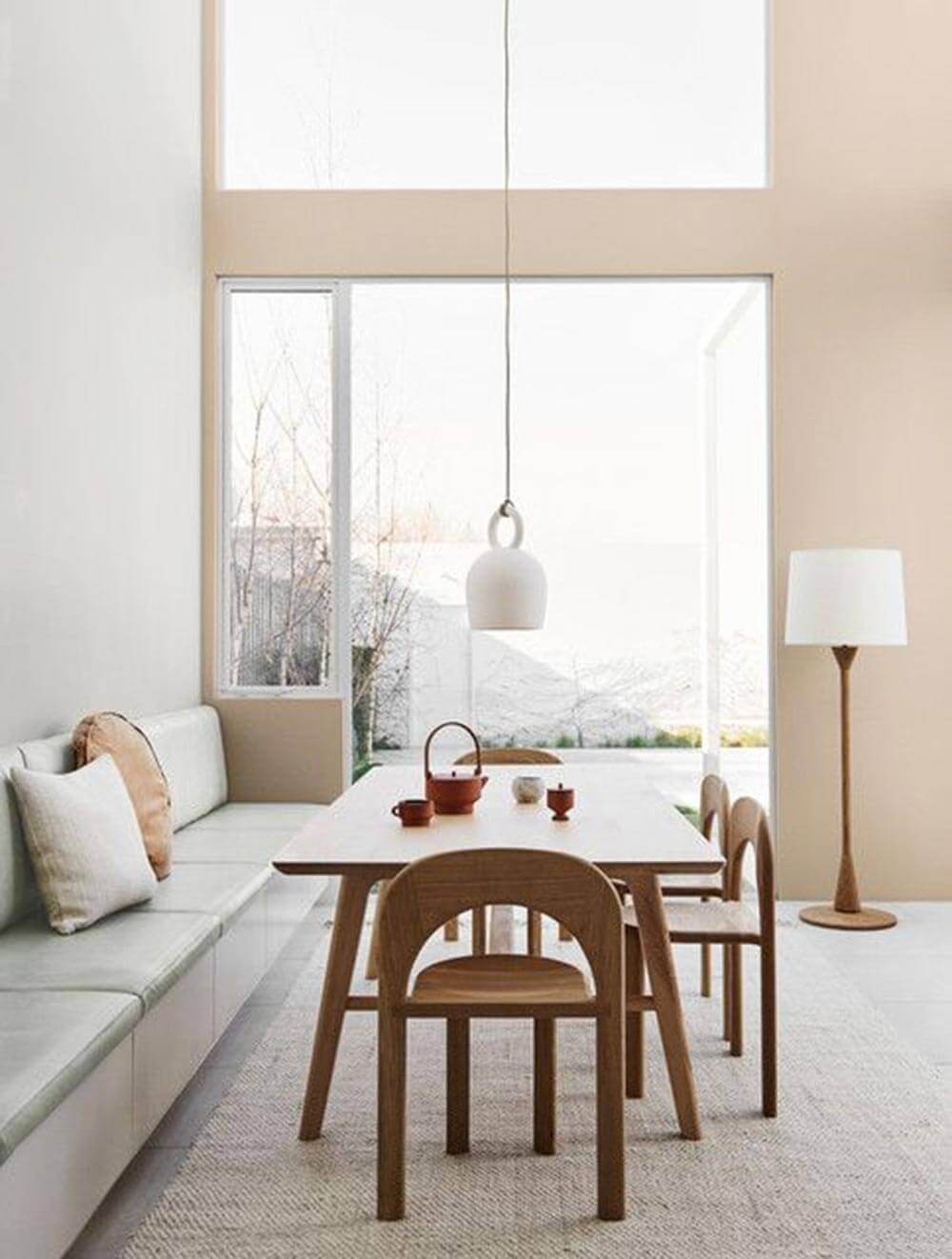 © Pinterest
Then add a Japanese touch to your interior by playing on the contrasts with a palette of deeper colours. Opt for tints like brown, anthracite grey, black or dark blue which will all bring some character to your interior while injecting some Japanese atmosphere.

Alter this colour palette with a few touches of earthy tints (ochre, terracotta…) to bring nature to your deco and create a Zen and warm cocoon.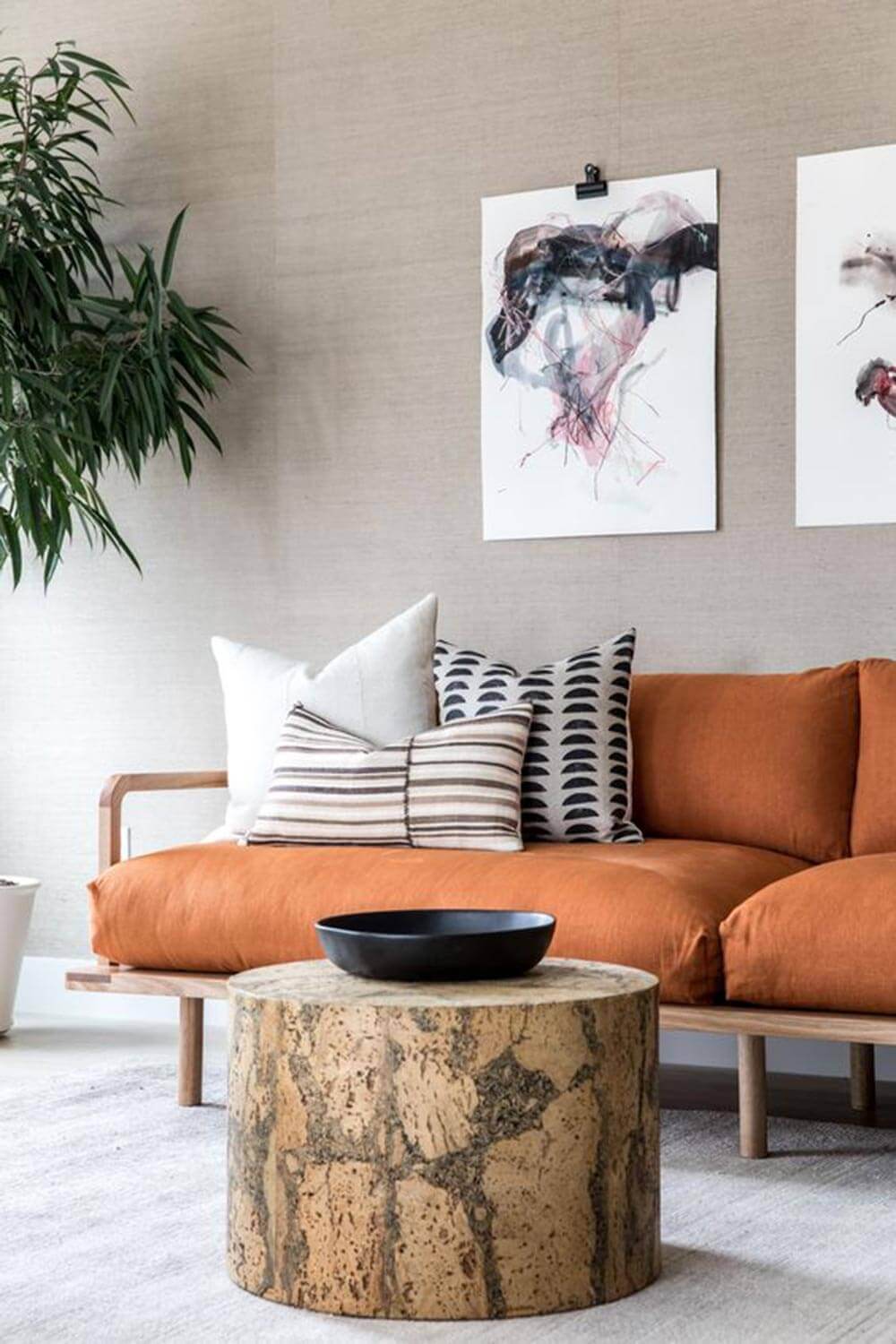 © Pinterest – Domino 
To follow the Japandi trend, stick to a range of colours that remind of raw and natural materials, so softness and sobriety can be craftily blended.
Japandi deco or the reign of authenticity
Now that you are done in terms of colours for a Japandi atmosphere, let us tackle another essential matter: decoration objects. At this point, you will have to mix items that are emblematic of Scandinavian decoration with Japanese deco.
Combining well-being, simplicity and authenticity is the very essence of Japandi style. To do justice to this nature-inspired trend, you need to carefully choose your furniture and deco objects. Keep in mind that your interior must remain functional, pleasant to live and minimalist.
For this, do not look for originality but naturalness! Opt for furniture made of raw and natural materials with clean lines. This return to basics will enable you to create an authentic and soothing interior. Have walnut for the kitchen, a dining room table in oak, a bedroom wardrobe in rattan… Favour these noble and natural materials.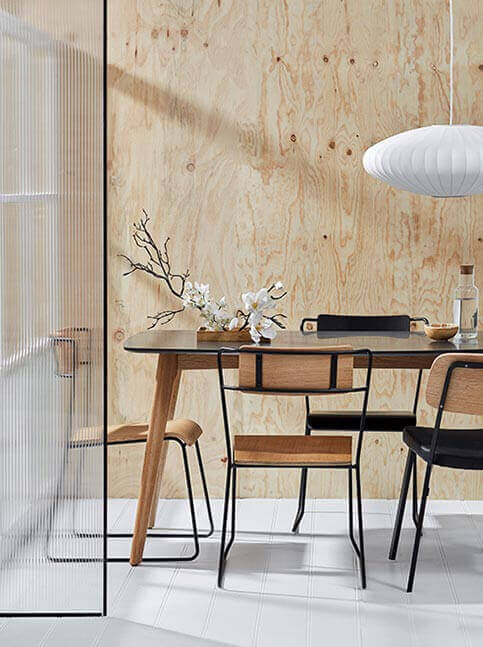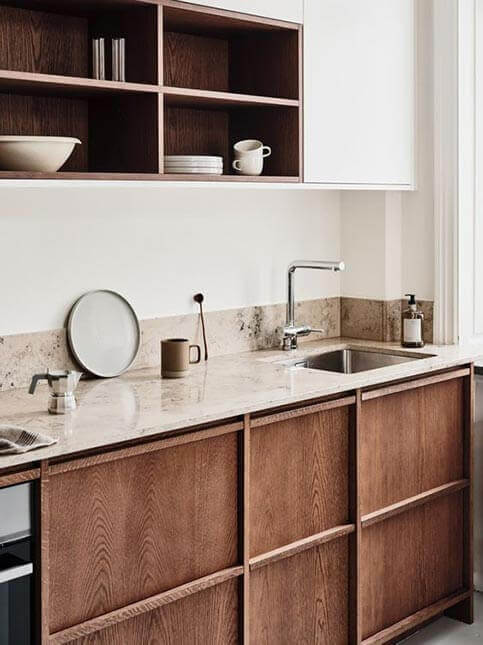 © Denis Braki - Pinterest
Do not hesitate to create a wood batten wall to bring relief and warmth to the room. Regarding floors, choose a light-wood parquet or polished concrete.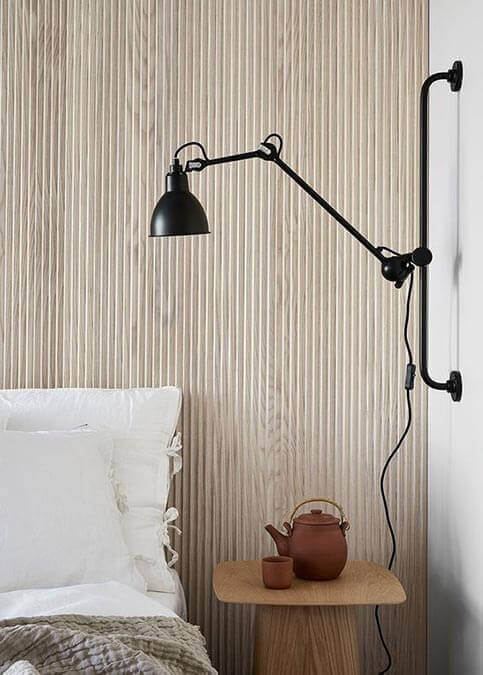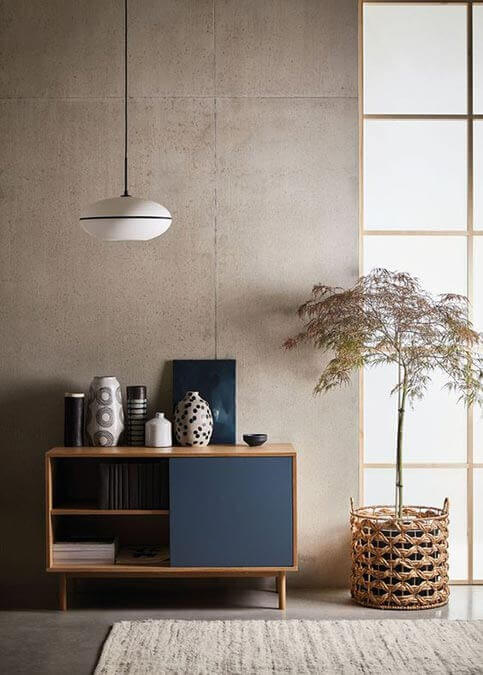 © Pinterest 
Regarding decoration, dare mix styles by combining a Japanese-spirited futon couch with a Scandinavian-style armchair. Japanese lanterns will help you create a subdued atmosphere, conductive to relaxation in any room of your house.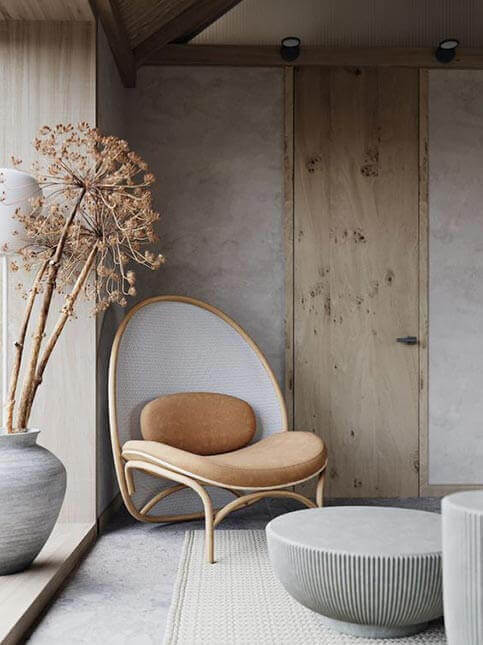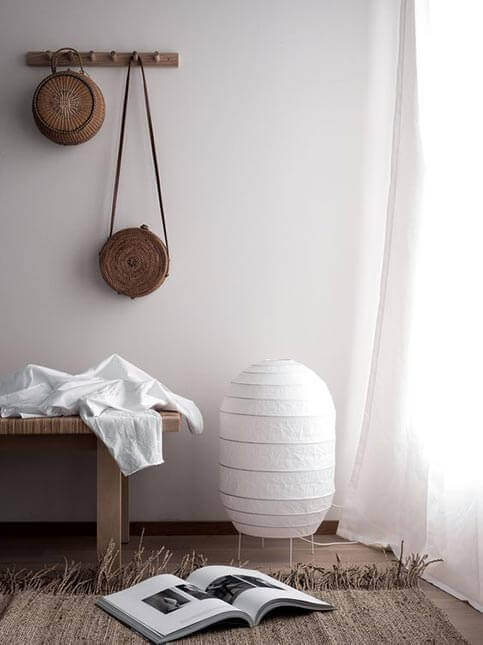 © Pinterest - Jaana Niittynen
Add a stylish Scandinavian touch to your deco thanks to our minimalist and elegant black clock. A must-have deco accessory!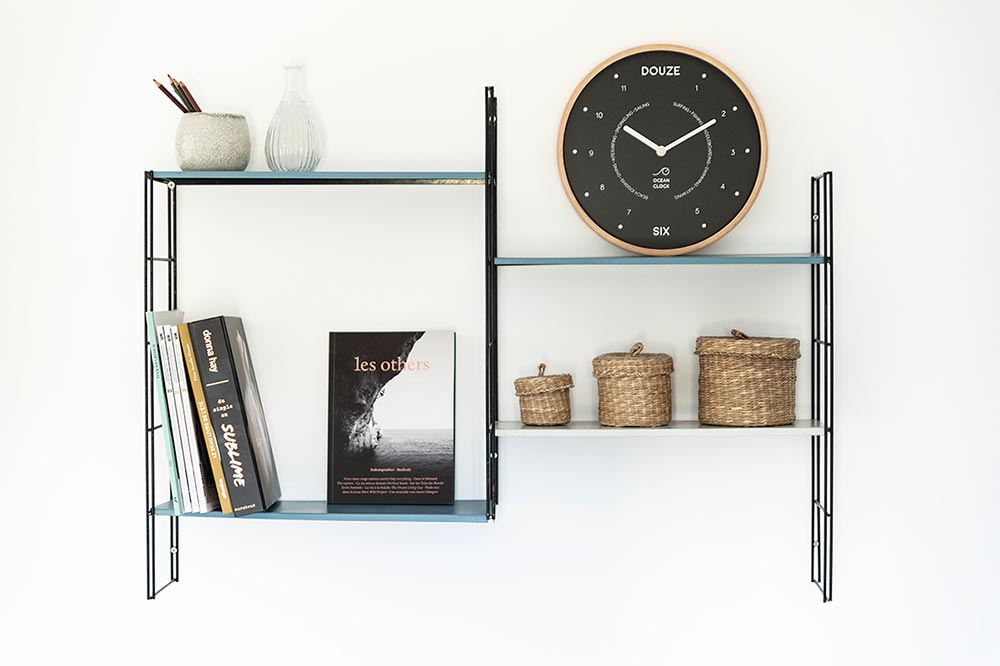 © Studio 255
Enhance your interior with natural household linen in flax, hemp or cotton gauze. Hygge cushions and plaids will bring texture and warmth to your Japandi decoration.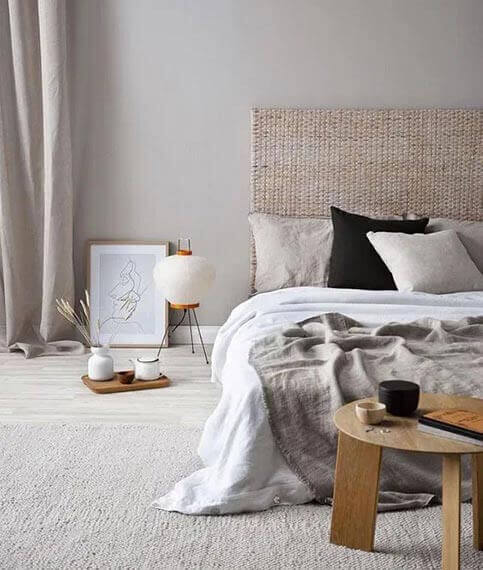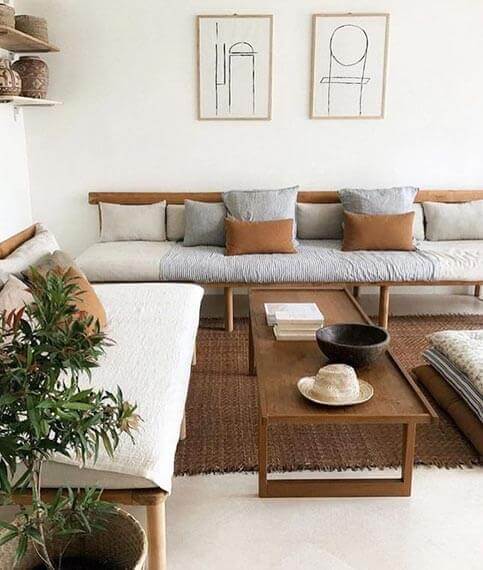 © Pinterest
Japanese spirit also refers to the beauty of imperfection, so choose unique objects from Scandinavian crafts or ones that were repaired with the Japanese method that uses gold powder called "kintsugi".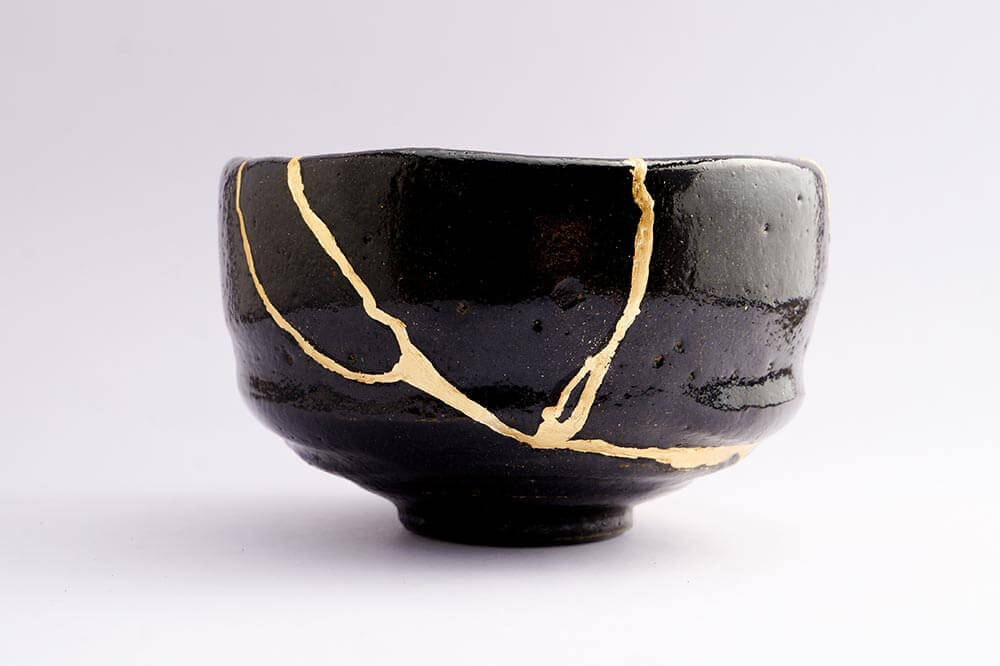 Add a few deco objects like stoneware vases to enhance the authentic Japandi style, you may also put some cherry branches. Go for ceramic and wooden tableware as well as a Japanese cast-iron tea set to make your interior travel to the country of the rising sun. To decorate your walls, opt for Shibori-style illustrated posters, known as the Japanese blue-shaded tie-and-dye.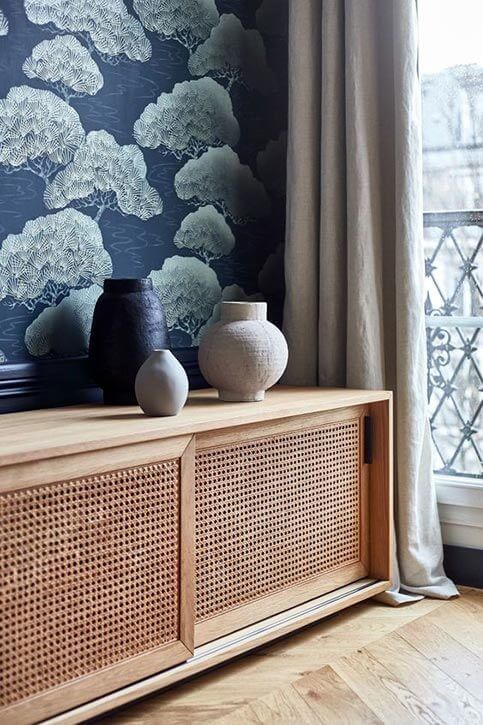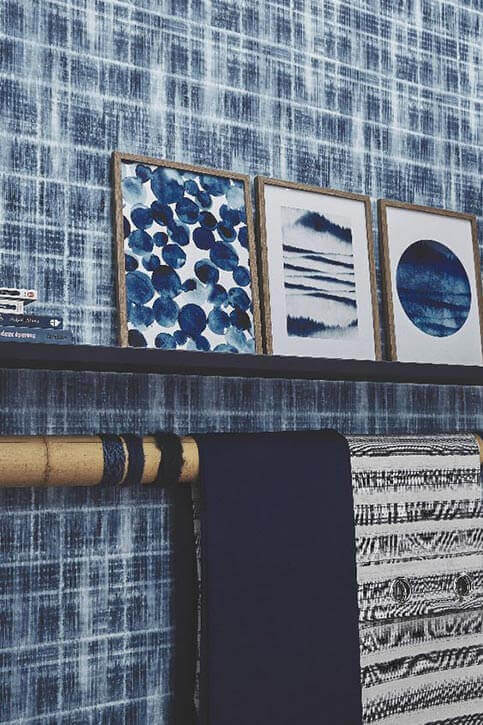 © Heidi Jean Feldman - Leroy Merlin
Scatter a few deco objects as well as plants in your interior but remain minimalist, so avoid putting too many things on your shelves or desk.
Can you feel the zenitude already taking place in your interior? That's the power of Japandi! Will you fall for it?