Some farmhouse-style deco for a comforting winter
The farmhouse revisited for a an interior both modern and cocooning
Winter is the perfect time to pamper ourselves! Nothing beats a cosy nest when it comes to have cocooning moments, away from freezing temperatures. Avoid winter blues by creating a decoration full of softness and comfort. To preserve your well-being, we have found for you, in this article, the perfect warm deco style you need this winter: "farmhouse" deco. 
Farmhouse deco for a winter full of authenticity and softness
Originating from the United States, this deco style, little known in Europe, has managed to make the country house look chic and gracious. We are done with the usual dark decoration mixing massive solid wood furniture and checker tablecloth!
Today, farmhouse decoration breathes new life into farm style to create a soothing and comforting atmosphere in your house deco. It takes the typical rustic style of the countryside and adds to it a touch of refinement and modernity it sometimes lacks.
© The Beauty Revival & Pinterest
A gentle mix of country style and recent deco trends that will warm up the atmosphere of your interior and allow you to spend a hygge winter.
Delicate and warm tints to get closer to nature
Every season and every deco style have its own palette of colours. Regarding winter decoration, soft and clear shades are to be favoured in order to capture natural light in your interior.
Do not hesitate to play with the palette of neutral tones such as white, ecru or beige. These clear tints, besides making the room lighter, will also make the room look more spacious. The softness of this palette is to be combined with the warmth of natural tints like the ones found in wood in order to warm the room up naturally thanks to the brown tints.
To overcome the lack of nature, add a few touches of green. Opt for a soft and natural tint like sage-green which will bring a soothing and cosy hygge atmosphere into your farmhouse deco.
Natural and elegant furniture as winter and country-style decoration
As furniture represents an important part of our interiors, therefore it must be chosen carefully as it will give the tone of your deco and attract all eyes.
For some modern farmhouse decoration, you will need to create an elegant and refine setting while highlighting the rustic charm. To do so, do not hesitate to bargain-hunt your furniture as it will have a story and a vintage look that will add even more charm to your interior. Keep in mind that farmhouse style relies on authentic interior decoration, therefore, you should integrate many elements in raw timber, preferably in clear colours to keep some luminosity in the room.
To enhance this cosy and rural spirit, opt for a light wood floor, exposed beams, barn doors and wood beams to create charming shelves. Then, add some white cladding onto your inside walls and you will obtain a warm and rustic cocoon, ideal for hygge moments by the fireside.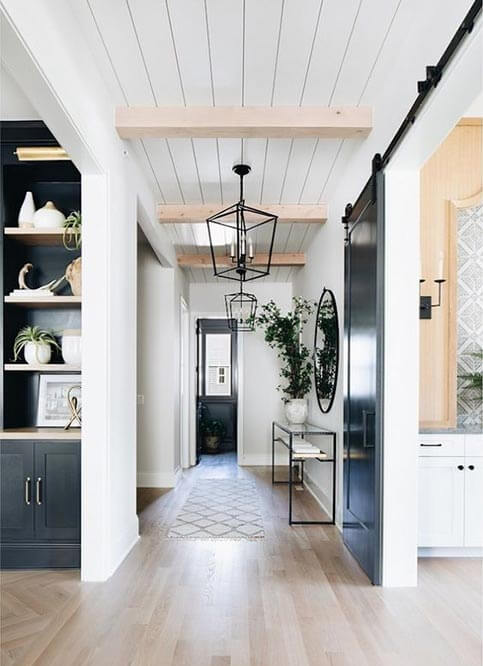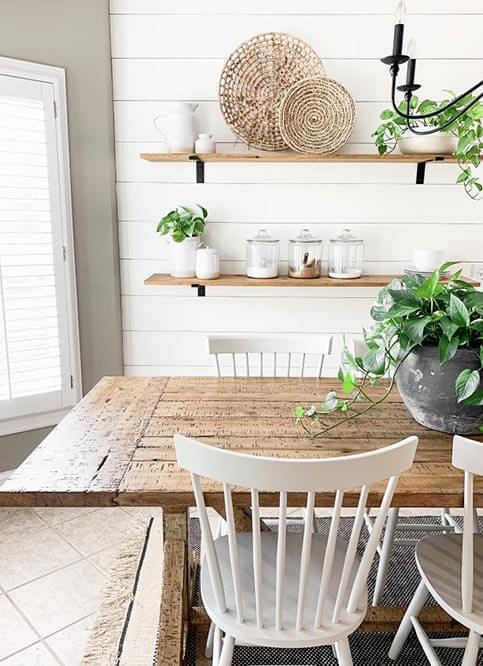 © Becki Owens & Bless This Nest
Farmhouse deco is also about modernity that you should integrate in your interior by using fine materials like brass or matt black steel. These materials will create some refine and delicate style, and should be found on your lamps, in your tapware or even on your kitchen and bathroom furniture's handles. For those fond of bohemian spirit, elements in leather or rattan like armchairs will perfectly suit the modern farmhouse atmosphere.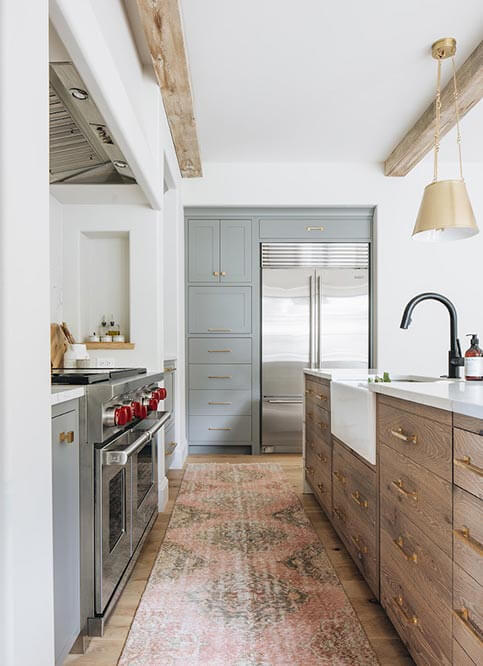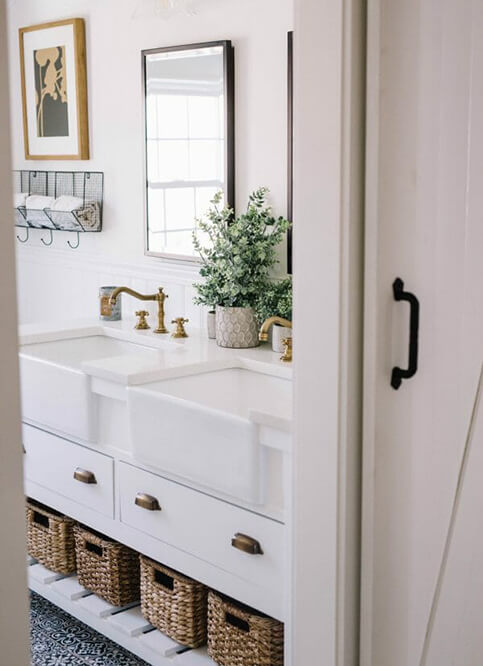 © Becki Owens & Lynzy and Co
By mixing these different materials, your interior will convey a rural and warm atmosphere while meeting the latest trends. Hygge decoration favours well-being and will warm your heart up in the middle of winter.
Essential accessories for some rustic and cosy winter deco
At winter time, what is better than lazing around inside a warm and comfortable house. In order for your farmhouse interior to become the most hygge and comforting cocoon, you ought to refine your deco down to the last detail.
Get inspired by the hygge deco of Scandinavian countries and create an atmosphere where you will love nestling. Opt for super soft carpets at the bed end or in the sitting room, put lots of plaids and cushions to make you forget the cold outside, and a few pouffes in the lounge for the most comfortable of interiors. As we must cultivate hygge even more in winter, add a few candles to create a cosy and cocooning atmosphere.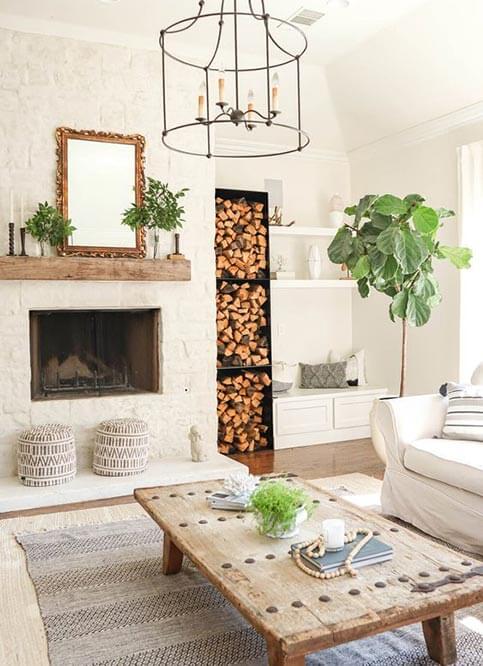 © Farmhouse Living & Pinterest
Because the world of deco is never tired of natural materials, favour household linen made of cotton gauze or flax, wood-log side tables and wicker hampers, so you get the most authentic of decorations.
For a country-house-style deco, integrate a few typical farm elements like a pitcher, you may use it as a vase for your flowers and plants.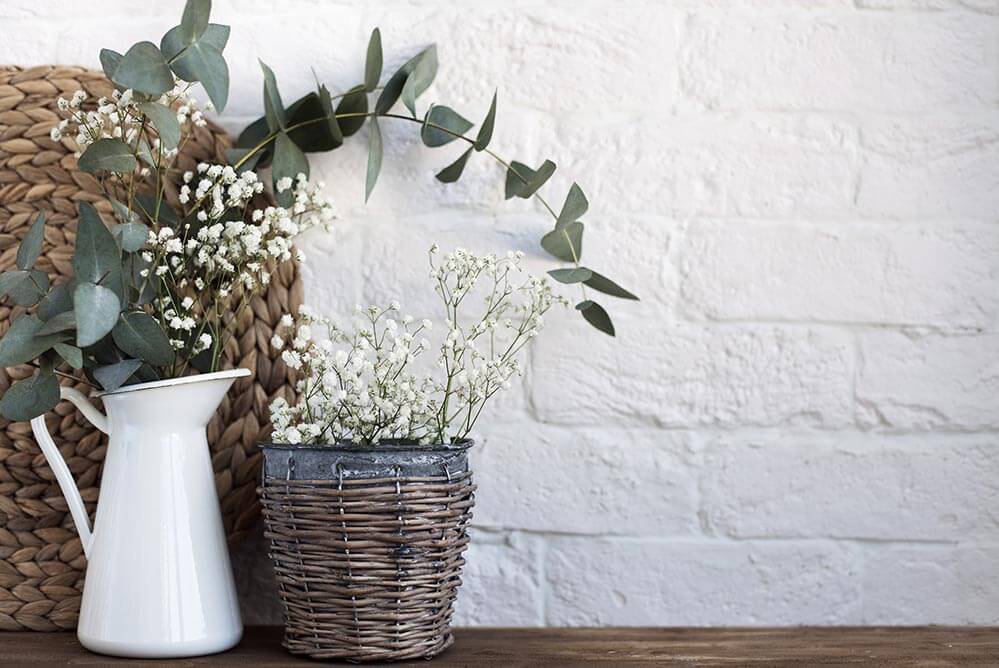 To have a kitchen full of character, add rustic and vintage touches by decorating your shelves with glass jars (filled with cereals and spices), wood utensils and chopping boards, ceramic crockery and a few copper pans.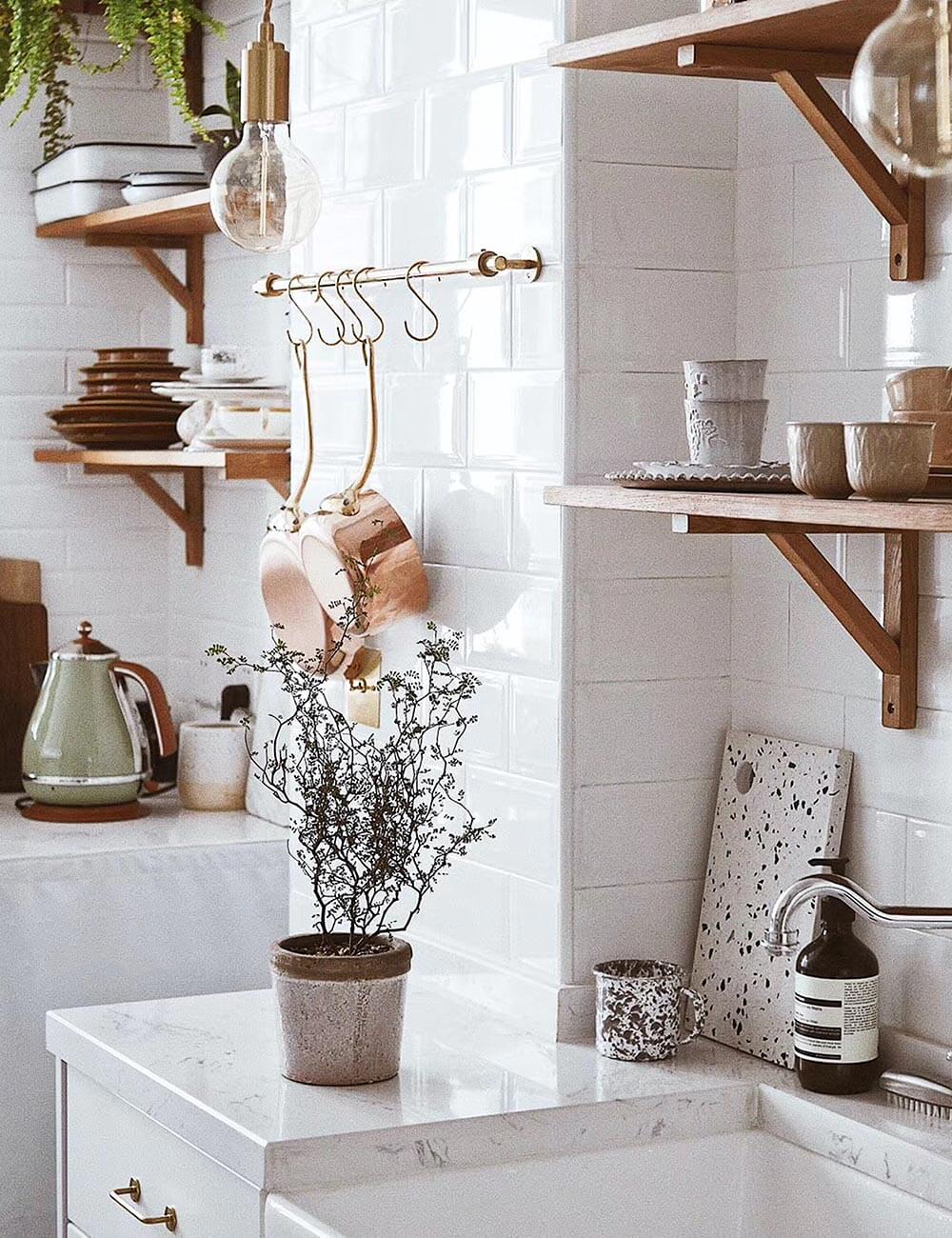 Invite nature in your farmhouse deco
In winter, the weather often discourages us from going outside. To stay in contact with nature and benefit from its soothing virtues, you ought to integrate it in your interior.
If you are lucky to have big openings, you already benefit from a lovely view outside giving the impression that nature is part of your interior. If you do not have any, place a bench seat under the window to stay close to nature when the weather is bad. The perfect cosy spot to read a book or drink a cup of tea while enjoying the surrounding nature, without leaving the warmth of your cocoon.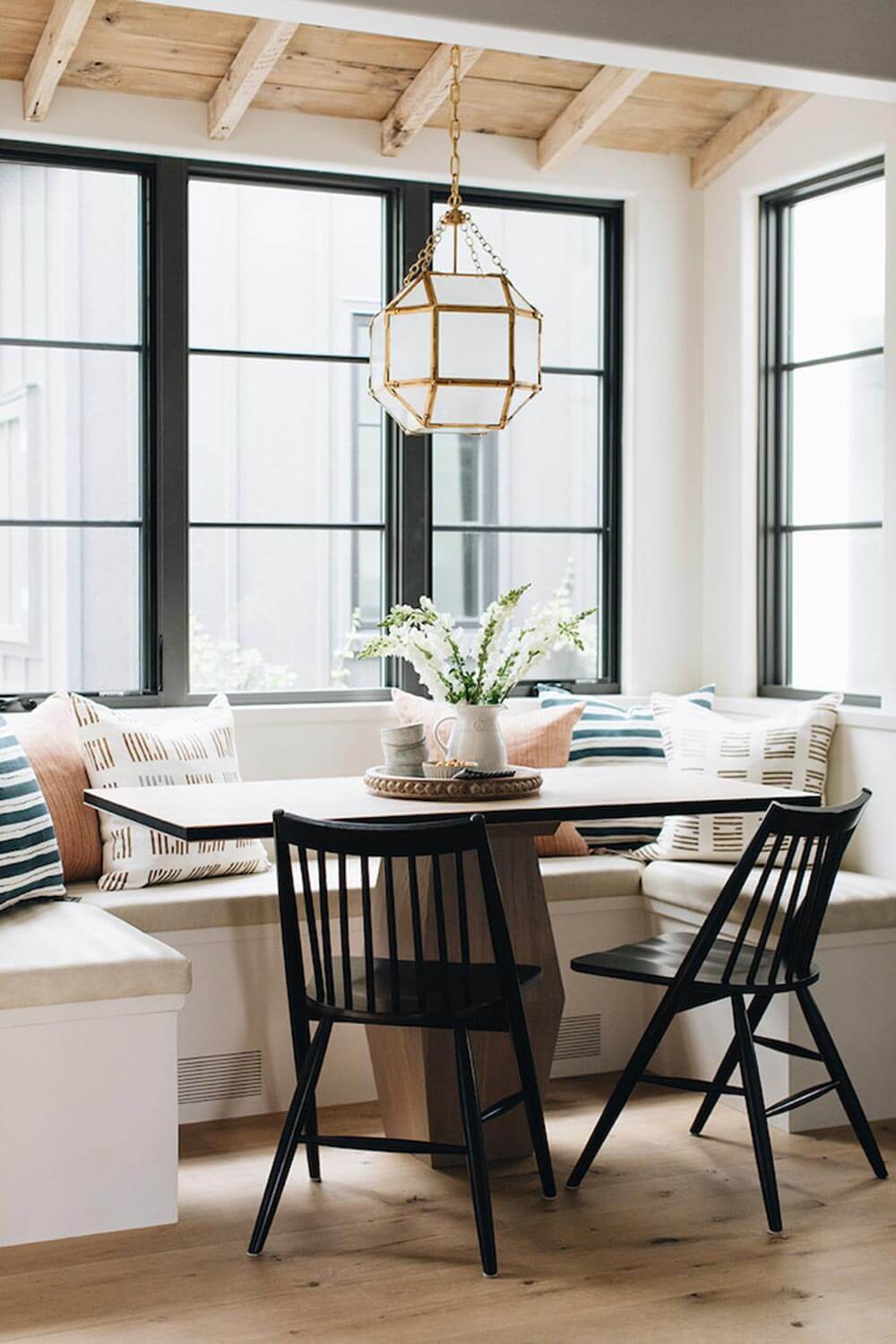 © Becki Owens
For those who are not scared of getting out in the cold but wish to keep an eye on the weather, hang a refine and modern-looking Oyster barometer for a warm and delicate wall decoration that will perfectly suit your chic country decoration.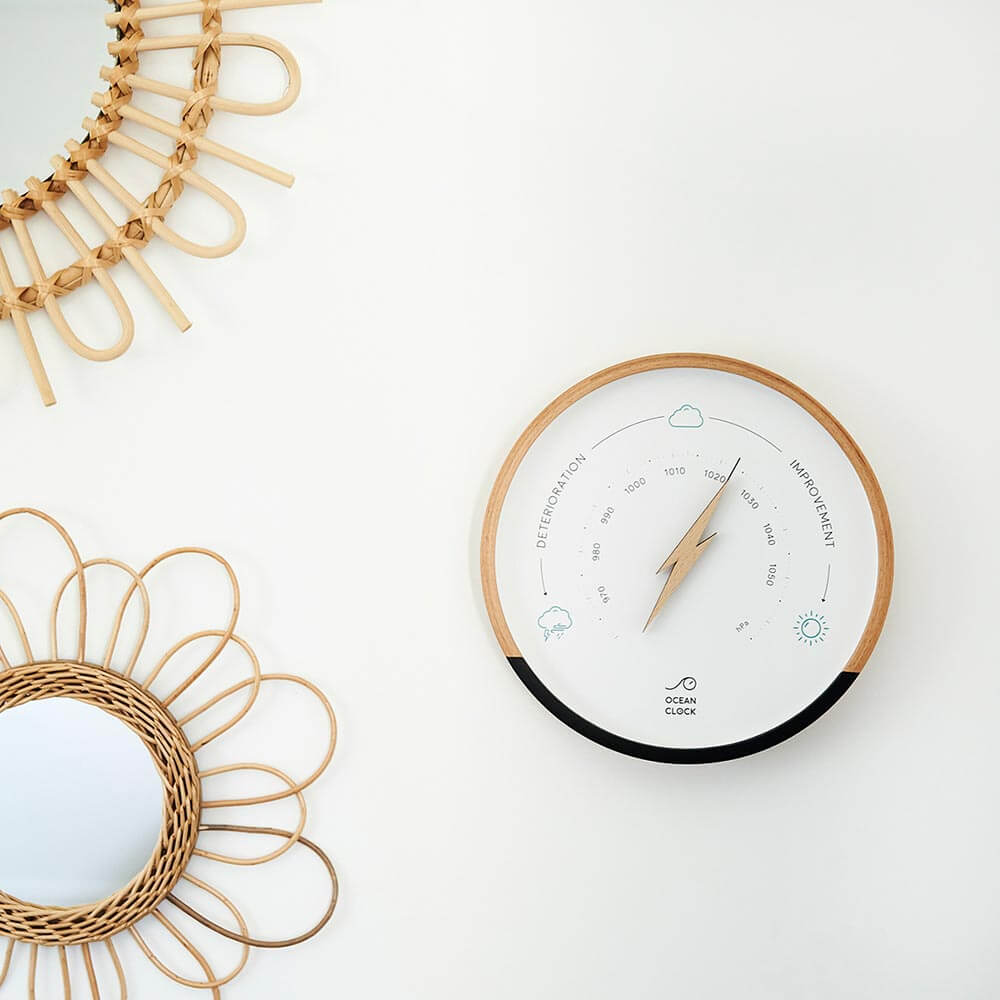 © Studio 255
Finally, add touches of greenery in each room of the house, plants in the sitting room or eucalyptus branches in small vases to decorate a bedside table or shelf.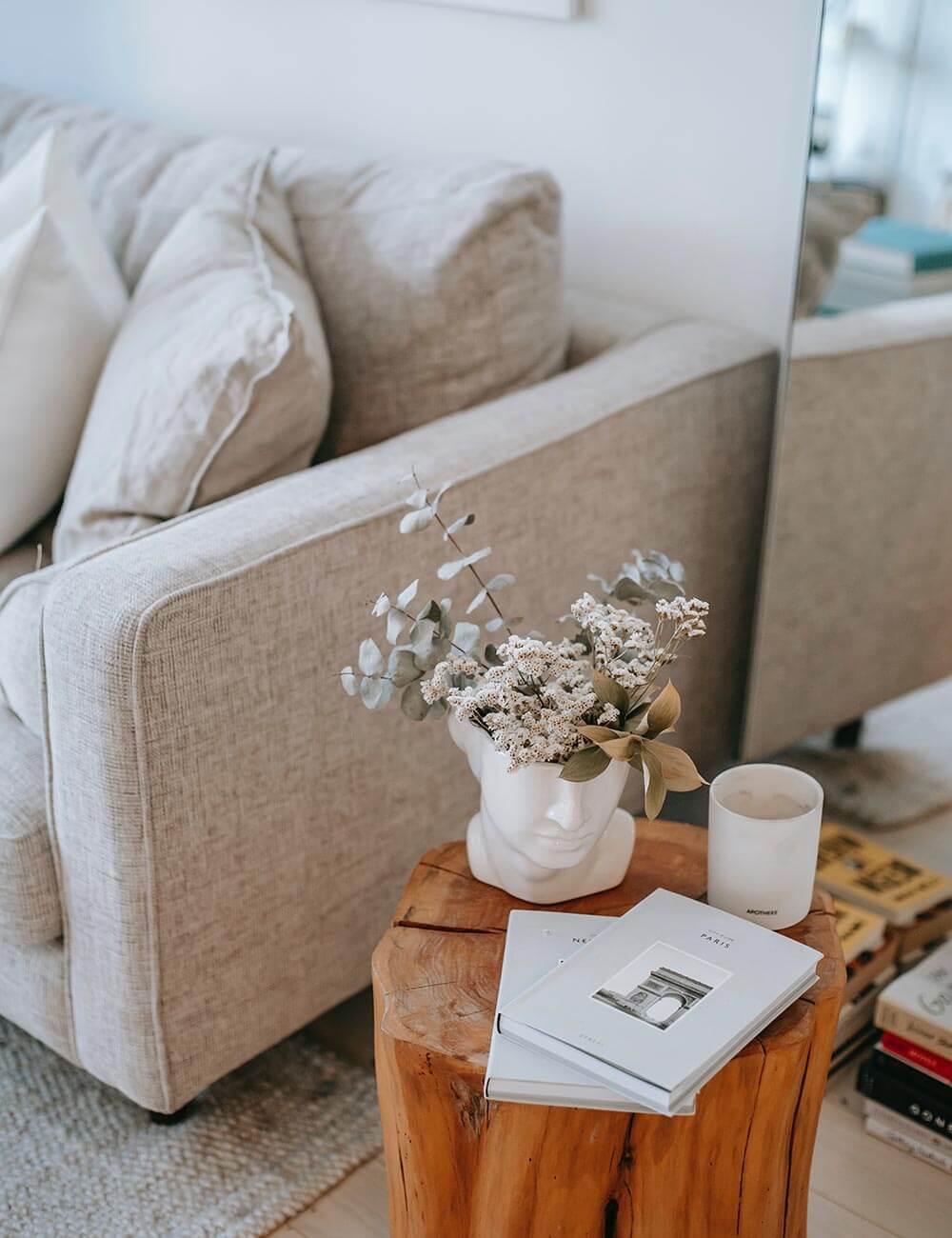 With a totally hygge farmhouse interior, you will love spending winter at home!