DIY : today I am creating my seaside-style deco with sand
Use some sand to make unique decorative objects
Autumn has arrived ! You might have put your deckchair away but it is not a few rain drops that are going to keep you away from the beach during the holidays. So, put your oilskin on and head off to the closest beach for a sea-air walk ! A ramble where you can get for souvenirs your pockets full of sand. If you too have never done anything with all that sand, here are a few DIY handmade decoration suggestions using sand. It is ideal to get yourself busy during rainy days.
Our handmade decoration suggestions that will brighten up your house interior
You are reluctant to do DIY ? No need to be a pro in creative workshops to make sea-related deco.
Warm up the atmosphere with an ocean-inspired candle holder
Here, we suggest you to build a handmade sea-inspired candle holder, it is very easy to make.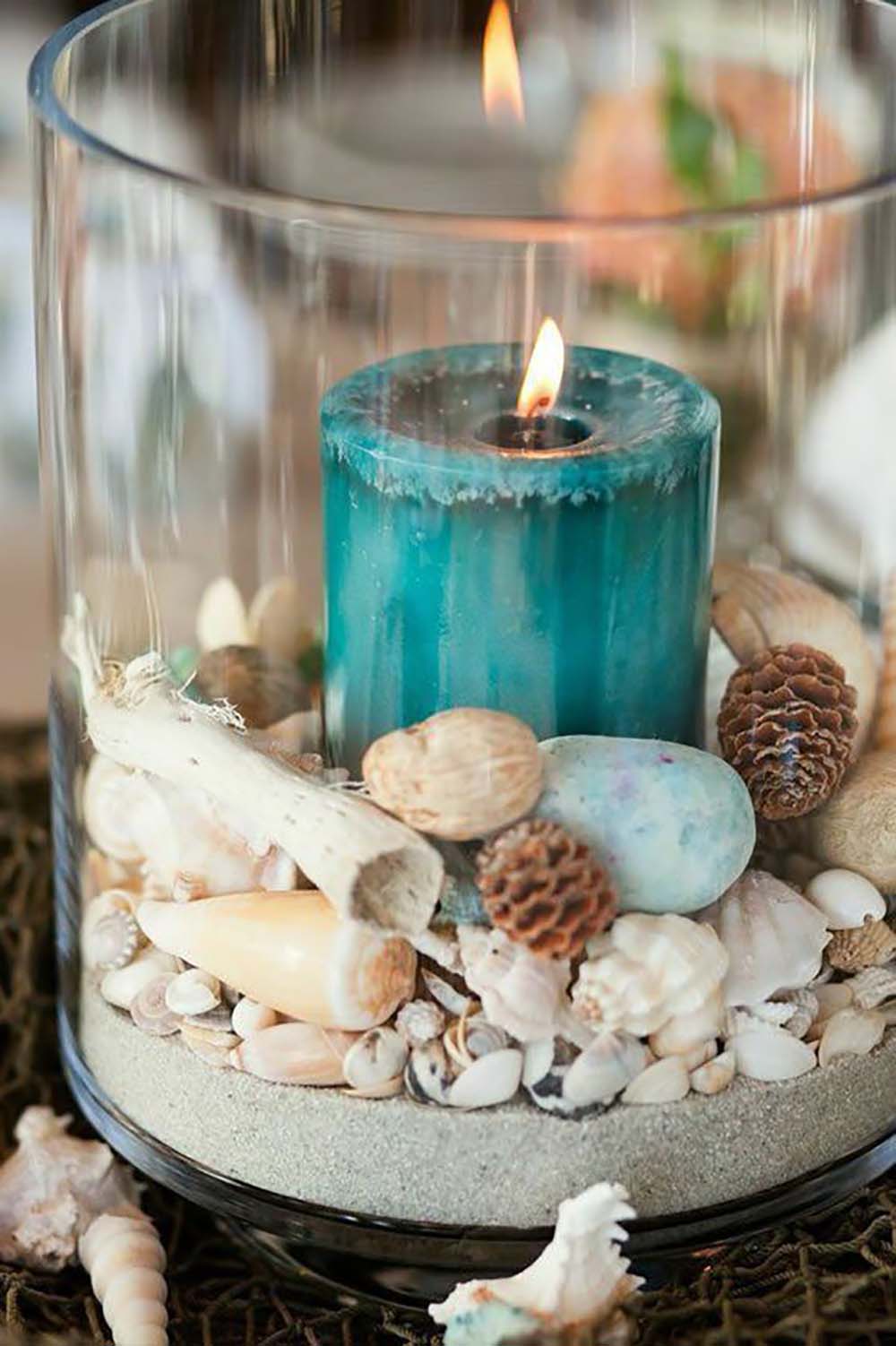 © pinterest - diamants
For that, you need :
- A glass vase or Mason Jar
- Sand
- A decorative candle
- Seashells and corals (optional)
To choose the right vase we suggest a rather wide model, especially if you wish to add a few deco elements inside your seaside-style candle holder. You could also opt for a Mason Jar that is very trendy in decoration.
Once you have chosen your container, it is time to create ! First of all, you need to fill the vase with sand you brought back from the beach. Do not fill it up to the top ! The candle must not stick out from the top of the vase.
Your DIY candle holder is almost finished ! All you need to do now is customise it with seashells or corals to obtain a 100% seaside-style decoration. Play on the different sizes of the deco elements and place them around the candle. There you go, mere child's play !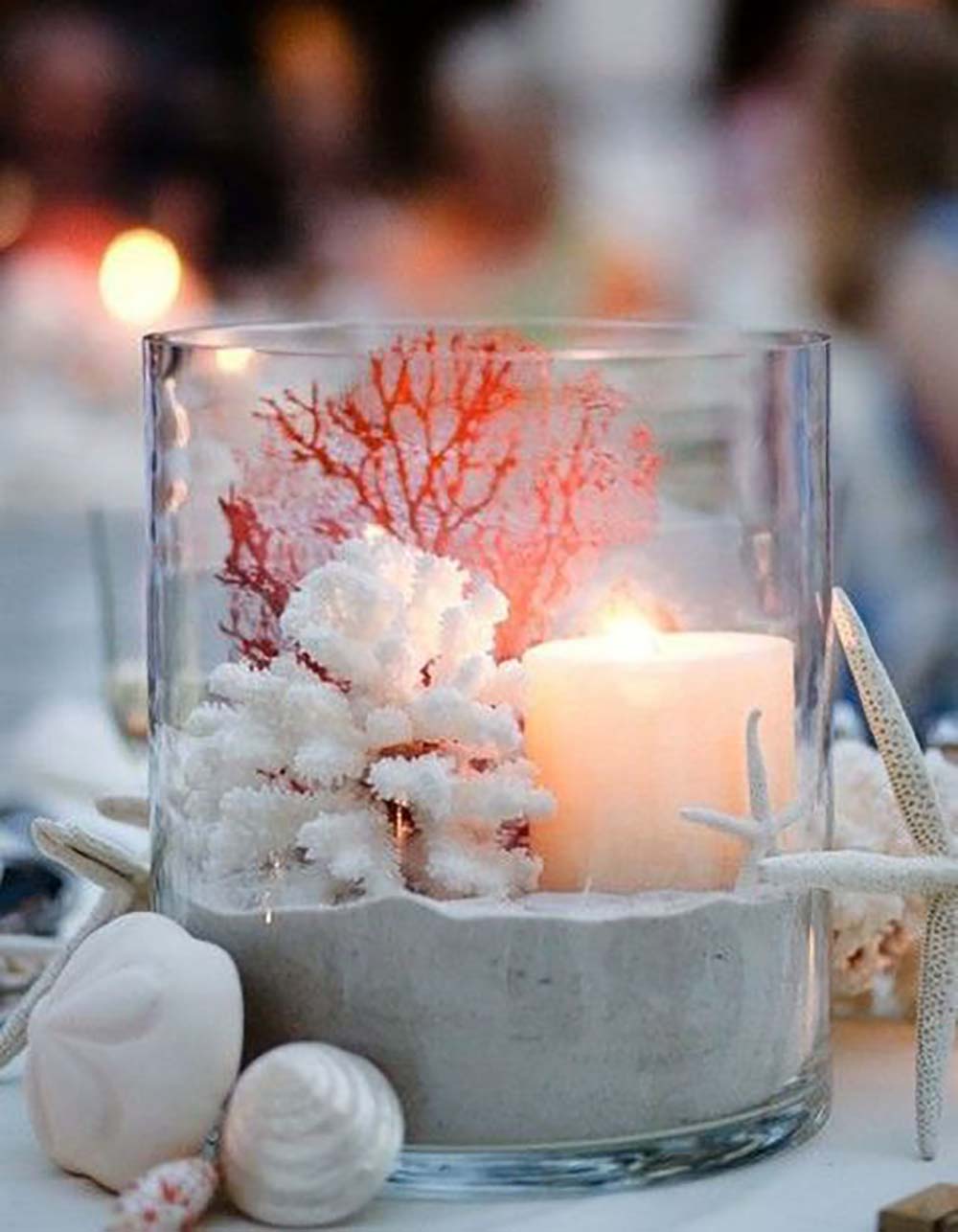 © pinterest - Elle
Pimp a lamp to make it a singular seaside deco object
In the same spirit but more original, create a singular handmade lamp by customising its base. Opt for a transparent jar or a terrarium lamp which will enhance your decoration. You will thus be able to add some sand of different colours (yellow, beige, white). To do so, you just need to pick some up on different beaches.
To add a more marine spirit to this seaside lamp, you may drop inside the lamp base some seashells of different sizes, corals or a starfish to make it look original. All that is left to do is to fix your seaside deco object to an adapted lighting device and put a lampshade on top of it.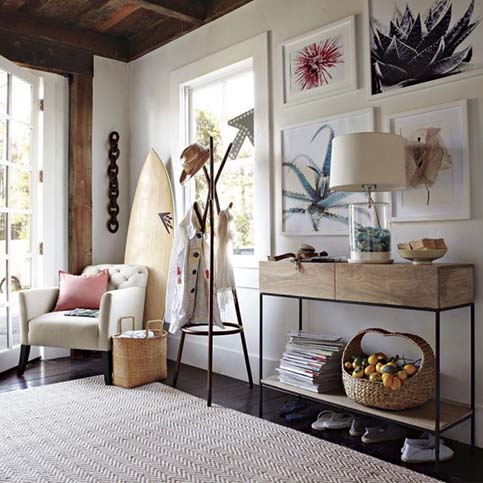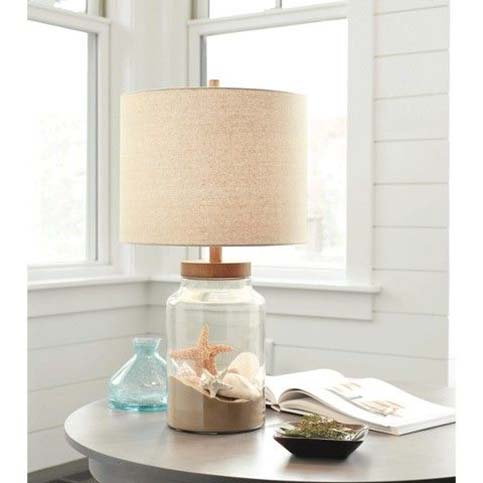 © pinterest
Pass the time by making a 100% handmade sea-style sandglass
Getting keen on DIY ? We have found for you an original seaside deco object easy to make by hand : a sandglass.
What could beat making a sandglass with beach sand ? Roll up your sleeves. Ready, steady... go !
For this seaside DIY, you need :
- 2 light bulbs
- a cork
- Sand
- Ribbon or masking tape
- A glue gun
Sand and light bulbs for a handmade sea-style deco
To make it look good and impress your friends and family with your creative skills, we suggest you opt for a sandglass made of proper glass. It is admittedly a bit fragile but it will look much better than a plastic one.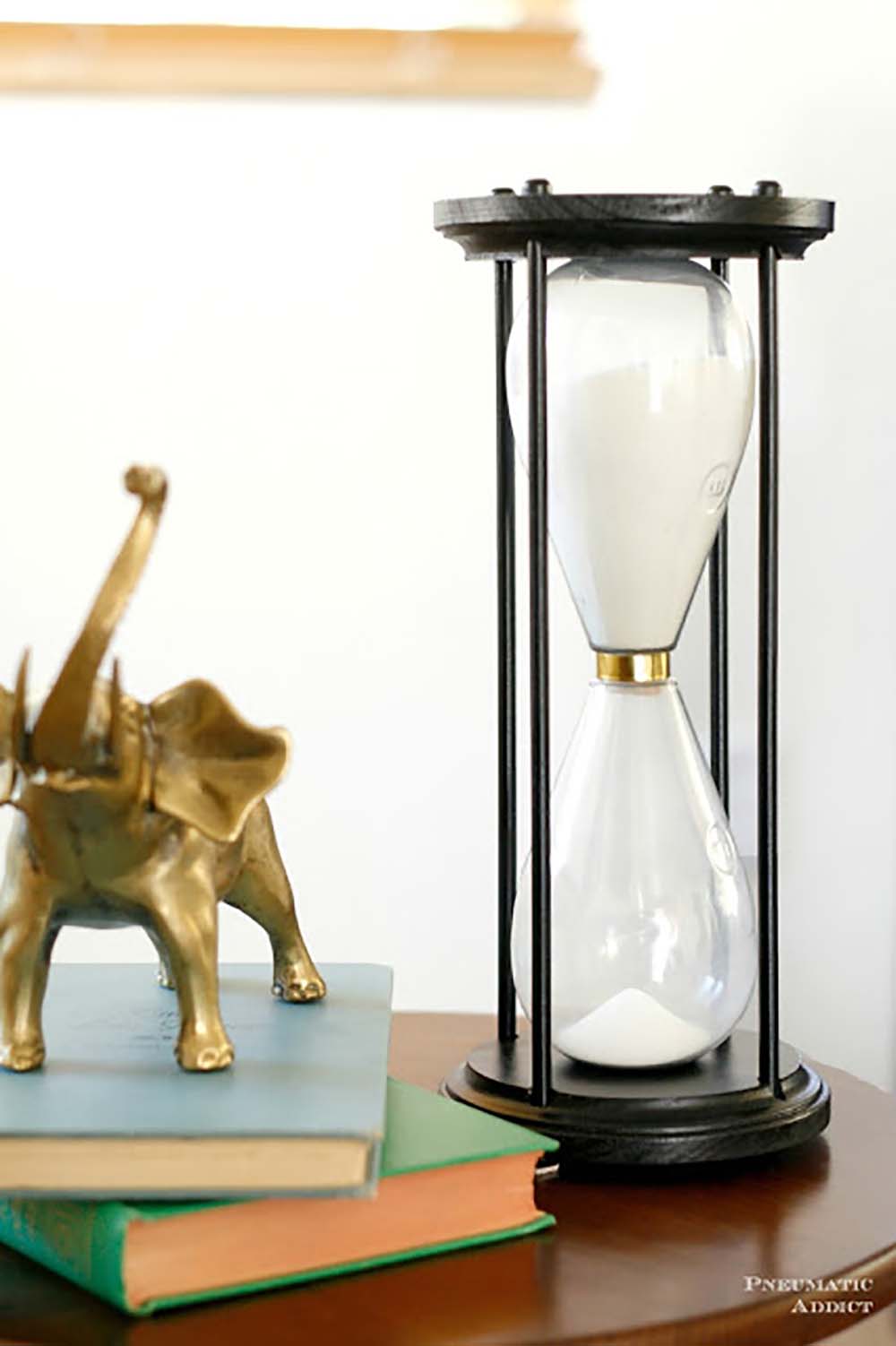 © pneumaticaddict
To start with, you need to find a glass object that will allow you to reproduce the shape of a sandglass. Bingo ! Light bulbs have the perfect shape for that. Unfortunately, they cannot stand still on their own. Therefore, to avoid having to make a support for your hourglass, it is preferable to opt for bulb-shaped containers with a flat bulb. You can easily find decorative light bulbs on Internet. Whether they are small vases or sugar almond containers, light bulbs will perfectly do the trick.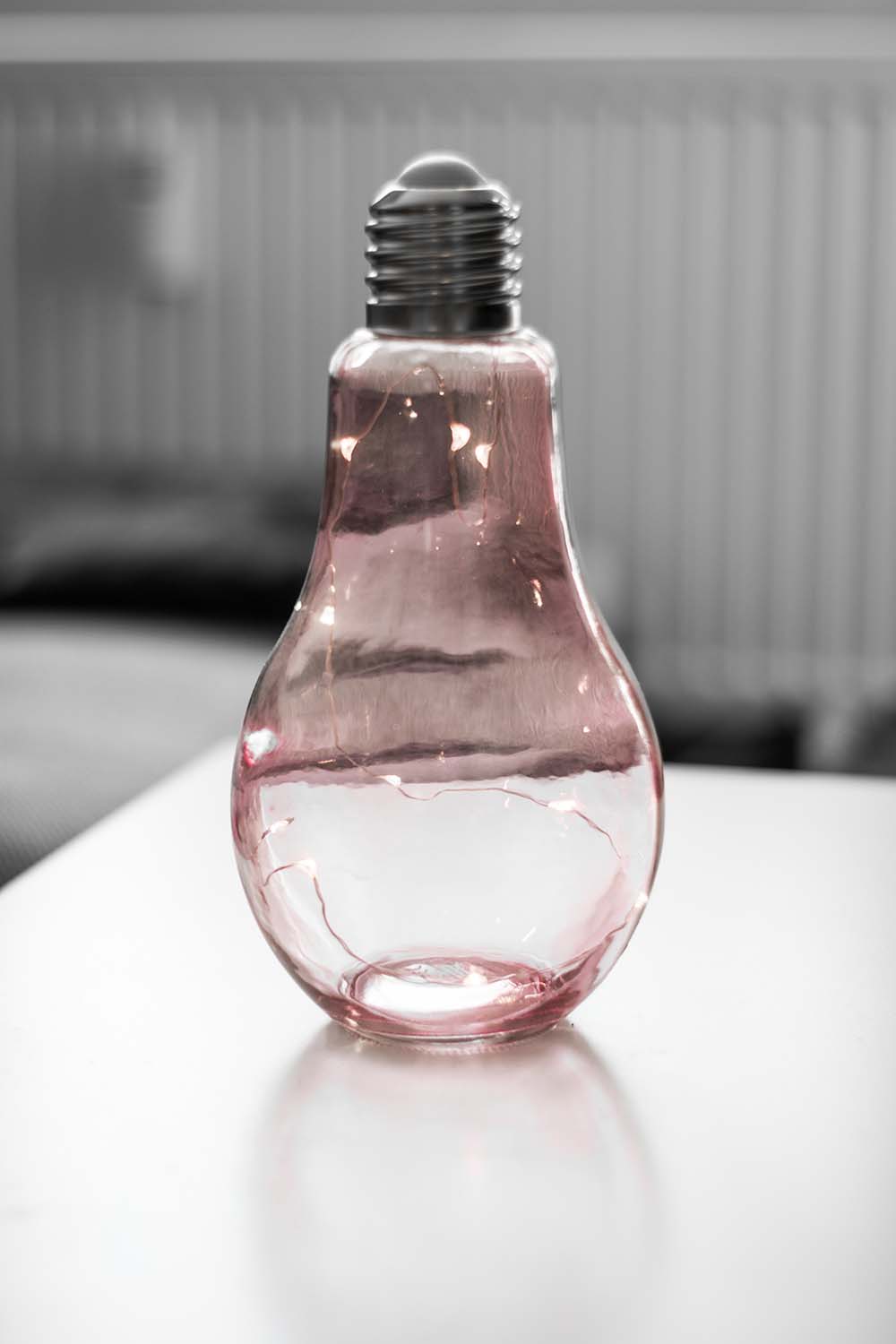 How to make a deco sandglass ?
Let us get started ! Ready to see your DIY sandglass take shape ? Get hold of the sand you collected during your last wander on the beach and fill  the light bulb a little bit less than three quarters. To do so, unscrew the light bulbs' caps. The other advantage of not using real light bulbs is you will not waste time taking the filaments out.
The second step consists of assembling the two parts of the sandglass together. To do so, make a hole on each side of the cork so the sand can flow through it. Then, insert half the cork into the base of the light bulb full of sand (trim the cork if necessary). Use the glue gun to put some glue on the light bulb's cap and then place the second bulb in the cork. Exert a pressure for a few minutes on both bulbs so the glue sticks correctly.
I customise my handmade sandglass
Now it is time to customise your sandglass ! To hide the bulbs' screw thread as well as the cork, you can either use ribbon or masking tape. You will then be able to match your sandglass with the rest of your deco. For a seaside-style decoration, why not adorn it with a sea cord. Your sandglass is now ready ! You can now enjoy watching time pass.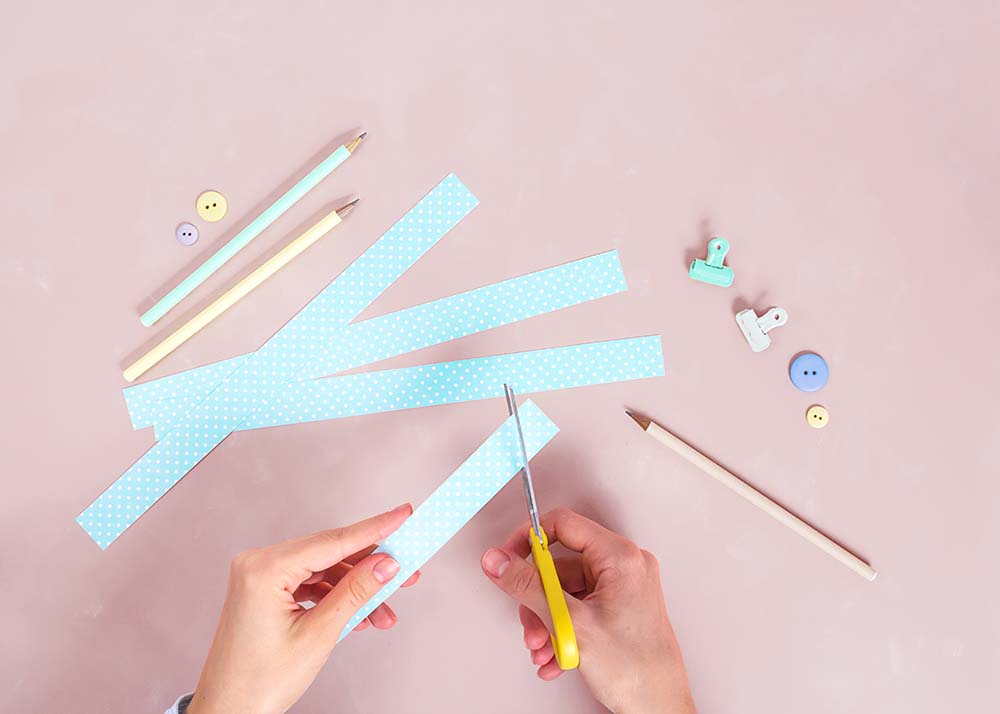 Now you know what to do with the sand you collected in Saint-Malo, Hossegor or Newquay. So, which DIY are tempted to do ?