Scandicraft : natural deco that warms up our interiors
Our tips to give you the best interior design trends inspired by nature
For some time now, natural materials have made their comeback and are now part of our interiors, for our greatest pleasure. A delicate and genuine deco style that wonderfully embellishes either a city flat or a seaside house. If this trend appeals to you, let us inspire you with our deco tips and let nature get into your interior. 
When deco rhymes with "back to basics"
For more than a year now, our habits have been disrupted. We spend far more time at home, which makes us want to escape to nature. For those who cannot go and live in the countryside or at the seaside, the solution is: let nature come to you!
No need to put loads of plants everywhere to create some natural decoration in your interior and let well-being and serenity prevail. Here, we will not talk about some jungle deco but more about natural style, combining purity and refinement. Have you heard of scandicraft or slow deco? Do not be surprised by these unusual designations as the world of deco loves to invent new styles with funny names.
Sandicraft, as you might have guessed, originates from Scandinavian (scandi) decoration to which a more genuine touch is added by laying the emphasis on craftsmanship (craft). Very trendy nowadays, this decorative style enables to bring warmth to Scandinavian minimalism thanks to natural materials, antiques or hand-crafted objects. Some deco-addicts also use the term "slow deco" to designate minimalistic and sustainable decoration that favours small craftsmen and salvage. An actual return to basics!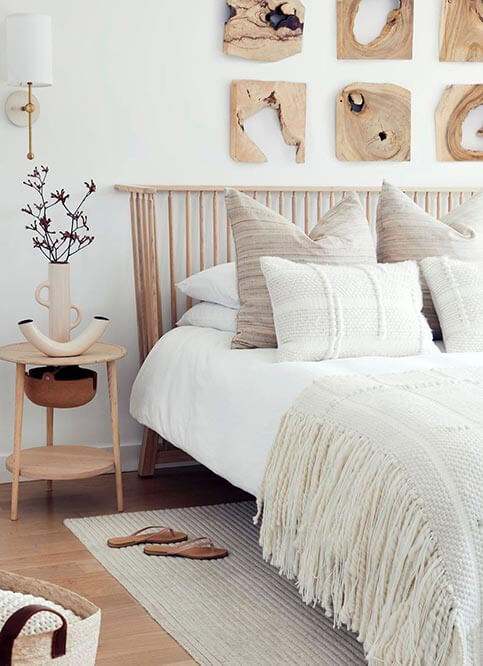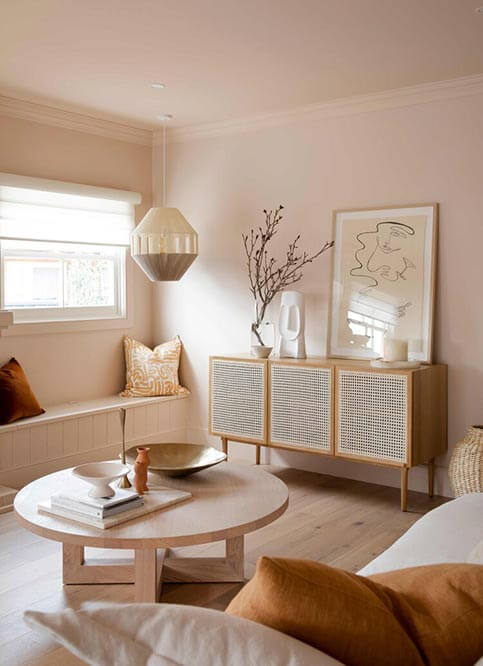 © Christopher Patey - Three Birds Renovations
If you too wish to breathe nature into your deco, here are some tips to transform your interior into a haven of peace, both warm and refined.
A «nude»-colour palette for some natural effect
In decoration, the choice of colours is an essential stage when it comes to adapt correctly your dream atmosphere to your home.
To create a genuine natural atmosphere in your interior, we suggest you opt for neutral colours: white, cream, beige, honey, brown… Shades that remind us of nature for a colour palette full of softness and style.

For some more minimalistic style, opt for a totally neutral look! And, what better than letting the sun come inside and illuminate your house's rooms. This colour combination is also a good way to enhance the natural materials of your pretty furniture.
Little tip: do not hesitate to play on different shades to bring some character and warmth to your interior. A few touches of strong colours like terracotta or ochre will awaken your deco while still in the theme of nature.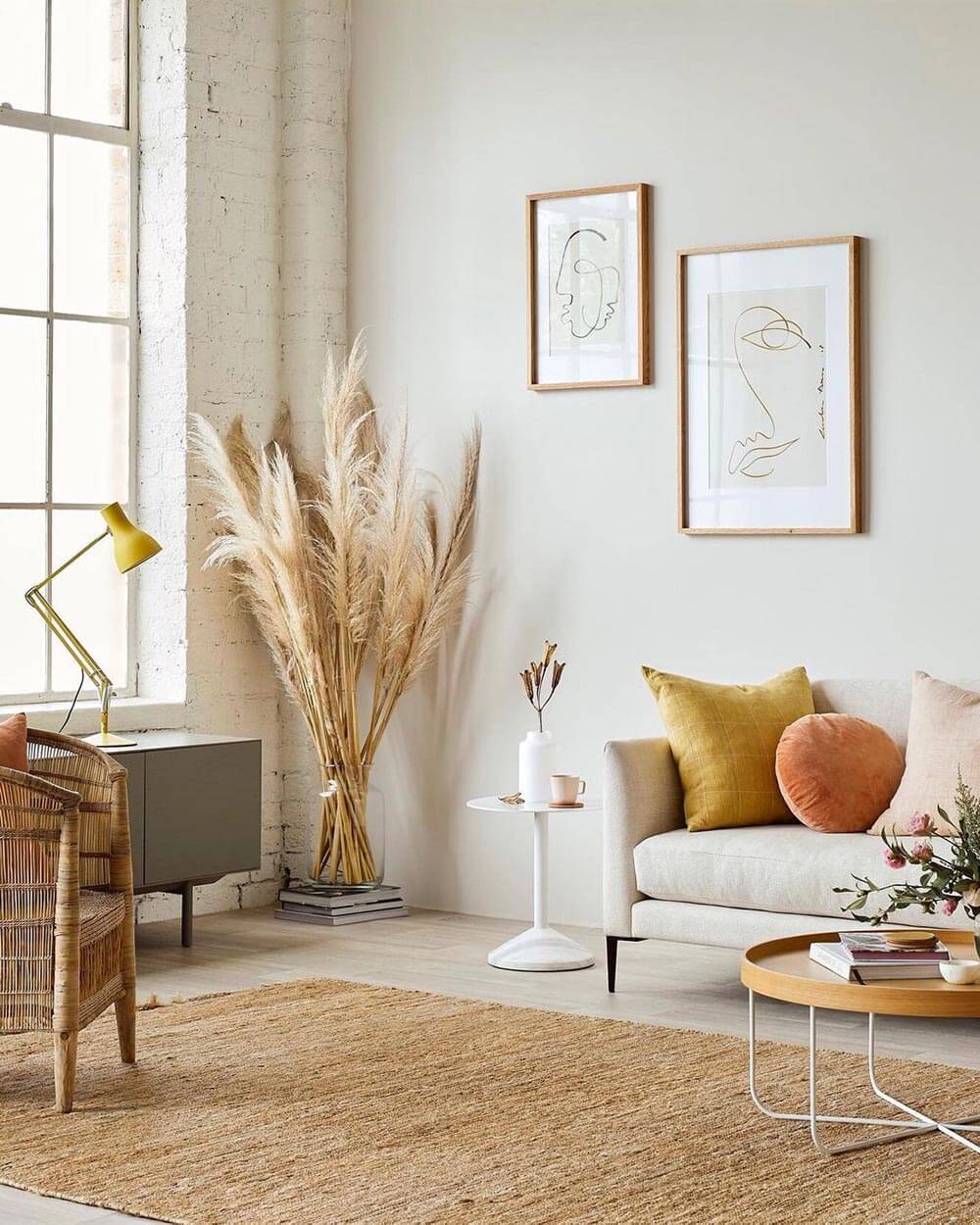 © Pinterest - Città Design
For those who are eager to create some seaside decoration in their comfortable nest, add little blue touches to your natural decoration.
Rattan, wood, leather… natural materials to adorn furniture
When one mentions nature-inspired decoration, we automatically think of natural materials! Still strongly praised by the world of deco, natural materials have managed to get a place in all decoration styles. Therefore, you will not struggle to find a rattan armchair or a wooden coffee table that will perfectly suit your scandicraft-style interior. Do not hesitate to visit bric-a-brac shops to find true natural-looking vintage gems.
To warm up your interior, be charmed by rattan, natural wood, leather, seagrass, wicker, flax… These are materials that are easy to combine in order to create a genuine and natural atmosphere. Ready to let nature's softness get inside your home? Opt for a white linen sofa and a leather armchair if you are looking for some nature-like deco in your lounge, or a light wooden table and rattan chairs for your dining room… Create a unique cocoon by choosing materials that relate to you.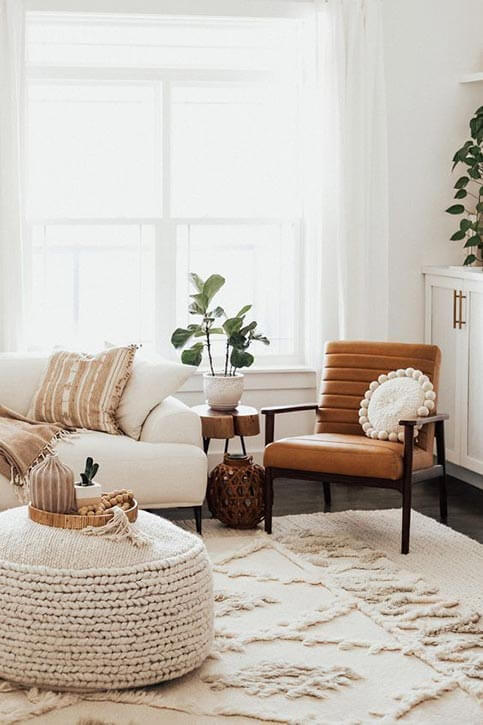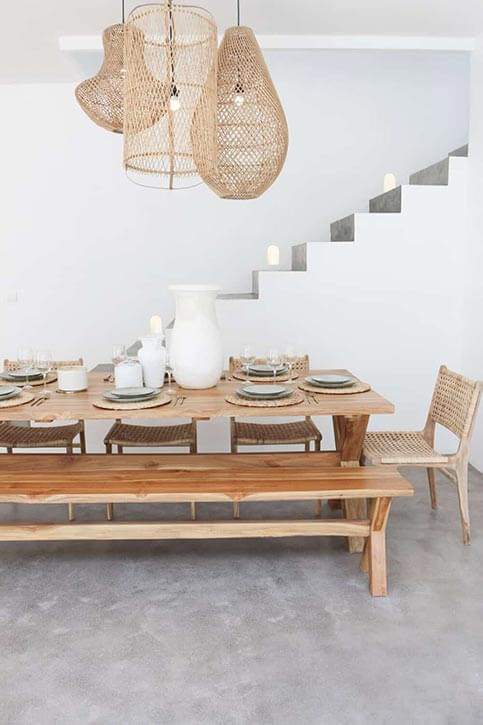 © Pinterest - Sheila Man for Villa Lane
For a very trendy natural deco, go for caning! This rattan-braiding technique has had an unexpected success for a few years now. Forget about grandma's old-fashioned caning furniture as today it stylishly adorns all types of furniture, from dressers to wardrobes including chairs and headboards. It will definitely bring a vintage touch, all in lightness, to your nature-exuding interior.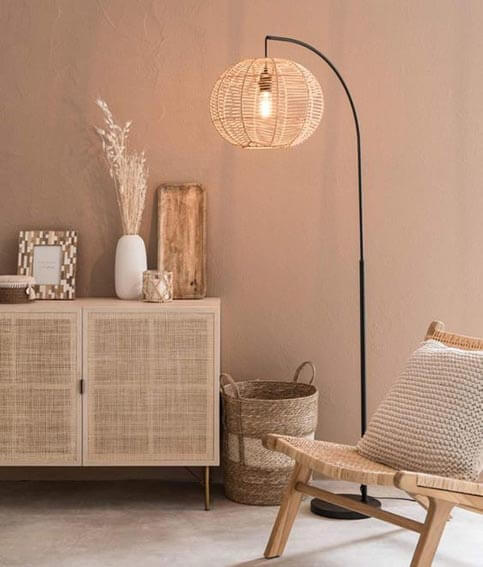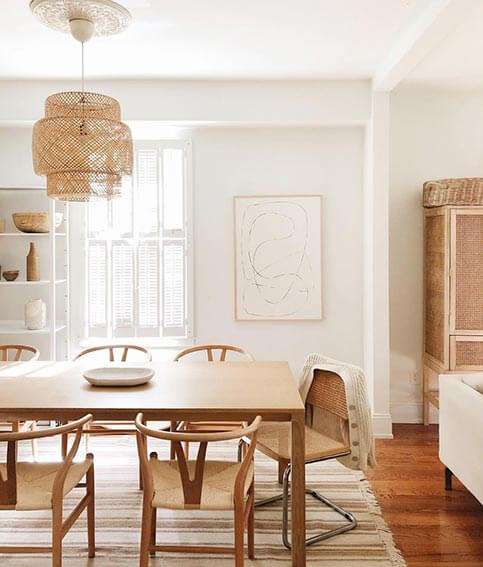 © Maisons du monde - Sylvia Tribel
Our advice: disseminate some caning furniture in every room of the house to create harmony in your whole interior.
A delicate decoration inspired by nature and craftsmanship
Even if scandicraft deco is inspired by minimalism, we should however complement our interior with pretty deco objects.
Favour hand-crafted items that will bring character and warmth to your interior. Just like caning, ceramic is still very trendy and very likely to remain on our shelves. Crockery, vases and other hand-crafted deco items adorn our interiors in a genuine and simple way, so why deprive ourselves from them?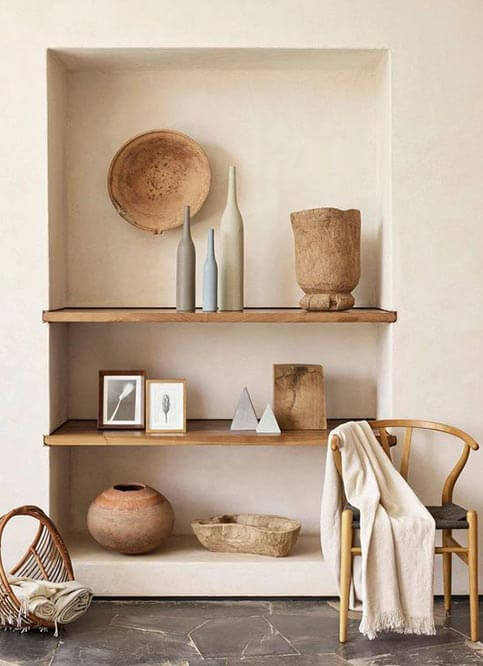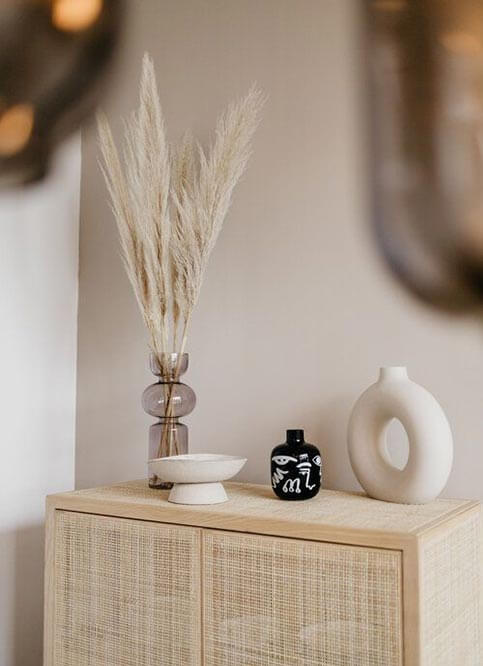 © Zara Home - Pinterest
Think also of using natural materials when it comes to small decoration: a pretty seagrass rug, rattan suspensions or some natural wall decoration like a straw mirror. You will get a luminous, natural and even cosier cocoon.
How could we possibly talk about natural decoration without mentioning flowers?! To remain in this scandicraft atmosphere, you will need some actual nature in your interior. For that, nothing beats flowers and dried plants which are much valued by deco-lovers. An earthenware jar with pampas in a corner of the room, dried flowers in a vase on the dining table, some herbarium on one of the living-room's walls… little touches of nature that will create a lovely, delicate and poetic atmosphere.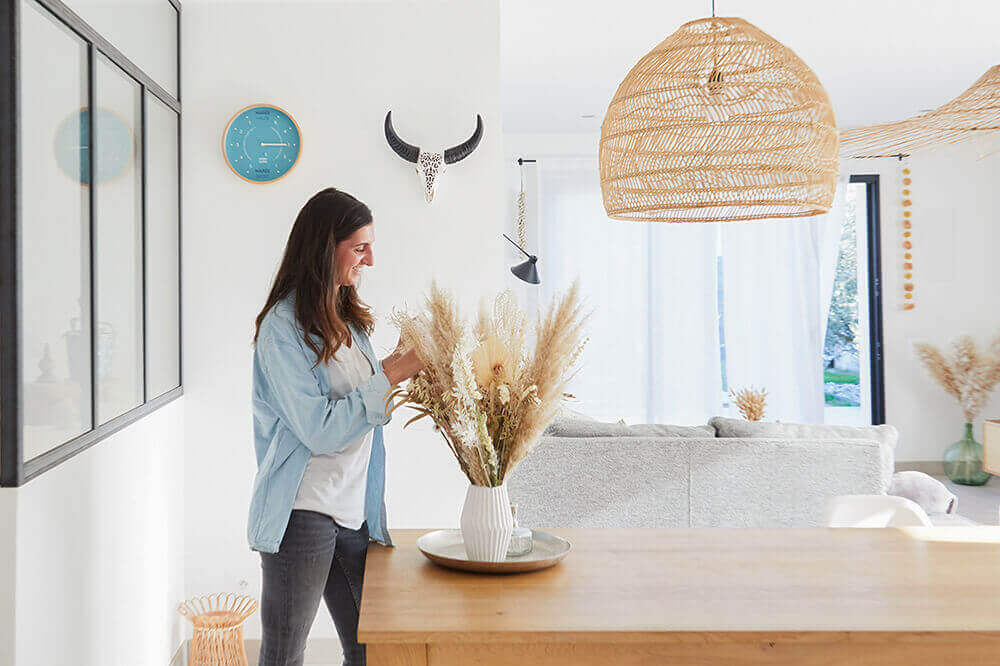 © Studio 255
Have you ever thought of integrating sea elements to create a smart and natural seaside-style deco? If you want to feel like you are on a beach, put some blue cushions on the sofa, or get yourself some ocean-related deco items such as seashell-shaped ceramic vases or decorative corals.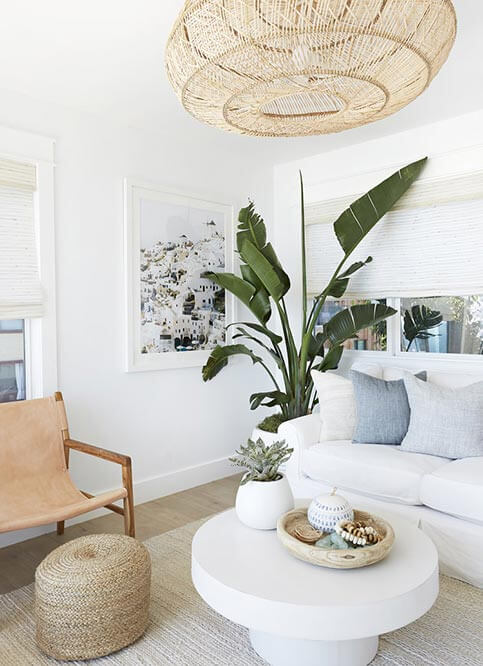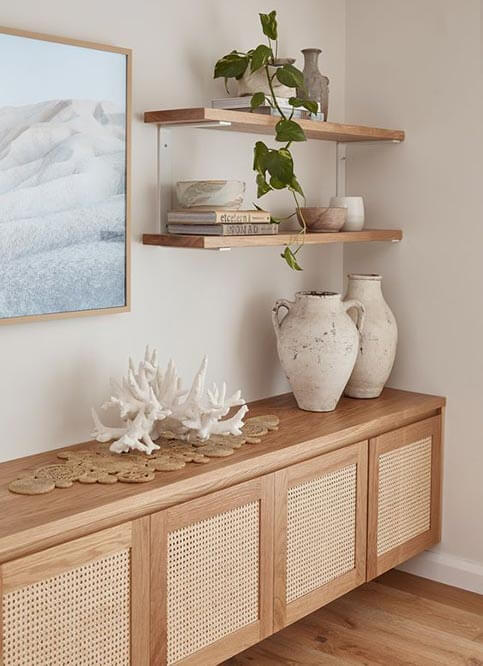 © Pure Salt Interiors - Loughlin Furniture
To adorn your walls, opt for our collection of Dune clocks which genuinely combine the softness of natural shades with the seaside spirit, and you will definitely bring a touch of originality by pairing the Dune tide clock with the classic Dune clock.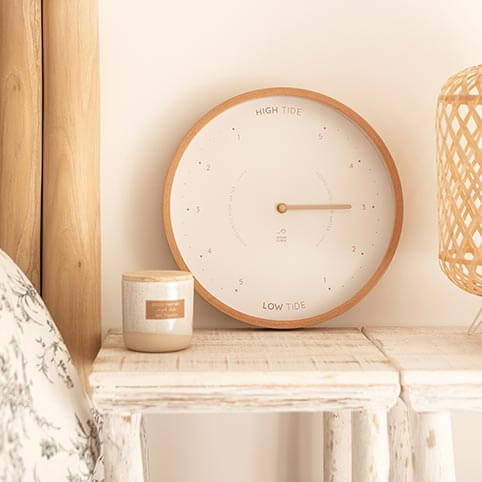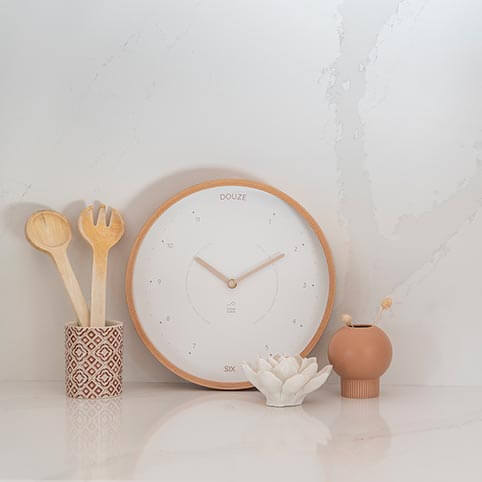 © Studio 255
So, are you ready to transform your interior into a haven of nature?