Escape to the Mediterranean coast with some sunny deco
The holiday home spirit to adopt before Summer
When it comes to season change, we think of new deco! This Spring, let's escape and head off to the Mediterranean shores where heat and relaxation await. The Balearics, Greece, Italy or south of France, be inspired by your favourite holiday destinations when it comes to decorating your home interior, as if you were in a beach house. In this article, we will give you a few tips on how to create the typical deco you would find in a lovely Mediterranean house. 
For your interior, fall for the natural and colourful Mediterranean style
Authentic and warm, Mediterranean decoration reminds us of holidays and idleness. Praised by slow life enthusiasts, it will convey a gentle and sunny atmosphere so you may get back to the roots and escape for good.
Colour and warm up your interior with tints that are emblematic of Mediterranean style decoration. Combine the softness of light colours like white, cream and beige with blue shades to remind you of the seaside: Klein blue, Santorin blue, navy blue… To obtain a warmer atmosphere, dare add terracotta notes, the typical Mediterranean colour.

The Mediterranean house aims at getting back to basics. This is why you should not forget to integrate natural materials in your decoration.
Have you heard of travertine? This limestone rock, used to built the Coliseum, captivates deco lovers in search of authenticity. From floor tiles to furniture, travertine comes in many forms when it comes to decorating our houses in a modern and elegant way. Fall for a travertine coffee table for your living room or a bowl for your bathroom. Its natural tint, ranging from white to brown, will perfectly enhance your Mediterranean deco.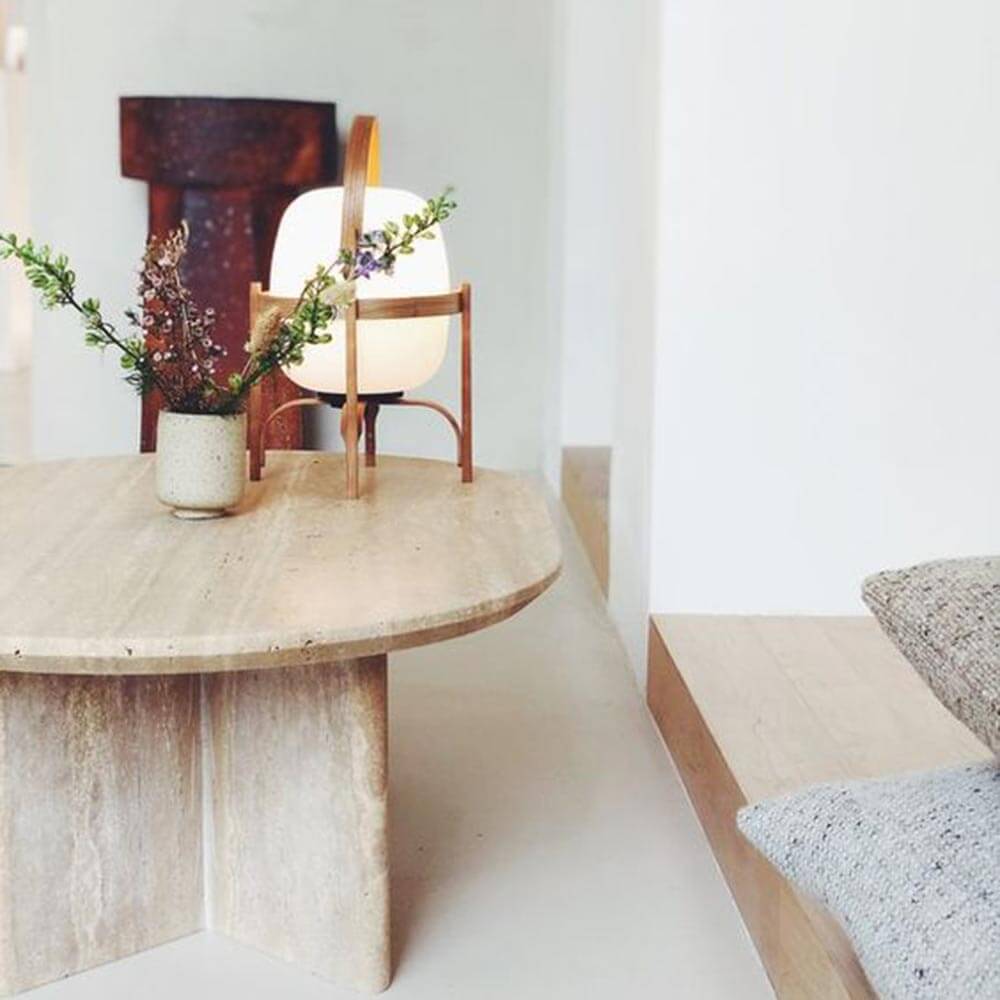 © Pinterest
As a must-have material, raw wood naturally suits a Mediterranean decorated house and reinforces its authentic style. Light or dark wood, make your choice! Walnut wood is back in force this year and goes perfectly well with powerful blue. If you like characterful interiors, this combination is perfect for some elegant atmosphere. As for light-wood species like oak or beech, they will bring more light and softness into your interior.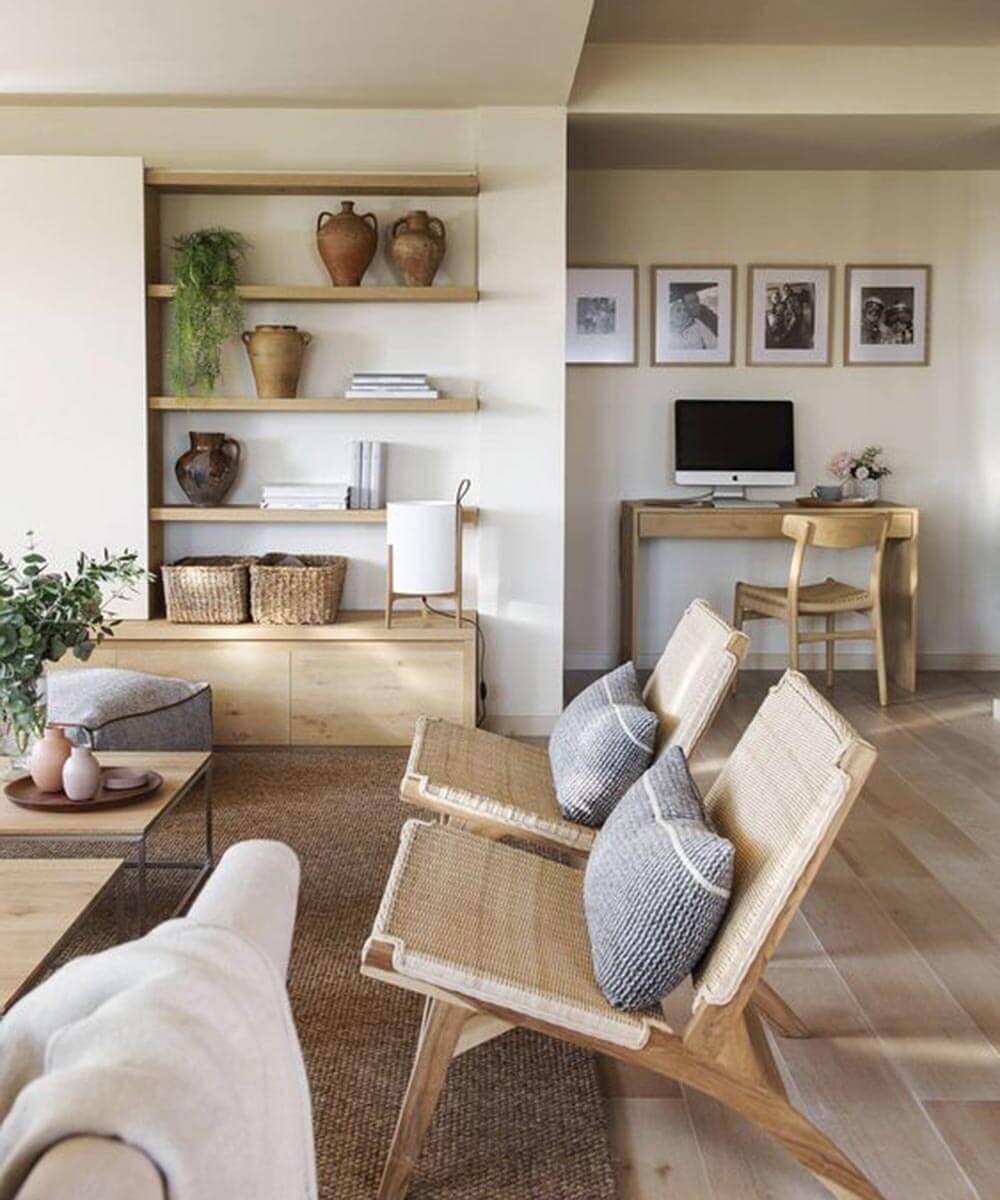 © Planète déco
As for the flooring, fall for the genuine charm of Mediterranean deco with terracotta floor tiles. For a brighter interior, opt for light-wood parquet floor or a polished concrete coating for a Greek style house.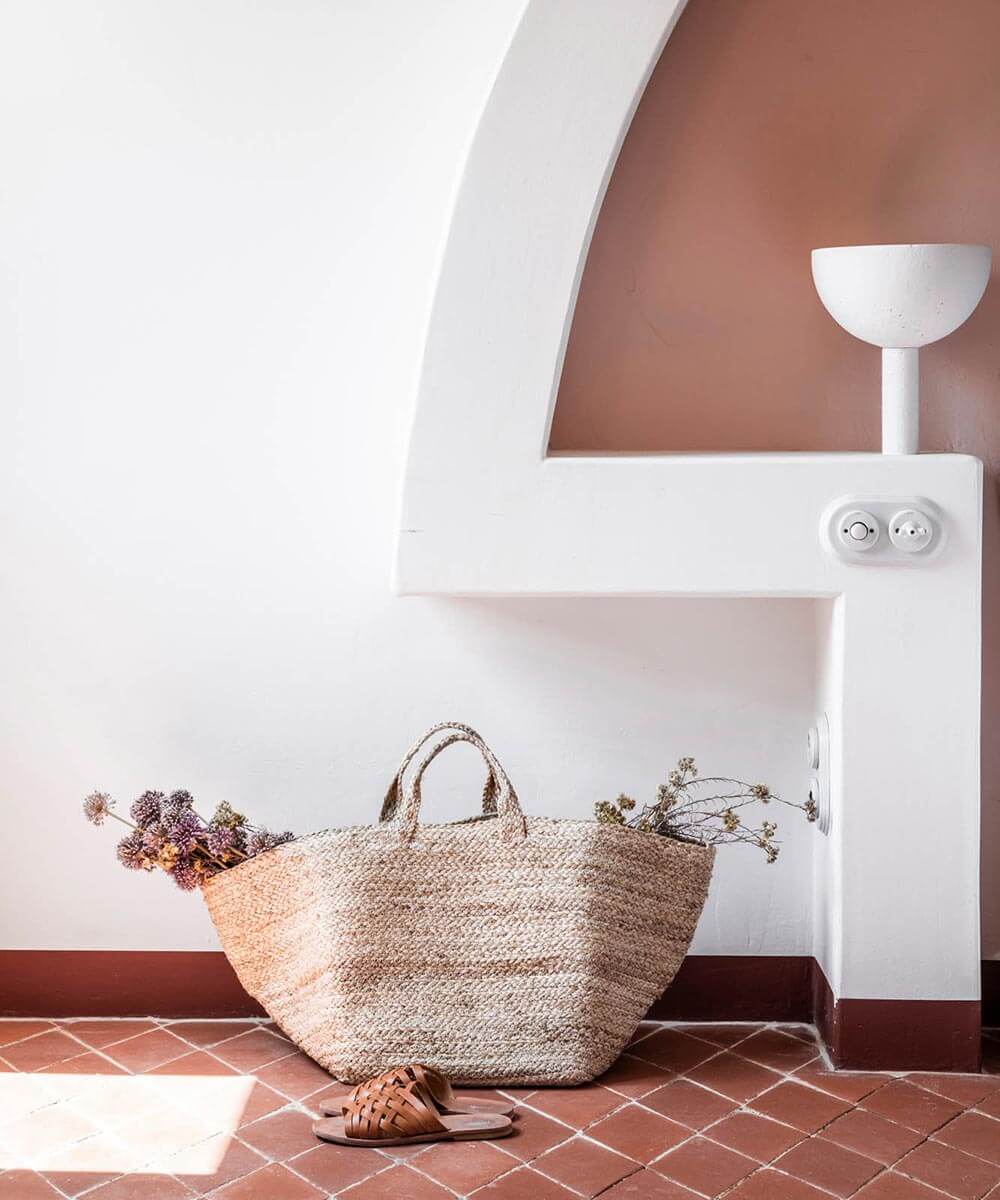 © Milk Magazine
Get inspired by the Mediterranean for your seaside wall deco
To bring your interior onto beautiful Mediterranean beaches, you will need to dive back into your holiday memories to reproduce the gentle atmosphere of the Riviera.
For walls, opt for lime paint for a totally Mediterranean look. As for colours, choose a totally Greek white look or beige tint for a more Provençal style. If you prefer Santorin than Saint-Tropez, put Klein blue on a wall panel for a characterful seaside deco. All you have to do is contrast this vibrant colour with white deco objects.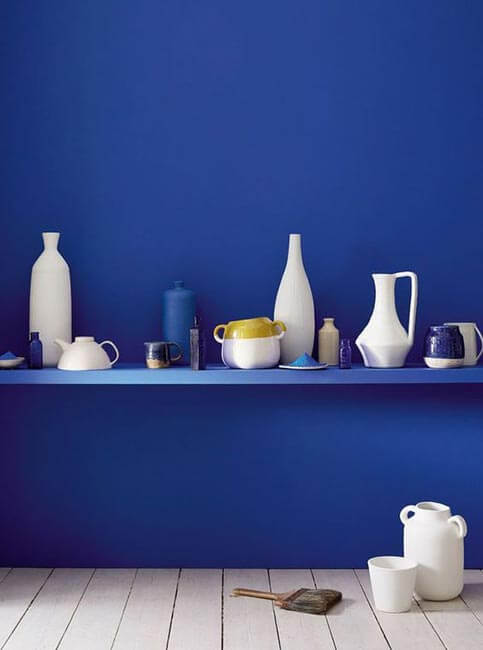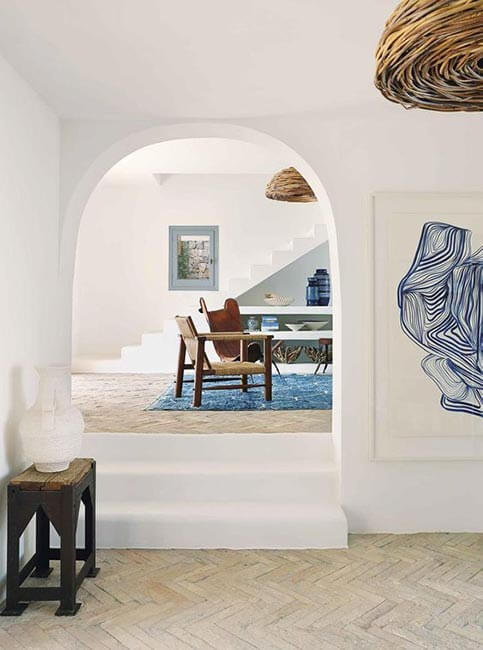 © Côté Maison & Homes to love
We cannot possibly have some proper Mediterranean decoration without having a bit of seaside in our interior. Seaside must-have items are well decorative and can be delicately suspended to adorn your walls, as if the Mediterranean was at your door. Fall for a nautical garland or customisable wood paddle, both natural and colourful, to brighten up your house. You like originality? Go for straw hats for some natural seaside-style wall deco. The perfect deco tip to enhance a bedroom.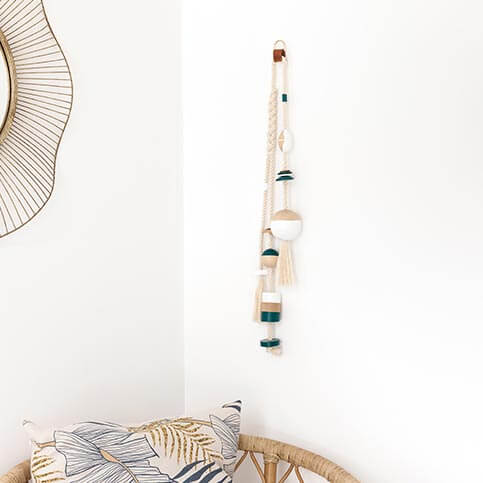 © Studio 255
Reproduce the charm of a Mediterranean house by creating wood or drywall built-in shelves that you may decorate with cute hand-crafted deco objects that remind you of the Mediterranean.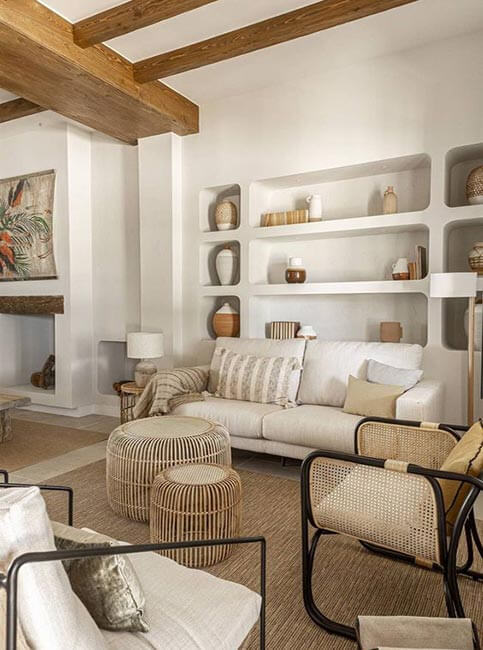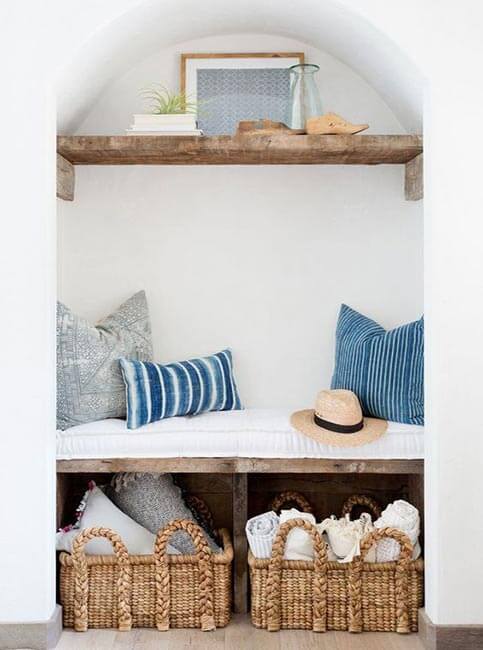 © Planète Déco & Pinterest
Decorate your Mediterranean house with deco objects that will make you travel
 When it comes to deco, everything is in the details! Here are a few essential deco accessories to shop if you wish to recreate this seaside holiday atmosphere, so typical of Mediterranean regions.
There is no way you can avoid using rattan as it plays a big role in seaside decoration. Chairs, armchairs or lights, fall for this delicate braided material. Opt for rattan suspensions in your living room or kitchen to create a very natural and warm atmosphere.
Add a few seagrass pouffes to create a welcoming living room as well as a rustic wood bench for the entrance hall. Warm up your floors by scattering carpets for some cosy atmosphere. Either natural for a true return to roots or coloured to bring pep in your interior, choose the style that suits you best.
Favour household linen with light tints for some natural and light deco. Brighten it all up with blue and terracotta cushions for a trendy Mediterranean style.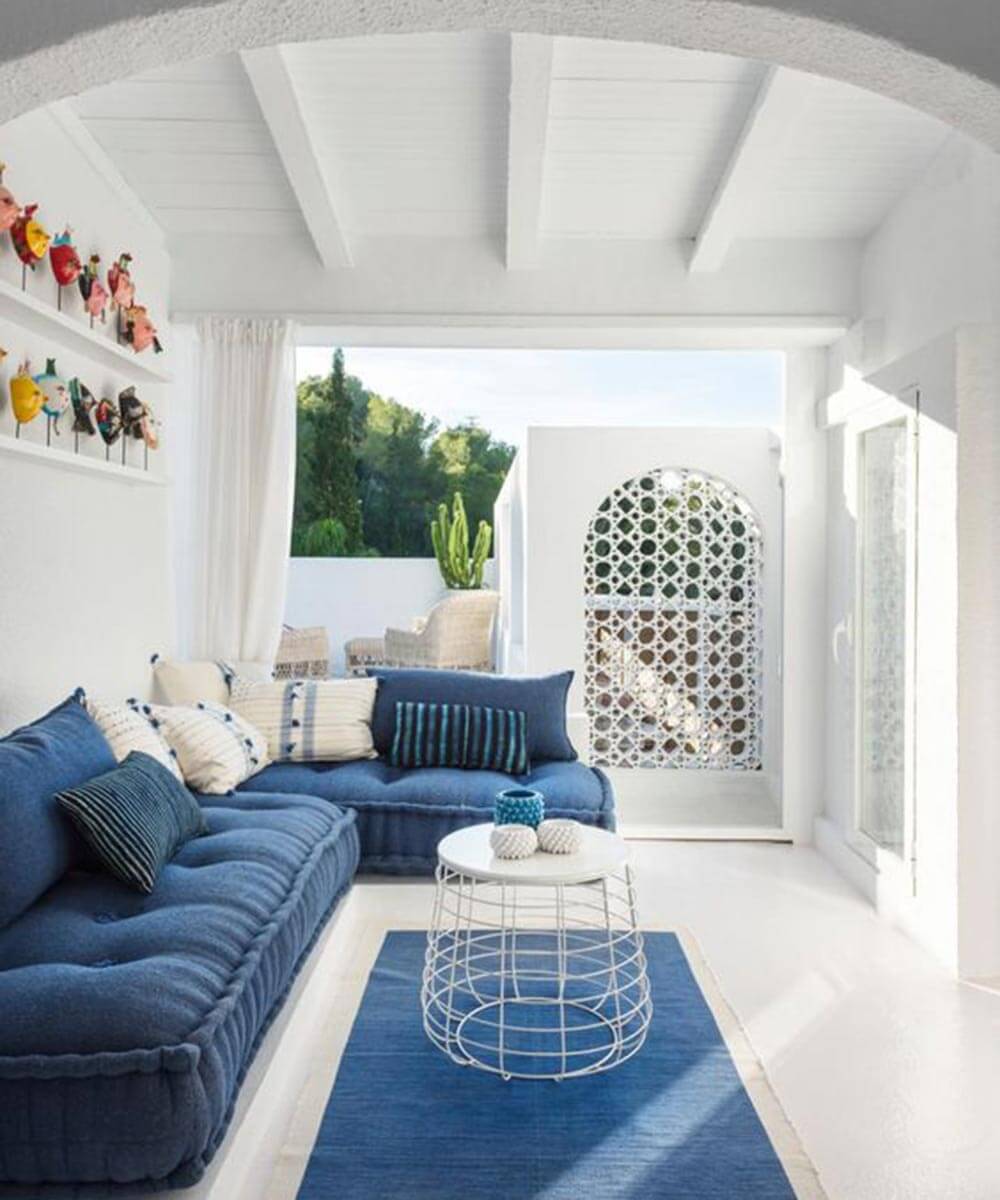 © Pinterest
Scatter some seaside-inspired objects like corals or seashells within your decoration amid colourful vases and deco objects. Salvage is very trendy at the moment so do not hesitate to bargain-hunt and find original deco objects for a very charming interior. Salvage old blue-coloured glass bottles such as old siphons or apothecary jars. These vintage objects will brighten up your interior for sure.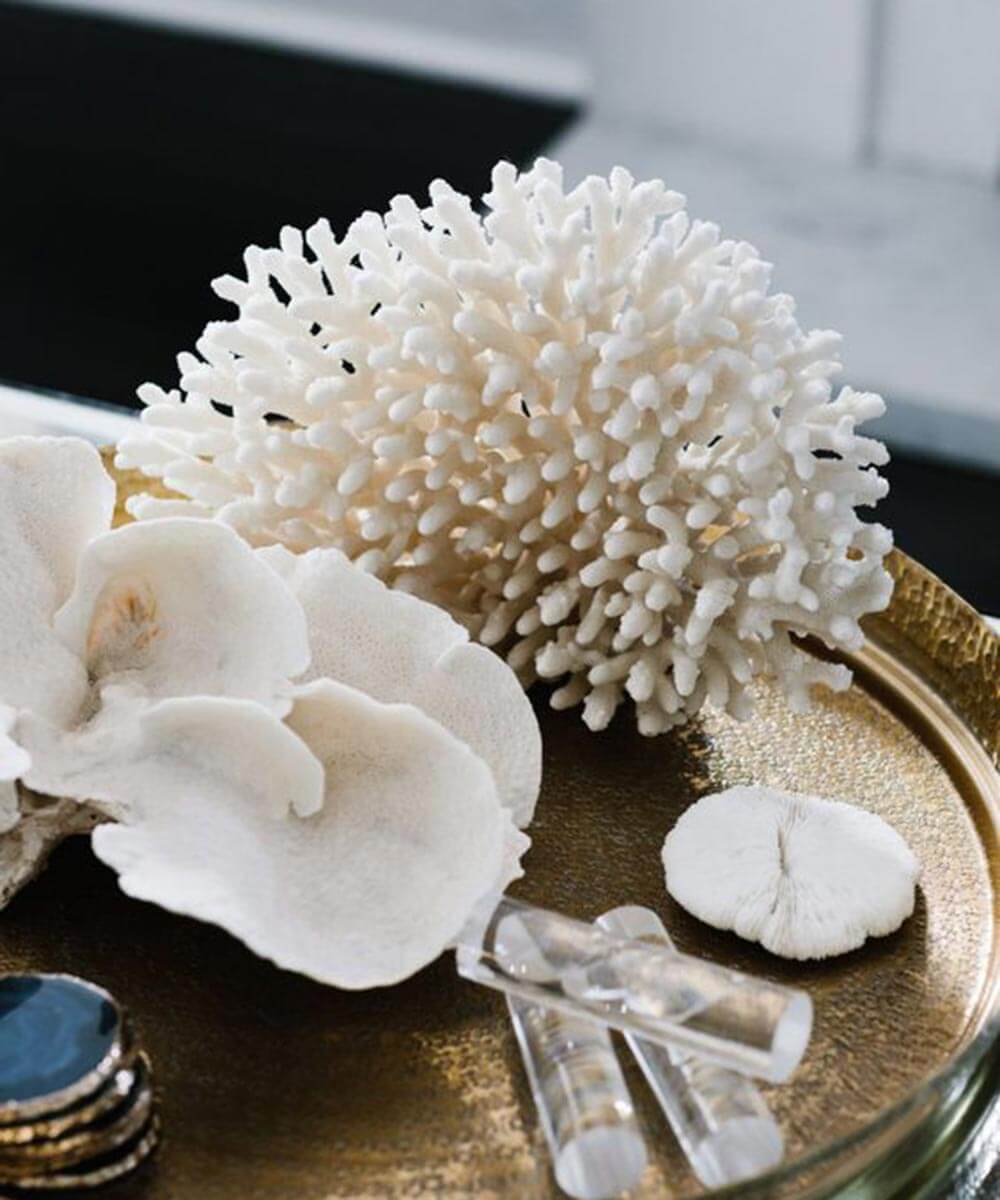 © Pinterest
Last tip for a totally Mediterranean deco, don't go easy on terracotta jars and amphoras. Get some and plant nice olive trees in them. Either indoors or outdoors, these unmissable Greek house deco objects are essential to make your home travel to the Mediterranean. You may already hear the sea and cicadas.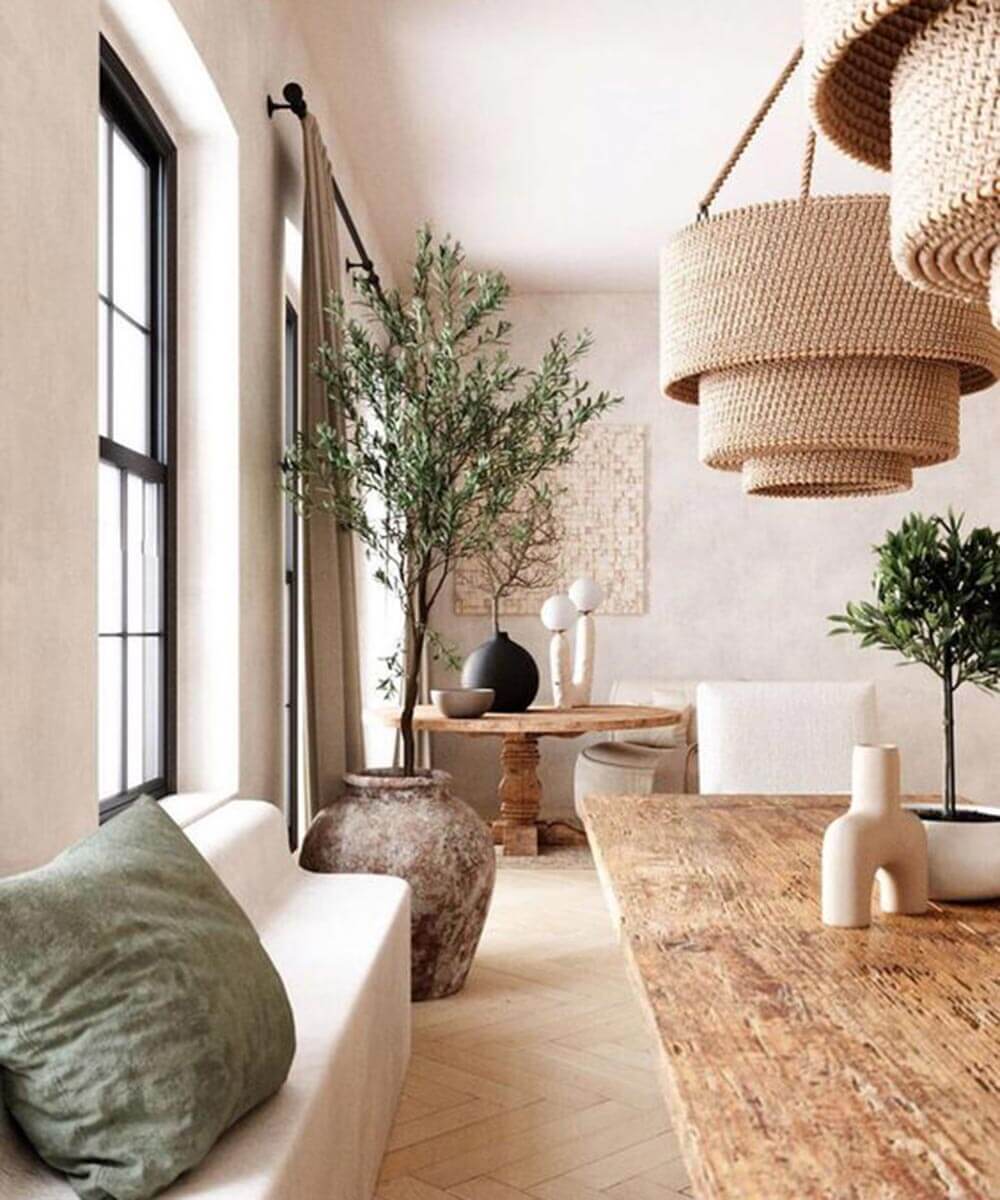 © Pinterest
Ready to let the sea and sunshine get in your living room?