When autumn gets inside your interior for some warm and cosy deco
Autumn colours and hygge style are combined to make you forget the rain.
Leaves turn red and temperatures get cooler! Autumn and its lovely colours transform the landscape but also our interiors. It is the perfect season to create a soft and welcoming shelter far away from the grim weather. Get a plaid and get yourself a good old hot chocolate! In this article, we give you a few tips on how to create a warm and soothing autumn deco.
Be inspired by hygge to create a cosy and comforting atmosphere
With the many rainy days to come, it is important for our morale that our interior becomes a soothing living cocoon. A little haven of peace where time stops, perfect to recharge your batteries on your own or with family.
To do so, what better than getting inspired by one of the happiest countries in the world? Danes found the perfect recipe to keep up morale, even when the sun decides to switch to rain or night, their solution: hygge.
This magic word which we could translate by "cocooning" is a genuine life philosophy for Danes. This art of living based on well-being can be found at any comforting moment of life, everyday joys. It can be simple things that make us feel good like putting on comfortable wool socks, drinking hot chocolate in front of the fireplace, reading a book in candle light or sharing a good meal with friends at home.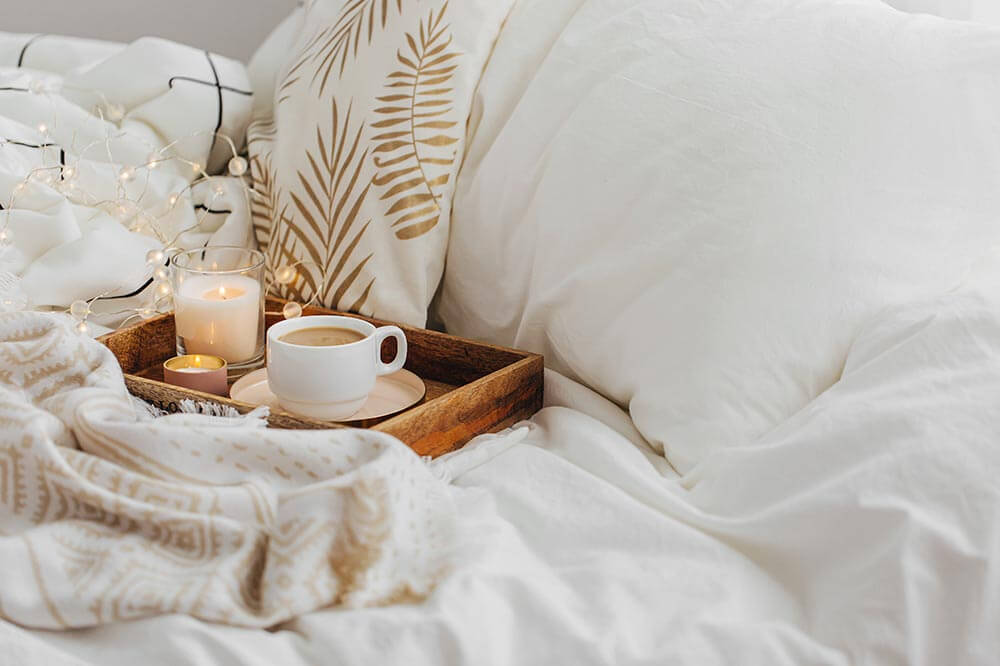 Having « hygge » moments also relies on the room's comforting atmosphere. You could wear wool socks in the subway but it will not make it a "hygge" time. ;)
Decoration plays an essential part in the feeling of well-being, security and soothing. To create an atmosphere conductive to hygge, nothing beats natural, warm and cosy deco. Be inspired by Scandinavian decorations and the warm colours of autumn for a totally hygge cocoon that you will find hard to leave.
Warming your deco with autumn colours
Autumn shows us sumptuous landscapes thanks to its enchanting colour palette. Its warm and often flamboyant shades can unveil their singular beauty either in nature or even in our decorations.
Orange, red, brown, yellow… Be tempted by these warm colours! Forget about the gaudily tints and opt for more natural shades such as terracotta, burgundy, brown or ochre for your autumn decoration. These colours of character shall be combined with neutral tones, very often used in Scandinavian style, like white, cream or light grey. 

Autumnal colours are indeed very elegant but they are strong colours and should therefore be used in little touches like deco objects and house linen. These few notes are enough to bring warmth into your interior. For the brave, having a total autumn look is also a good way to create a genuine coloured and felted cocoon and have numerous hygge moments. However, you should also add a few neutral-coloured deco accessories for more brightness.
A natural intimate deco to escape rain
Autumn has arrived and got rid of the long sunny days and thus our motivation to wander outside.
Thanks to the power of your hygge decoration, Autumn blues will not have any effect on you. To strengthen this feeling of well-being, let nature enter your home thanks to natural materials. Scandinavian style, very focus on light wood deco, has evolved these last years by integrating the authentic spirit of all these materials made of natural fibres. 
Warm and trendy, they are the perfect solution to remedy lack of nature, essential for well-being, and create a cosy, soft and soothing atmosphere. We are crazy about light-wood tables, rattan chairs and suspensions or even leather armchairs. For a hygge-style living room, opt for a sofa in light-coloured fabric for a totally Scandinavian look, or be tempted by the elegance of a terracotta or ochre velvet sofa, it is all very cocoon-like and autumn-spirited.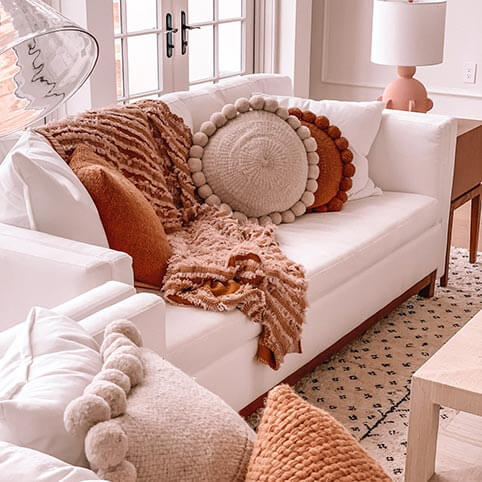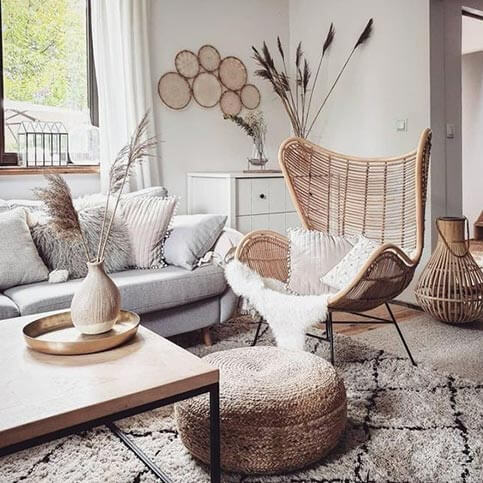 © Amber Fillerup & Pinterest - Biba Magazine
To create a warm and intimate atmosphere where you will love to relax, play the hygge game! Cumulate warm-coloured cushions on your sofa and bed without forgetting the so soft plaids to warm yourself up well at any moment of the day.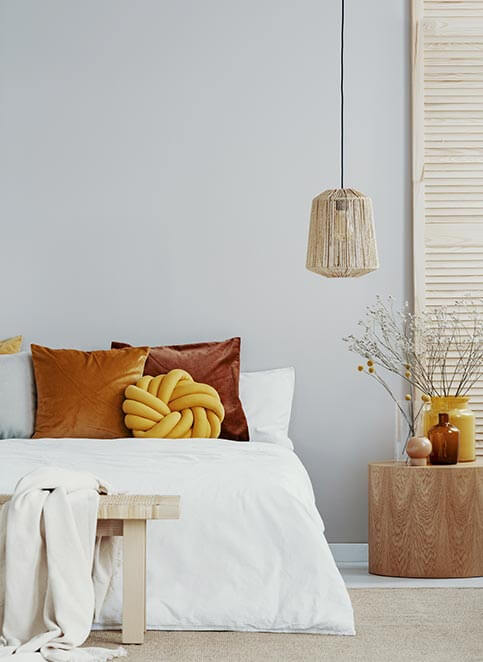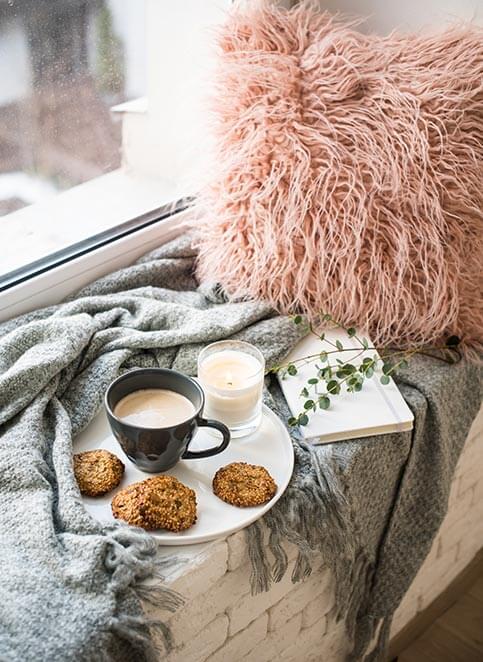 Choose heavy-knit blankets to keep you warm during autumn rainy days. Plaids are not the only essential accessories for hygge deco. To have the cosiest nest, opt for soft carpets and pouffes to welcome your close ones in a cosy atmosphere.
Another element to take into account for a warm and intimate deco: light. In hygge style, a subdued atmosphere is essential and that is why Danes are so fond of candles, the must-have hygge decoration objects. Do not be skimp on them and scatter them in all rooms of the house. You could also hang fairy lights or put candles in holders. They will help you create a welcoming and felted atmosphere which will perfectly suit a romantic dinner or a relaxing moment in a hot bath.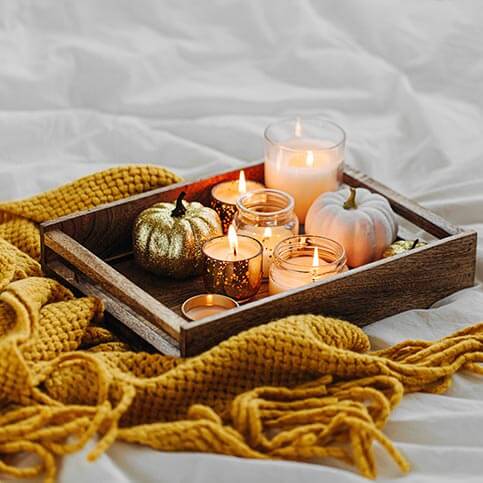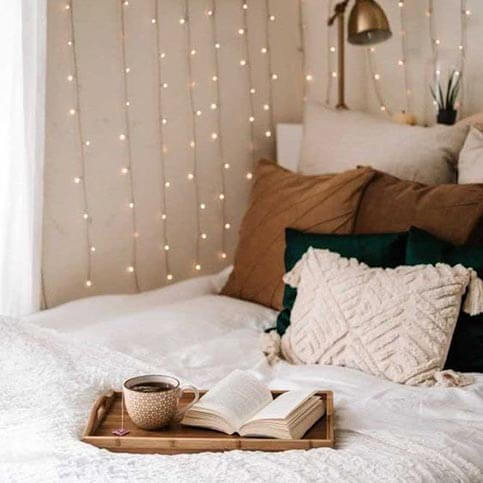 © Pinterest
Refine the details of your Scandinavian decoration, inspired by nature, by adding a few delicate deco objects. Put in vases some bouquets of dried flowers full of autumn colours and adorn your walls with sailing knots, tied with cotton rope, for a soft and comforting wall deco.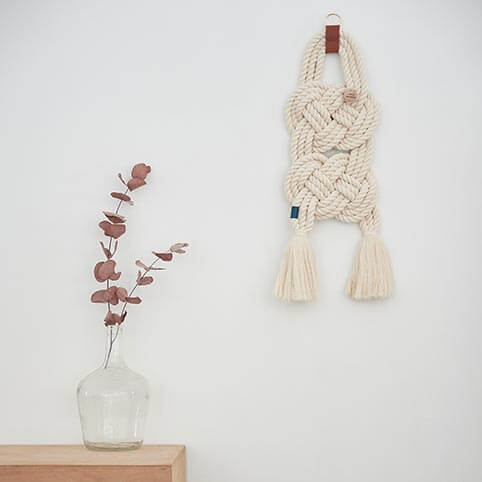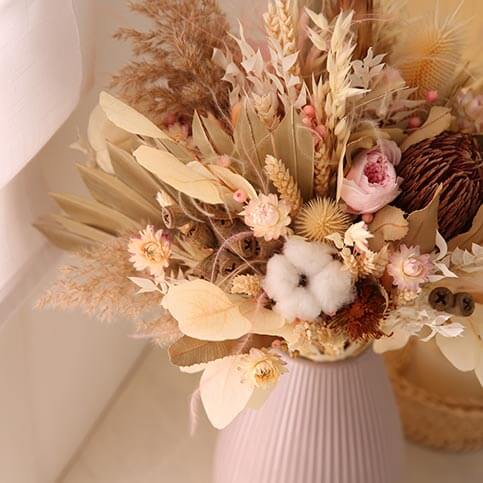 © Studio 255
With an autumn & hygge deco, you will love watching leaves fall… from your cosy nest.