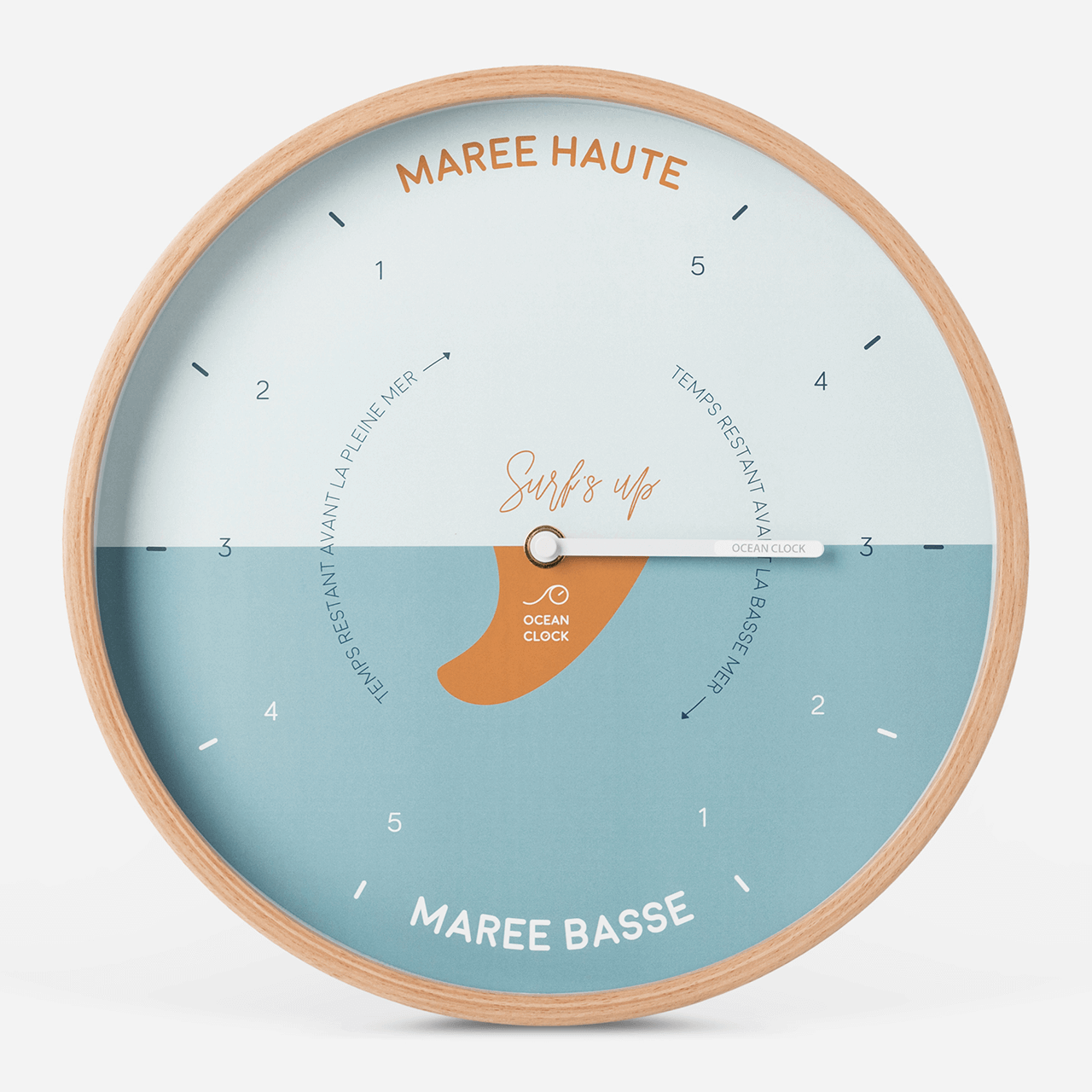 Tide clocks Surf's up
Create a surf vibe in any room with this Surf's Up clock. 
The bright colours and blues give it an ocean vibe and the waves are a must for any surf shack!
Handmade in Hossegor, with a natural beech frame, white hand, and personalised dark grey writing below. 
Customize your clock hand – free of charge
Clock dimensions

diameter 31cm / 12.2 inches - Depth 4cm / 1.5 inches

Color

Blue

Materials

Beech wood frame

Clock movements

Silent clock movement - Running on a single AA battery - not provided
A handmade clock that has come straight from the ocean's edge. 
Handmade in our workshop in Hossegor, this tide clock has a beech wood frame that has a 31cm diameter and is 4cm deep.  The white clock hand can be personalised with the location of your choice.  
Check out your surftide clock before you set out and get an idea of what the tide is doing. 
Give your decor a surf vibe. 
Place this unique wall clock in your lounge, kitchen or bedroom. It's a useful, modern decorative item and a quick  reminder of the summer's surf sessions when you're feeling sentimental.  Consider the tide clock  as a gift for the surfer in your life! 
To ensure your surf theme is complete, team this surfing wall decoration with a themed poster or buy a surf clock. This unique decor will brighten your walls and surfers will love it! 
You hesitate on the choice of the color of the dial?
Receive a sample
Order online a sample kit of our different clock faces. Please note that this €5 kit will be deducted from your purchase when you place an order for a clock on our online site, using the reimbursement code included in the kit.
How do youset your clock
Our setting tool means that you can
get your tide clock going quickly
Read more